My sister Laurie wrote this post to share her review of her Joovy Zoom360 Jogging Stroller– I hope you find this useful!
Guest Post/Fits Do Product Review: Joovy Zoom360 Jogging Stroller
Even before I was pregnant, I knew that I would want a jogging stroller. I think that any "mother runner" #BAMR or "father runner" (is that a thing?) would want one. So true to form, my husband and I started doing research on jogging strollers as soon as we learned I was pregnant.
The first thing we found disappointing about most jogging strollers is that they are not approved to be used with newborns. In fact, most are not approved until a child is over six months, unless you purchase the infant car seat adaptors, at which time you can start using the strollers around 8 weeks. If you are looking to have the jogging stroller be your primary stroller as well as your jogging stroller, then the ability to use a jogger with your car seat would probably be a benefit. For my husband and me, we were interested in having the UppaBaby Cruz stroller as our primary stroller (primarily because it is very maneuverable, light-weight and easy to fold down). So, we were looking for a secondary stroller that would just serve the purpose of being a jogging stroller.
That being said, paying $500+ for the highest-rated jogging stroller – the BOB Revolution SE – was not logical.  We began to research other options and keep our eyes peeled for potential good deals on secondhand BOB Revolution strollers in our area. In the end, my husband surprised me with the Joovy Zoom360 stroller as a Mother's Day gift. This is my review of the stroller.
Joovy Zoom360 is described online with the following:
'The Zoom360 is the best featured jogging stroller on the market today. When unfolded, it is the largest jogger available (supports a child up to 75 pounds), it has the highest push handle, a bigger and higher seat for better comfort and viewing. It has a one hand recline system with unlimited recline positions, and a huge sun canopy for great sun protection. It also folds into one of the most compact folding joggers. As with all Joovy strollers/joggers, the Zoom360 has a five point harness and a reflective package making it highly visible from all sides at night."
Now, let's talk performance:
The Zoom360 has a fully adjustable front swivel wheel and is highly maneuverable. It is preset at the factory for medium performance. If you run races, you'll want to tighten the swivel down considerably. All three alloy rims with pneumatic tires (12 ½" front wheel, 16″ rear wheels) have quick releases; the rear wheels have a one step parking brake. Each rear wheel operates independently with a spring/air suspension for a very smooth ride. With no rear axle it allows for maximum stride length. The frame is made from 6061 aircraft aluminum and the aluminum footrest (not plastic) enhances frame strength. These are features usually found on strollers costing several hundred dollars more. Combine the higher handle and neoprene parent organizer and you get absolute comfort. Also, enjoy the giant storage basket with easy accessibility. Don't forget the safety running leash that is included. Now you have all the reasons to go out there and get your workout in.
My Experience:
It took us a few weeks to receive the stroller (we ordered it off Amazon for the best deal). It came in a fairly large, heavy box, but the only assembly required was putting on the tires and the neoprene parent organizer. And then, of course, we had to pump up the tires. To do this, my husband pulled out our existing pump as the one that comes with the stroller is subpar. However, it is nice to have a small, portable pump along in case a tire goes flat on a run.
So finally, I took the stroller out for a jog (not a run). At that point, my son was just over 4 months old and weighed in around 16 lbs. The Joovy Zoom360 is cleared for use with children over 3 months but under 6 months when using the fully reclined position. All other positions are for children 6 months and older, up to 75 lbs.
First Impression
My first run was a short 4 miler and I stuck to paved running paths. These paths were relatively debris-free, but were fairly hilly. Granted I've never run with another jogging stroller prior to this, besides simply pushing a Schwinn jogging stroller a few years ago, but I felt the Joovy Zoom360 was very smooth, good shock support and durable tires. However, since this was my first run, I found the stroller to be very heavy. The stroller itself weighs 27 lbs, with the additional 16 lbs on top of that, I was struggling! And on the downhill, a stroller with that weight can take off. Good thing for the wrist strap, which I did not find as annoying as I thought I would. It has a decent length to allow you to alternate the free arm that you use to pump while running.
Portability
The stroller is okay when it comes to portability. I knew this when we bought the stroller, but since it isn't our primary stroller (i.e., we are not folding it up to put in the car all that often because I primarily run near our house), I don't mind. It is heavy (as stated above) and has a large folded footprint. We store it in the front of our garage, so it isn't that much of an issue, but for those who would store it inside, it might be a pain.
Baby's Response
As for what my son thought – he was at the stage where he was just learning to sit up so having to be in a reclining position wasn't the best.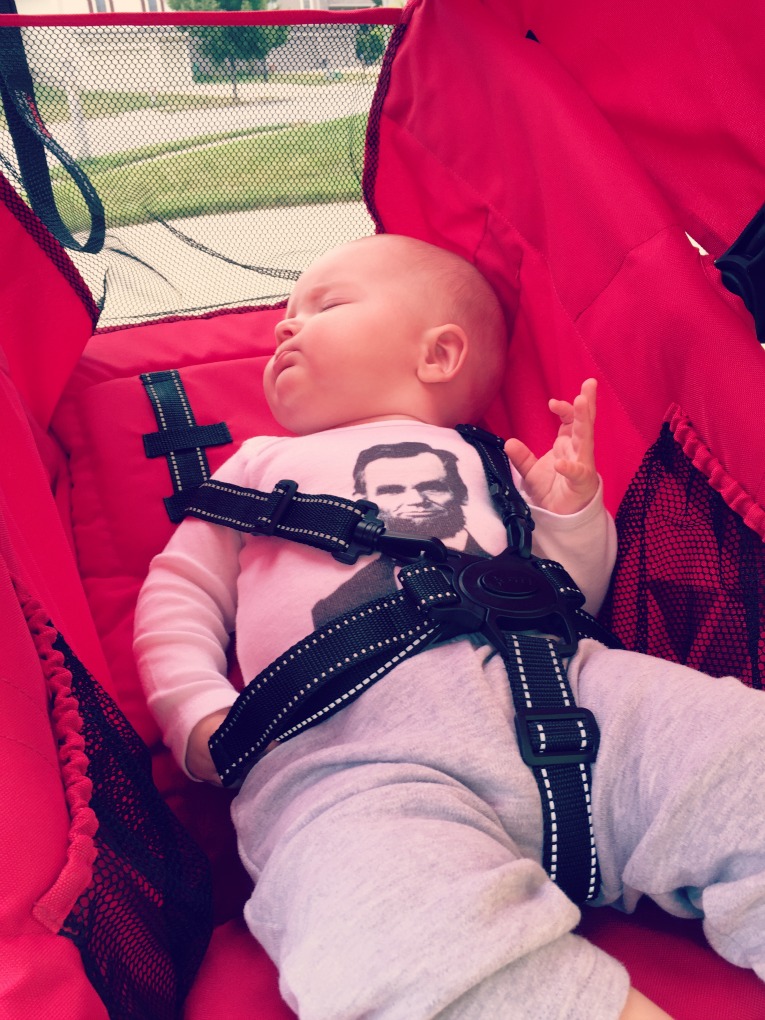 He couldn't see anything and got bored. However, I found the canopy to be full and able to cover him from the sun. Also, the flap on the top rolls back so there is a clear plastic window in the middle of the canopy for him to at least see the trees and sky. Additionally, the back is just mesh, so I could see him the whole time during my run, regardless of the incline. But because of this and not being able to see out much, I found him shifting his angle so he could look through the mesh to watch me while I ran.
Gizmos
As I mentioned above (and you may have read in the product description), this stroller comes with a tire pump and neoprene parent organizer. The tire pump is poor quality, but will be useful if a tire goes flat while away from home on a run. For regular maintenance, we plan to use our normal pump. The neoprene organizer is nice so you can bring an easily accessible bottle of water on a run and also gives you a place to put a cell phone (my husband is adamant that I take my phone with us when I go for a run because he doesn't want someone snatching his family). There is a basket under the seat, but anything down there would be loose and could bounce out.
Lasting Impression
So now that we've had the stroller for 4+ months, I can say that I've mostly gotten used to running with it. It still is a challenge and not something that I would use on a training run. Instead, I run with him on shorter, more leisurely runs and try to keep the run to 5 miles or less.
Additionally, I consider a run with the stroller to be more of a cross-training workout since you are using different muscles than when out for a solo run. When running with both hands on the handlebar, I find myself using my core much more. Additionally, my arms (specifically my triceps) start to burn when I'm on a route that requires more pushing. Also, if you think hills are killer without a stroller, think of what your booty feels like when pushing a stroller up that 5% gradient for even ¼ mile! It can be brutal.
My son enjoys the runs a little more now that he can sit more upright (he is now about 8 months). He still tries to look back at me through the mesh, but now I doubt it is because he is bored. I like to think now that he is encouraging me and cheering me on to keep pushing! All in all, I'm glad we have a jogging stroller because I think that it has become a nice bonding experience where he gets to be a part of something that I thoroughly enjoy. And maybe these small runs are instilling in him a future love of running!
Thank you so much to Laurie (and Anders!) for your helpful review! Enjoy your future runs together!

(Visited 632 time, 1 visit today)