Another week of marathon training in the books. Lots of running this week…and lots of cabin time!
Monday: Easy 5 miles in the morning with a few run club friends
Tuesday
: Easy 5 miles in the morning with Matilda the vizsla, then the
Endless Summer Trail Run
at Hyland Park.  This was a 7 mile trail race (which ended up being more like 7.5 miles- trail races are always "approximate!"). I did 2 miles to warmup, and 1 mile to cool-down for 10 miles total in the evening, and 15 miles on the day.  That's a lot. I know. But its getting to that point in my training where my coach has started to bump up the mileage and incorporate double runs.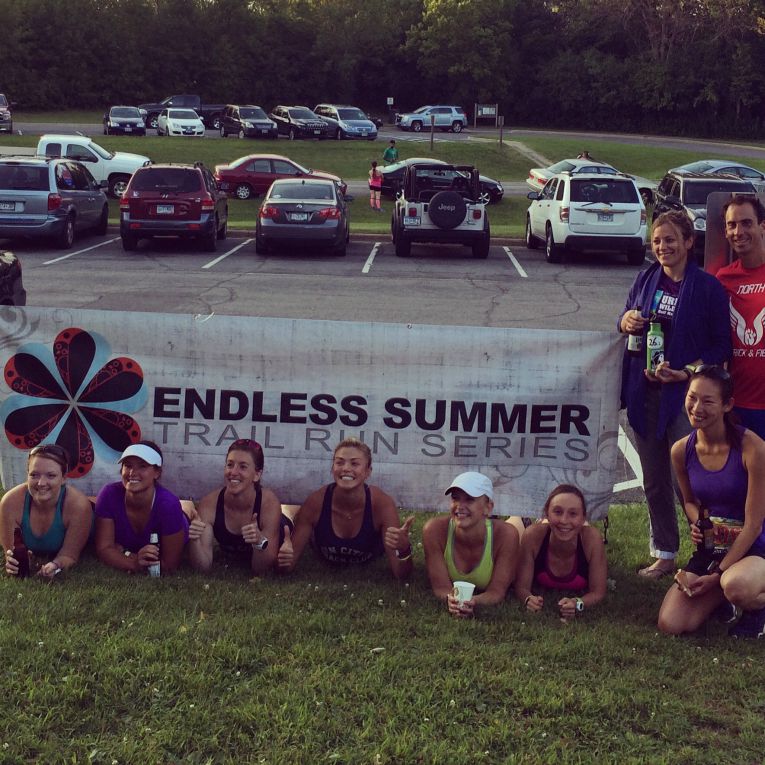 This trail run was a ton of fun. I really love the whole 
Endless Summer Trail Run
 series. There is only one left if you want to get in on the fun- it's the Murphy 5k on August 25th. I highly recommend these races! They have a very laid back vibe, both during the race and during the post-race pizza/beer party.
Wednesday
: Complete rest. I fully embraced  the rest day by sleeping a bit too late (whoops!) and then ending the rest day with a fun dinner at
Roat Osha
 with a few college friends.
Thursday:  17 mile long run. I took off of work Thursday/Friday for a long cabin weekend and I wanted to get my long run out of the way before we headed up north.  Fortunately, another run club girl also was heading out of town, so she joined me for 13 of the 17. We started at 5:30 am- it was weird to be done with my long run before I would normally even get to work! I run plenty up at the cabin, but 17 miles is a lot more bearable around the lakes in Minneapolis so I'm glad I did it before we left (though Dustin did his long run successfully up there, thanks to me being his "Sherpa" for hydration at various spots!)
Friday: 8 mile recovery run at the cabin
Saturday: "Speed" workout at the cabin, consisting of 5x1000m repeats. I was supposed to do these repeats close to a 7 min/mile pace, which would have been difficult enough for me on a flat road. It was impossible for me on a hilly country road! I stuck with it the best I could, but I definitely did not hit that pace.
Sunday
: Easy recovery run with Matilda, Dustin, and Dustin's brother Collin (visiting from Japan). 5 miles total. I loved running with the two Benson boys! What a lucky girl I am 
J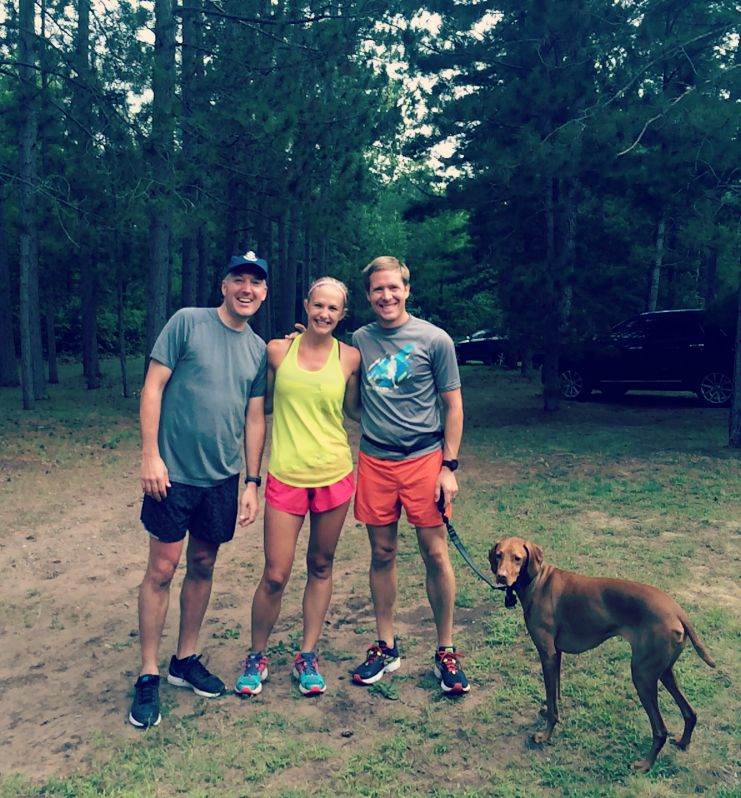 Summary: 59 miles. Cross training consisted of SUP- stand up paddle-boarding.
One afternoon, I took my two nephews (ages 5 and 7) all the way across the lake and back on the paddleboard. That was TOUGH! I have to imagine they added another 60 pounds or so to the board. Definitely an upper body and core workout!
There was some swimming at the cabin too, but not that much other activity….Plenty of naps in the hammock- Matilda decided she want to nap in there with me too! So cute.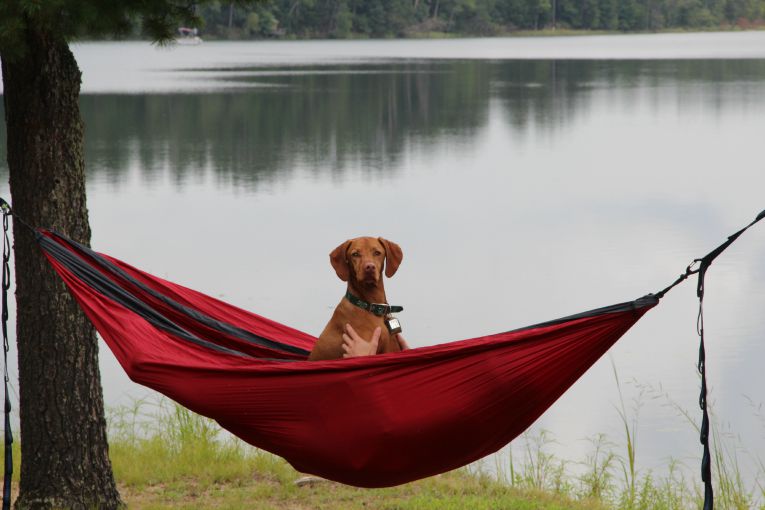 We stayed at the cabin until Monday. It was so nice to be up there for so long. Dustin's brother and his family are visiting from Japan, and two of his half-brothers and their families joined us as well.  It's so much fun up there, but honestly my diet isn't that great while we're there…I eat a lot more meat than normal and definitely drink 
a lot
 more beer. I am sure that it didn't help my running at all (probably why both workouts up there were not good- Monday's tempo miles were a fail too).  This week will be back to normal, with a focus on diet and sleep (much less beer!)
In fact, my "normal" diet the past few weeks has been pretty good eating, courtesy of "
Hello Fresh
!" One of my sisters had been raving about this "chef" service so I decided to give it a try. It's very similar to
Blue Apron
; they send you all the ingredients for a healthy meal along with a recipe and you do the cooking. It takes away all the meal planning and prep and leaves you with the cooking. The recipes are interesting but nothing too challenging.
Hello Fresh
forces us to vary our diet a bit more too; I'm the first to admit I get a little lazy and end up making a lot of the same things each week, but
Hello Fresh
meals are always different.
Our first box included Pan-Seared Mahi Mahi and Citrus Herb Salad,  Fusilloni Al Forno, and Smoky Black Bean & Caramelized Sweet Potato Tacos. The tacos were my favorite for sure, but the others were really good too! We're on our second box and the meals this week have also been awesome.
I was a little worried that the box for a family of 2 wouldn't be enough for Dustin and me, as I always thought we were hearty eaters, especially during marathon training! But we have actually had leftovers once or twice; generally though, it's the perfect amount of food for two of us with little to no waste.
You have the option to get a box of three meals every week, every other week, or every month. I think every week is too much for us, especially in the summer. If we have something going on and aren't eating at home, its harder to have to cook complex meals every night. I often prefer cooking a big batch of something earlier in the week and then eating leftovers a few nights, and that's not really the way that
Hello Fresh
is set up. However, every other week or even once a month if a fun way to change this up a bit and try new recipes!
Let me know if you have tried Blue Apron or Hello Fresh– what did you think?
(Visited 386 time, 1 visit today)