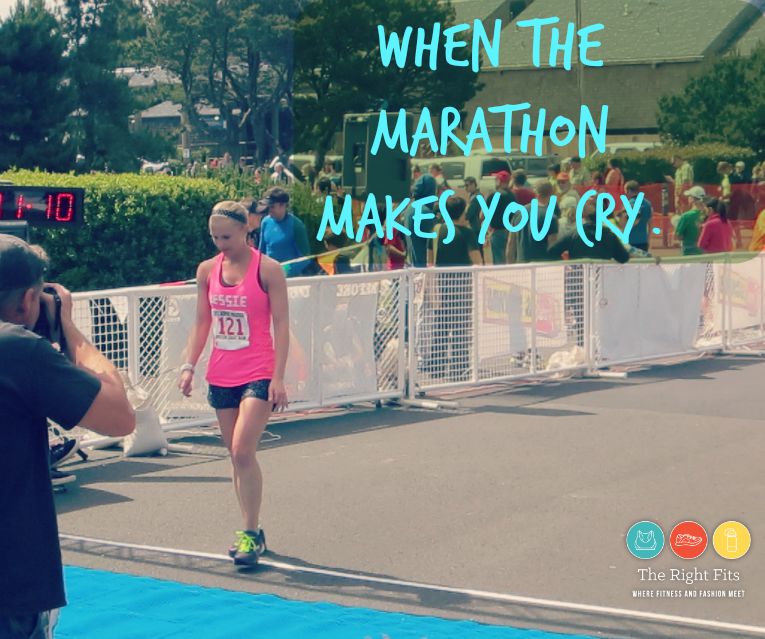 This November I will (hopefully) arrive at the starting line of my 20th marathon. Since my first attempt at the marathon ended in a DNF (did not finish), this will actually be my 21st time arriving at that starting line.
Each marathon for me is an emotional experience; you'd think I'd be over it by now right? But I train for 3-4 months for each one and I put a lot of time, effort, and sweat into the training. There are always bumps along the road during the training season so every time I arrive at the starting line, it's emotional. I love the marathon, but sometimes all that emotion makes me want to cry!
When and Why?
I have cried before, during, AND after a marathon for a variety of reasons.
I almost ALWAYS cry at the finish line- sometimes its because I achieved my goal and sometimes its because I fell short. There are tears of joy and tears of disappointment. Sometimes its tears of pure exhaustion.
And I know that I am definitely not the only one. Go to any marathon finish line and I bet you that you will see tears (and you might even shed your own. Marathon finish lines are incredibly moving!)
Running a marathon is an emotional experience. Runners who cross the finish line have been training and working for months to do exactly that. The emotional and personal satisfaction that comes from achieving such a goal often causes marathon finishers to cry. The culmination of months of hard work and training- it will bring tears. Maybe you are running for a charity- a cause you believe in. Maybe you are running for another person. Maybe you are running for yourself, proving to yourself that you can train hard and accomplish a challenging goal.
Another reason for the marathon cry is physiological. Running 26.2 miles takes a LOT of energy. Towards the end of the marathon the body's fuel reserves are completely spent. Crying can be a physiological response to giving all you had to give- quite literally- after which the body responds by a cry!
I thought that it would be fun to share your stories- your testimonies about when and why a marathon made you cry.
Here are just a few of your stories. Please share more in the comments if you have your own "crying" story!
READER TESTIMONIES:
From Mira:
I get emotional all the time during marathons and in particular, I get choked up whenever I see the athletes with disabilities powering through 26.2 miles. There's a guy who I've seen multiple times in the NYC marathon, sitting in a wheelchair that is facing backward, and kicking off with one foot, backing his way through the marathon at a painfully slow pace, and every time I see him my heart catches in my throat with admiration and empathy for how much pain he must be in (because I am in such pain with a much healthier body!)
But the only time I totally lost my shit was at the finish line of the Rehoboth Marathon in 2012. We were supposed to run the NYC Marathon, which was canceled at the last minute because of Hurricane Sandy. I couldn't let 4 months of training go to waste, so I talked my partner into running Rehoboth a few weeks later. The first 13 miles were amazing, and I was on course for a PR of 3:30. Then all of a sudden, I had this sharp pain in my right knee that just wouldn't go away. I half-walked/half-slow-ran the entire second half of the marathon. I would've quit because the pain was so intense, but the route is largely through unpopulated national park by the ocean and I didn't want to stop at an aid station unless I knew they would be able to transport me to the finish, which for some reason, I doubted. My partner knew about my 3:30 goal and had seen me running at a good pace early on. Then during an out and back, we passed each other and I told him my knee hurt. So when I hobbled across the finish line at around 4:13, he was waiting there with tears in his eyes because he was so concerned about me. The marathon was small enough that they called out each person's name as they crossed the finish line. Between them calling my name at 4:13, the excruciating pain, and the look on my partner's face, I burst into tears as I crossed the finish line. I got a comment in the "poor sport" vein from the announcer, but my partner understood.
From Christie:
I've cried when a song came on. It was during a point in a race, Grandma's, when I was doubting myself. The song came on and it made me believe that I could push through the pain and achieve my goal. I've also cried when I saw my parents during the NYC Marathon. It was my third marathon and it was just emotional to have my parents there to support me. I was also at mile 23 and happy to be entering the park which is where the finish line was.
What song was it that made you cry at Grandma's 2015?   Fight Song by Rachel Platten!
[Fight Song seems to be a popular song for a marathon playlist! Here it is if you haven't heard it!]

From Sarah:
Times when running made me cry:
1. Grandmas Marathon 2015 as I hit the cobblestone in downtown Duluth and realized that I was going to be able to keep my pace and BQ. (Something I hadn't let myself hope for for the first 20ish miles) These emotions all culminated with a CBRC teammate riding her bike next to me screaming "You're going to Boston, Sarah!", which caused the other runners around me to start turning to me and cheering, "Way to go, Sarah!" We seriously participate in the most supportive and affirming sport! As this was all going on, Rachel Platten's "Fight Song" was playing on my ipod. I still can't hear the song without welling up!
2. My first marathon (Twin Cities 2011) when "Unwritten" by Natasha Bedingfield came on my I-Pod around mile 17. Such a cheesy song to admit tears and full body goose-bumps to, but it was such a bucket list moment for a girl who 5 months ago had never run more than 3 miles.
3. Watching all the coverage of the 2013 Boston Marathon bombing. Between my recently kindled love of running and Marathon Monday being my absolute favorite day of the year my 4 years at Boston College, it all just really hit close to home. I had thought that my 2011 marathon was going to be a one-and-done thing, but after watching the coverage, all I wanted to do was lace up my shoes and run in response. What else could I do? It made me see running as the privilege it really is.
From Whitney:
I cried after Philly [the Philadelphia Marathon] since I hadn't run in 6 weeks and wasn't really planning on running the marathon I was REALLY sore. I took a shower and went to put on my pants. I couldn't bend down/lift my leg high enough to put them on. I started laughing and then laughing hurt too. the laughing just turned into tears.
From Rachel:
I cried at the finish of my first marathon [Twin Cities Marathon]. Right as I crossed the finish line I heard my brother yell, "Rachie you did it!" over the crowd. I had no idea anyone I knew would be at the finish so hearing his voice took me by surprise. It also helped set in the fact that I'd accomplished something I'd been working towards for four months. I also cried a few minutes later because I really wanted a chocolate milk from one of the bins in the finishing area but they were just below my reach and I was in so much pain I couldn't bend down. Fortunately another runner saw me struggle and handed me one.
From Julia:
I've shed some tears at the end of every marathon I've done so far just out of pride in what I accomplished. The post-race crying usually doesn't involve anything more than tearing up with a giant smile on my face. The one exception was after my first Boston. I crossed the finish line, took a selfie (obviously!), looked around for a few seconds, and completely lost it. I was crying like a baby! I had my name on my shirt and a few concerned women started yelling at me from the other side of the fence saying 'What's wrong, Julia? Are you okay? Do you need help?" My brilliant response was "I just finished the Boston Marathon!" and they replied with an enthusiastic "Yes you did!". Usually I'd be pretty embarrassed about crying in public, but I let myself enjoy it and have the happiest cry of my life! The other runners understood – I got a lot of "We did it!"s and high-fives from other happy and tearful strangers.
From Dustin: 
The only marathon where I came close to crying was the Tokyo Marathon. It was because I achieved my goal but it was mostly because of the seemingly genuine support from the volunteers at the end (they gave all the finishers a standing ovation). It was one where I actually felt good at the end as well.
From Erin: 
I started to cry at mile 23 of the Milwaukee Lakefront marathon. I was tired and wanted to stop. I saw a sign posted along the path that said, "Someday you will not be able to run a marathon. Today is not that day." I remembered all the training and sacrifices I had made to get to the race and choked up thinking how I had almost thrown it away by giving up. I also cried at the end of my second Chicago Marathon when my IT band flared up at mile 16. The same thing had happened to me, on the same course, 10 years ago. It was heartbreaking to have my body disappoint me in the same way again.
From Ellen:
I am a big crier when it comes to marathons! Not proud of it, but it definitely happens before/during/after marathons for me. My first time crying was right when I crossed the finish line at the Twin Cities Marathon in 2012 when I realized I had BQ'ed. Definitely happy tears and probably exhaustion too. The next time I remember was in the last half mile of the Boston Marathon in 2014. I was in so much pain and realized that was near where the bombings were and I just couldn't hold in all of the emotions. The tears continued for quite a while, ha! The last time I remember crying was when I crossed the finish line at Grandma's in June 2015. Those were definitely extremely happy tears and I was in shock with myself I think. Something about running 26.2 miles really pushes your emotions to the max, huh?
From Lindsey:
I've cried over thinking I had injured myself. I remember about 7 weeks out from the Phoenix Marathon last year I had a major meltdown when I thought I had an injury that would take me out for a few weeks (as this same injury had in the past). I just thought "not again…" since prior to that I had been injured frequently each season.  Luckily it wasn't what I thought but I cried over the thought that yet again I wouldn't be able to reach my goals due to injury. I also cried happily coming down the home stretch when I knew I had qualified for Boston at Grandma's Marathon 2015 (typical, right?). Although I was dehydrated so it wasn't as much crying as it was just sobbing without actual tears. It was a long road for me to accomplish that goal. I was proud of myself for keeping the goal and not giving up on it even though it took me a long time to achieve, so it brought the feels for sure!
From Kris:
I have cried in many races, mainly when I accomplished a new distance or a PR when your emotions just grab you for achieving something you've never done, but most recently in 2014 I did the Disney World Dopey challenge (5k, 10k, half and the full marathon in 4 consecutive days). At mile 26 of the marathon you come around this turn and there is a church choir dressed in their church robes singing hallelujah choruses. I waved at them and some waved back and I just started crying, (as in ugly cry) at just the beauty of the music, like God was just pouring a blessing on me.
Next time you see a marathoner at the end of a race crying, give them a (sweaty) hug and  tell them congratulations. I bet you will get a tear-filled and sincere THANK YOU!
*I did notice that almost all of my testimonies were from women (except for Dustin) I know that most of the Right Fits' audience is women, but are there any men out there who are willing to share their stories? Is completing a marathon more emotional for women? Or are we just more emotional in general? I know that Nathan of Minneapolis Running has admitted to getting choked up at a race (Here's his story)  Any others?
(Visited 2,428 time, 1 visit today)