Welcome to November..and #Movember too! Are you sporting some new facial hair this month? This guy is!
If you're new to the Right Fits, on Sundays, I like to share a weekly recap of what's happening in Fitness and Fitness Fashion.
If you read this post, you know that I am well into the taper for the OBX Marathon (which is a week from today!) Therefore, fitness this past week was pretty low-key, as I focused on rest and recovery.
Monday: 6 miles at the track with 4 "Yasso" 800's.  What are Yasso 800's? They are a method of using 800 repeats to "predict" your marathon time. Let's say my goal time was 4 hours for the marathon- then I would run my 800s in 4 minutes. Make sense? Read more at Runner's World HERE.
Tuesday: Easy 4 miles with Matilda in the AM and book club/pumpkin carving in the evening. This isn't my pumpkin, but its one from my office's competition, and I absolutely loved it and had to share.
Wednesday: Complete rest. I didn't mean for this to be a rest day, but in the taper I figured it was probably a good thing to take two full rest days instead of my normal one. We had tickets to David Sedaris after work. I could have run in the morning, but I choose sleep instead. #sleepchallenge
Thursday: 7 miles with 3 miles at goal marathon pace
Friday: Another complete rest day. Happy Halloween! Did you wear a costume? For work, I dressed as a dragon:
For our neighborhood party and for handing out candy to trick-or-treaters, Matilda went as a fawn and I was a hunter.
(Don't worry, we used dog safe spray paint for her costume!) I didn't have any blaze orange so I just threw on a bunch of Dustin's stuff.
Does she look like a deer? I think so!
Saturday: Saturday my "long" run was only 10 miles. Gotta love the taper! I was out running before 7 am (with Matilda as my running buddy) so I could be showered and ready to provide support to my fellow CBRC runners who were doing their capitol run (22 miles) for the Philadelphia Marathon.
Sunday: Just another 4 mile easy run with my friend Kelly and Matilda the vizsla.
Summary:  31 miles, 2 full rest days, no cross training and no strength (I'm not too worried since I'm in the taper)
Let me tell you more about the support stop. I parked my car around mile 14 of their route, settled in with my book and some music and waited for the first group of runners to arrive.
I had oranges, jolly ranchers, water, and Gatorade for the runners.
I brought a new flavor of Gatorade that I had never heard of before (from Target)- lime cucumber or "Limon Pepino." Have you tried this? Even though the support wasn't for ME, I had to try it. Interesting…but not bad!
Good luck to the Philly runners in a few weeks. Enjoy your taper and if it starts to feel a little "sucky" be sure to read this post for tips to make it more magical!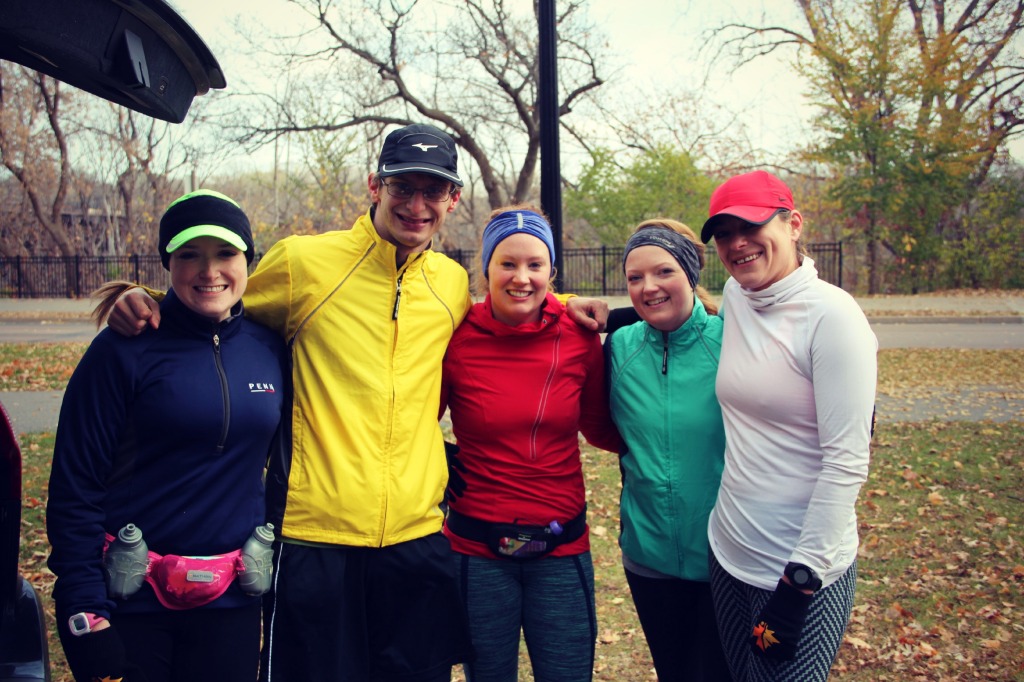 In fitness fashion, my Brooks Heritage sneaks arrived! They made their first appearance at the support stop as well. They definitely aren't for running, but I will enjoy them for walks with Matilda and kicking around on the weekends.
That's all from the Right Fits this week.  Stop by tomorrow for a BIG Right Fits announcement…!!!!
(Visited 686 time, 1 visit today)