Welcome to The Right Fits- Where Fitness and Fashion Meet!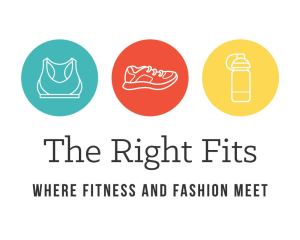 As you might have noticed, the Right Fits had a bit of a makeover.
What do you think of the new look?
I hope you love it as much as I do!  Please be patient with me as I work through any kinks. If you have any feedback, please feel free to share. If you click on any links and they don't work, please let me know so I can fix them ASAP!
What is The Right Fits?
The Right Fits is my (Jessie's) personal blog about my experiences trying to find The Right Fits in fitness and fitness fashion. Here you will find honest reviews of fitness classes around the Twin Cities (and sometimes on the road). You'll find information on fitness apparel and gear. You can read lots of race recaps, particularly marathon recaps as I continue on my journey to run a marathon in every state, with a few countries thrown in every once in a while. You will also find plenty of pictures and posts about my dog, an energetic vizsla named Matilda. I'll share travel posts on occasion. I will share my weekly recaps with details about my workouts and anything new in fitness fashion.
Finding your way around the blog:
Thank you….
I have a few special people to thank for helping me create the new look for The Right Fits:
My husband Dustin, who spent a lot of time and effort figuring out WordPress and the technology side of blogging (and he'll probably continue to be my "IT department"). He's also the patient photographer for the blog.
Emily, owner of Lift Creative, who was such a pleasure to work with as my graphic designer. She created my awesome new logo and banners. I think she captured The Right Fits perfectly- Where Fitness and Fashion meet!
Nathan from Minneapolis Running who continues to give me a ton of advice on blogging, social media, and more. Thank you!
…And thank YOU for reading!If you enjoy the Right Fits, I would love for you to share it with any friends, family, acquaintances etc. who might be interested in what The Right Fits has to offer. Pin it, tweet it, share it, +1, email it…you can even send a hand-written letter to your friends asking them to check it out.I attended a blogger conference last weekend and one of the speakers said, "You have millions of readers out there, they just don't know you exist yet." Help me reach them!
And connect with me- I'd love for you to comment on the blog, and
yo
u can follow The Right Fits on twitter, instagram, pinterest, google+ , and facebook. Just click on any of the icons on the upper right hand side of the blog. Don't forget to sign up for The Right Fits weekly newsletter so you never miss a post. Thank you so much for stopping by and I look forward to connecting with you in the future.
(Visited 464 time, 1 visit today)