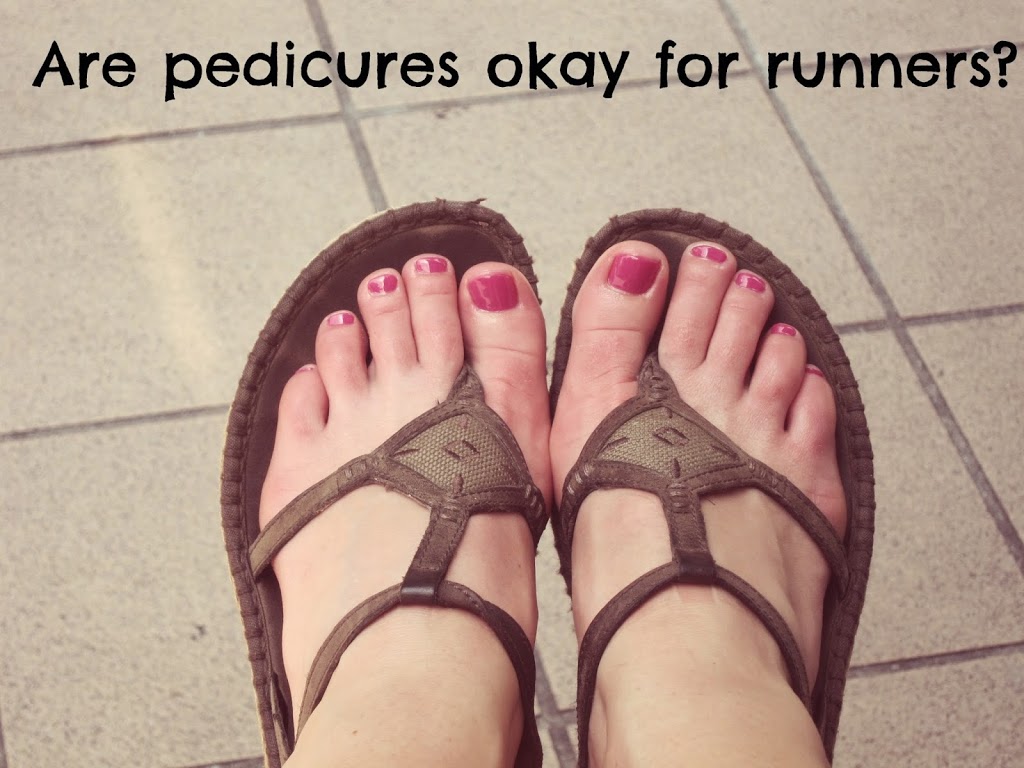 A lot of you have completed your fall marathons (
TCM
,
Chicago
,
Steamtown
,
Milwaukee
, any others? Please tell me!)   If so, congrats!I'm still here trucking along with my training for the
Outer Banks Marathon
on November 9th.  In fact, this was my "peak" week of training. Training's going just fine but I'm going to be honest with you here, my feet have definitely looked better. Now, I have seen
worse
feet on runners, that's for sure. However, it's still 75 degrees in Nags Head, North Carolina so I might be wearing flip flops for that trip. My feet probably need a little TLC. I'm trying to decide if I should get a pedicure now, or hold off until after the
OBX marathon
 or is a pedicure both now and later a good idea?
The question is- are pedicures safe for runners?

Guys- don't click away- this post is for you too.  Pedicures are definitely not just for the ladies! Almost all spas will give a man a pedicure. (
Ivy Spa
downtown is a luxurious treat). Your feet need some tender loving care just like the ladies' feet do!From my research and experience, the answer is YES, pedicures are safe for runners. In fact, there a lot of reason why you
should
get a pedicure when running a lot or training for a marathon:
It's a good opportunity to do some basic foot maintenance.
A pedicure is the time to have a licensed professional check things out. Unless you're super flexible (which most runners are not) it's hard to see all of your feet so its best to let someone have a look.
Even trimming your nails is easier if someone else is doing. There's less risk of cutting the nails wrong so that you set yourself up for future injury.
You need to keep your toenails cut short ; you don't want them to be too long or they can poke holes in your socks, setting you up for future blisters and irritations.
Pedicures are a great idea, but there are some things you want to keep in mind when it comes to pedicures for runners.Tips for Runner Pedicures:
Do  not have your pedicurist remove the callused skin with a razor or emery board or pumice stone. Some people say its okay to get them scrubbed just a little bit, but never ever shaved (and in many states, this is illegal anyways)Here's the thing- calluses are a good thing; they are our foot's way of protecting itself by developing a layer of thickened (albeit, dead) skin. You need those calluses!Ask your pedicurist to instead spend extra time massaging your feet and calves.
At- Home Care…
There are things you can do at home to maintain foot health on your own:
Keep your feet moisturized.
Learn from your feet! 

Your calluses can tell you something- are they on the outside of your toe? Maybe you're rolling your foot. Are your toenails black? Everything I have read says that black toenails are caused by improperly fitted running shoes.
Be sure you have the RIGHT FIT for your FEET!
I could go on and on about finding the right fit in running shoe, but I'll just briefly mention it again. Its
imperative
that you have well-fitting running shoes. Head to your local running store (
Mill CityRunning
,
Gear
,
Run N Fun
are all awesome) and get properly fitted.
Be sure to wear moisture wicking socks.
In summary….
Pedicures are a good idea during marathon training, and they are also a great idea AFTER a marathon (or any other big run) as a way to treat yourself!
(Visited 2,653 time, 3 visit today)