Yesterday morning I joined my friend Meggan of The Yoga Garage for a sunrise yoga class at Lake Calhoun. The class was led by Emily of Luminous Yoga. Emily teaches sunset yoga on Lake Calhoun on Tuesdays at 6:30, but this was a special morning class for a video shoot.
Emily had been contacted by Propel to participate in a promotional photo shoot/video of her class. She posted to facebook looking for volunteers willing to get up early for some free yoga, and I figured, sure why not? Lake Calhoun is less than ½ mile from my house, so I just hopped on my bike with my yoga mat and pedaled on over to Lake Calhoun!
It was so pretty by the lake at that time in the morning.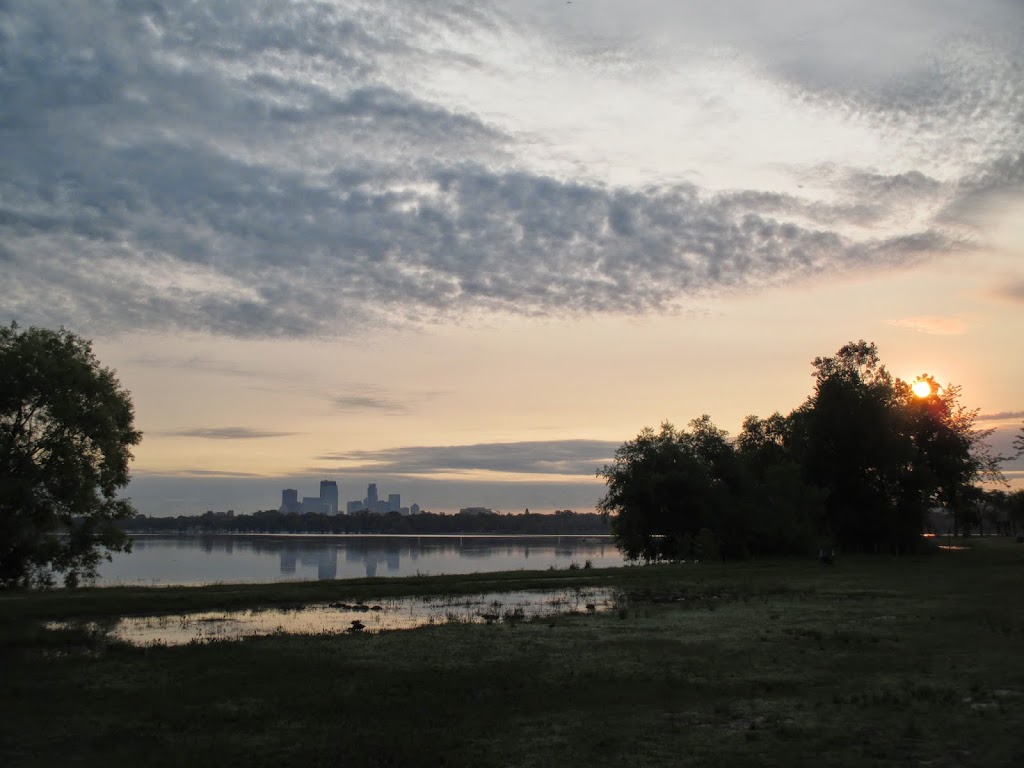 I also enjoyed watching all the ducks playing around in the flooded areas. I think the ducks are having the BEST SUMMER EVER!
In fact, a family of ducks ventured pretty close to our mats during the class. Maybe they were there to show us how to do duck pose?
"Yoga Duck Pose or Karandavasna" is an important forearm balance that prepares you for more difficult balances, such as the scorpion or the feathered peacock.
Here's a picture of duck pose for you:
Anyways, back to the class…At the beginning of the class, we were all given a bottle of 
Propel
 to have in the photo shoot. We did have to put away any other water bottles, etc. that we may have brought to the class. I can't remember the last time I drank Propel. I thought that it would have a bit of an artificial flavor, but it actually tasted pretty decent.
So, why Propel? Apparently 
Propel
 has re-entered the market recently, and they are working with a new advertising company. They plan to promote 
Propel
 in important fitness markets like Minneapolis! I believe the advertisement will be aired on Fox and NBC in the fall. Keep an eye out for me on your TV!
Here's what we were told before the class:
Try to wear yoga/athletic clothing without logos/brand names. No need for an emergency blow-out or false lashes, keep it natural (haha!)
The yoga class was a typical vinyasa style class, with only a few "disruptions" with regards to the photo shoot, such as when the drone with the camera flew over the class to get some overhead shots. It was louder than I expected and gave us quite a breeze as it passed overhead.  There was a couple walking their dogs by when the drone was flying around, and the dogs did not like that drone one bit! They were barking like crazy at that weird flying "animal!" We all chuckled at that one.
Other than the drone, the class was uneventful but good. It was easier than I expected to forget about the handful of photographers taping the class. I was surprised that I wasn't more distracted or self-conscious- maybe it helped that I hadn't had any coffee and wasn't totally awake! But I felt quite present and really enjoyed myself (though boy, oh boy, am I inflexible right now! I think I need more yoga in my life…Iknow that I need more yoga in my life!)
The class did run a little over; it was supposed to go from 6:30 to 7:30, and it was nearly 8 am when it ended. A few students had to leave early, but I didn't have to rush to work as I had a doctor's appointment at 9 am; I had plenty of time to spare.
We also all received granola/yogurt cups from 
Seven Sundays
– so good!
Emily is a great yoga instructor, and I really enjoyed her class. I posted last summer (HERE) about all the awesome free yoga options that we have in Minneapolis- we are really fortunate!
Go check out Emily's class on Tuesday night at Lake Calhoun, and then the next night you can take Meggan's sunset yoga on Lake of the Isles.  Maybe she'll even do duck pose for you! Though on Lake of the Isles, I think she'd need to do GOOSE pose (which, unfortunately,  is not a thing…)
Outdoor yoga is on my summer bucket list, and I plan to make it to more classes this summer with the Yoga Garage and/or Luminous Yoga. I hope to see you there!
Sunrise Yoga plus Proper Water was a lovely way to start the morning. 
(Visited 405 time, 1 visit today)