This 5k is for women only. Its co-sponsored by Lifetime and Athleta. I ran this last year, which was the first year of the race. That makes me a "founding finisher!"
(You can read last year's review here.)
The race definitely grew from last year. It was capped at 2,500 runners this year…I'm not sure what the cap was last year, but if felt WAAAYY bigger this year, and there was a whole lot more going on!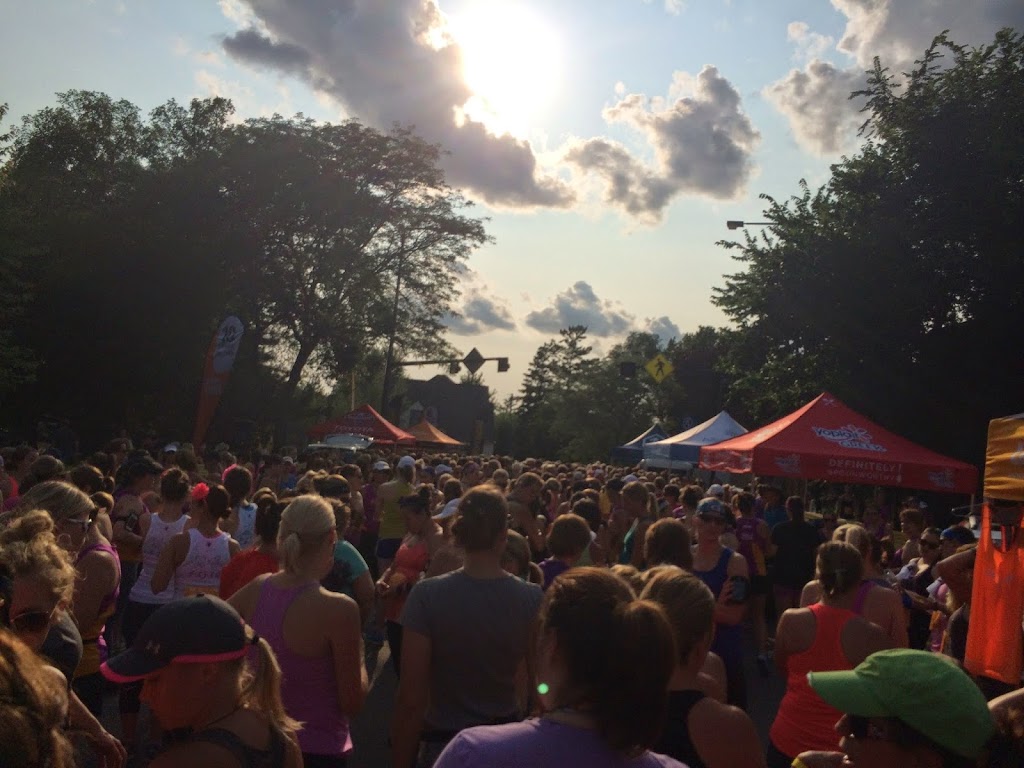 Registration:
Let me start at the beginning- registration.
I actually registered several months ago, and I received a packet in the mail. I just assumed the packet included my bib, so I set it aside…Then when I volunteered to pick up packets for a few friends, and didn't pick up my own, since I still assumed it was in that packet…well, it wasn't!  All that 
was
 in the packet was a "bonus" tank top for early registration. Don't get me wrong, the tank is great and all, but I needed my bib!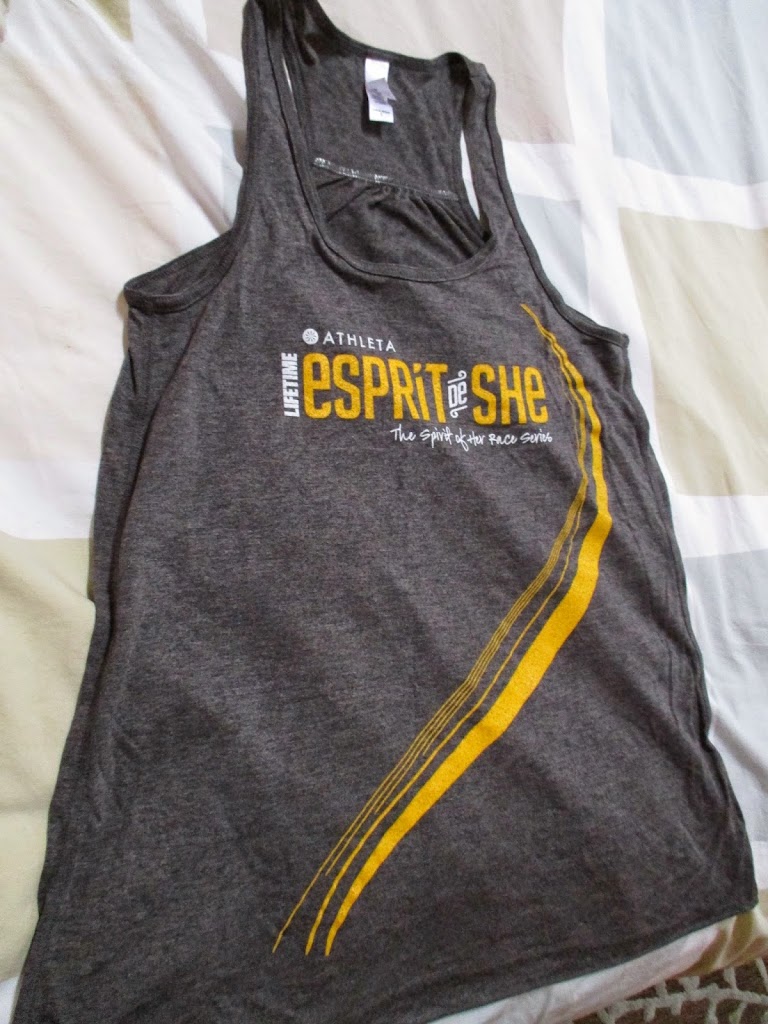 The problem was that packet pickup was on Tuesday at the Athleta store until 8 pm, and I realized I didn't have a bib around 8:30 on Tuesday night…
There was one other option though, and that was packet pickup on race day. THANKFULLY, my dear friend Abby was able to get out of work early enough on race day and pick up both of our packets that day. Whew!
SWAG:
We all received an Athleta bag full of coupons and discounts, but the nicest piece of swag was the Athleta tank pictured below: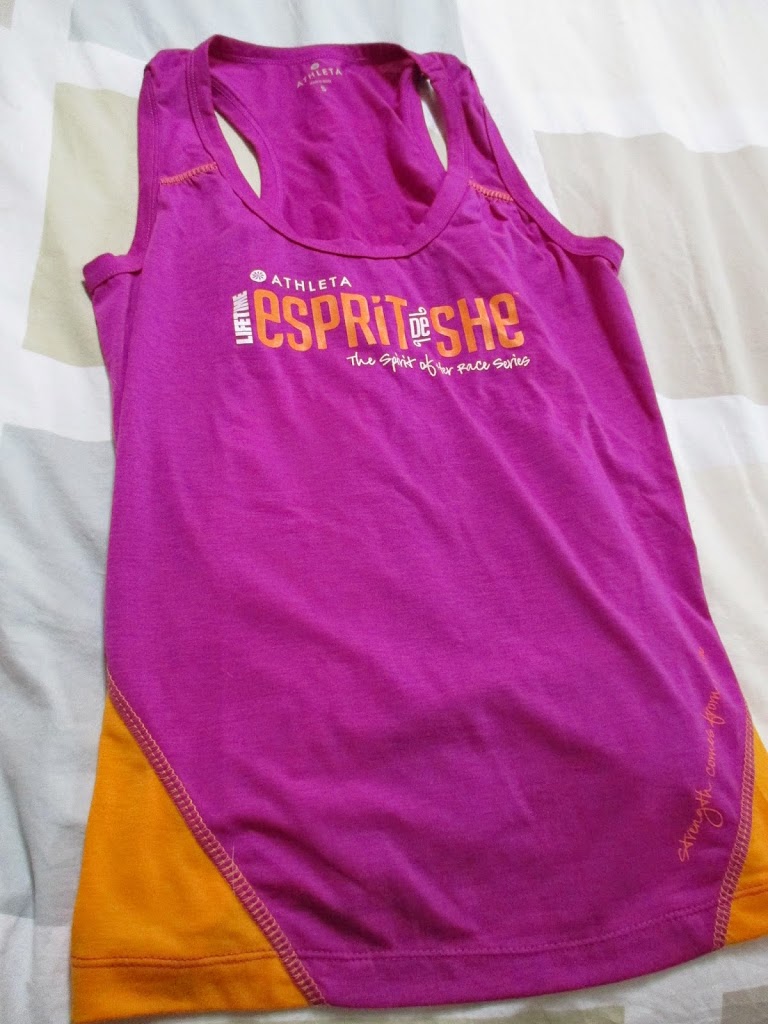 The Start Line
We met at my house and took a scenic route to the race along Lake Harriet as a warm-up. By the time we got to the start, we had three miles under our belts, and we were all parched! The kind people at the medical tents gave us a few water bottles, as there didn't appear to be any other water around… Then we pushed our way through the line-dancing/Zumba/warm-up that was going on, and we found ourselves pretty close to the start line. It was 
interesting
 that no women were toeing the line.
Why are we all so timid?
The Race
After the national anthem, there was a quick countdown, and then we were racing!  The course was an out-and-back through the Edina neighborhood surrounding 50th/France. There were some rolling hills, and the temps were high (I was SOO sweaty afterwards) but a nice course. There was a support stop, though I didn't use it. My one complaint about the course is the same as last year- since it's an out-and-back, there were a lot more people still coming "out" when I headed "back" and they were crowding the course. There were cones set up to divide the lanes, but it wasn't working very well. It was a little chaotic on the "back," and I can only imagine a little farther back in the pack, it might have been worse. 
At the same time, I did like this out and back though for a 5k as I was able to cheer for my friends as I saw them. In fact, one former member of my run club, Julie Running (yes, her last name is Running and she's a great runner!) actually won this 5k by a landslide. She was so far ahead of everyone else, it was almost comical! But I was also able to cheer for Kelly, Abby, Ellen, and Gina as they came back and I went "out".  
This race was also really walker/beginner friendly. In fact, it was a bit of an ego boost to be so far ahead of the rest of the participants (I think I was 48th out of 2500 runners). 
Even better, I do think I might have set a  PR, which hasn't happened in a LONG time. My goal was to run 23 minutes, and my official time was 22:59. Just barely squeaked in but I did it! That time was 22 seconds better than last year (I ran a 23:21 last year). Its not much, but its an improvement, and I'll take it! Honestly, I needed a little boost to my confidence, as its really been a long time since I set a PR. I know that 22:59 is not that fast compared to the majority of my running friends, but its fast-ish for me, and I was happy.
The After-Party
The after-party for this race was pretty impressive. 
All the stores at 50th/France were having special sales. Steele Fitness had a wheel to spin, and I won a one-hour private training session! Each runner also received two drink tickets, and there was wine, champagne, or beer to choose from. 
Edina Grill also had turkey burgers for everyone. We actually passed on the turkey burgers, as we had already made plans to eat at Mozza Mia (their fig and prosciutto pizza is phenomenal!)  We still hhung around the after-party for a little while. 
Athleta was giving away my favorite hair ties! Score!
Eventually we made it to Mozza Mia and had a great meal with ladies, and then we walked the mile or so back to my house afterwards.
Overall Rating:
I give this 5k an 8/10.  I think the start line was a little crazy, and I think they should add a 7 minute pace 
staging
 group at the start. 2500 people is a lot of people, so maybe they can try to encourage people to really line up in the right staging area. I also think the out-and-back course was a little chaotic. But the swag and the after-party were really fun, and I definitely enjoyed "racing" a shorter distance.
(Visited 349 time, 1 visit today)