Go USA/Happy 4th of July- I definitely dressed the part today for work, donning every piece of red/white/blue I own. Overboard? Failed Fit?  I also enjoyed a red/white/blue bomb pop at the office as part of the soccer viewing activities. So good…
Are you a big soccer fan? I will be honest that I am not, but a lot of my coworkers are, so its easy to get caught up in the excitement.
So let me change topics here from soccer to hiking!
Last Sunday, we took advantage of the gorgeous summer weather and drove to
Willow River State Park.
Located in Hudson, Wisconsin, this park is about a 45 minute drive from Minneapolis. My friend Vicki (an avid hiker with lots of good advice!) had told us we should check this park out with Matilda, particularly because of the cool waterfall there.
The daily fee to enter the park was $10, and the park ranger gave us a helpful map of the trails upon arrival. We drove about five minutes into the park before we parked our car and headed out for a hike.
The trail we took was about 2 miles long to get to the waterfall. It was mostly shaded and had nice views of the nearby lake.
We could definitely hear the waterfall before we could see it; with all the recent rainfall, it was really moving fast!
Vicki had told me that they went swimming by the falls when she was at this park last summer, but the water was just too wild to swim this year. There were a few brave souls wading in the shallow areas on the sides, but most people just hiked around the water for the view. I'd love to come back when we could swim there!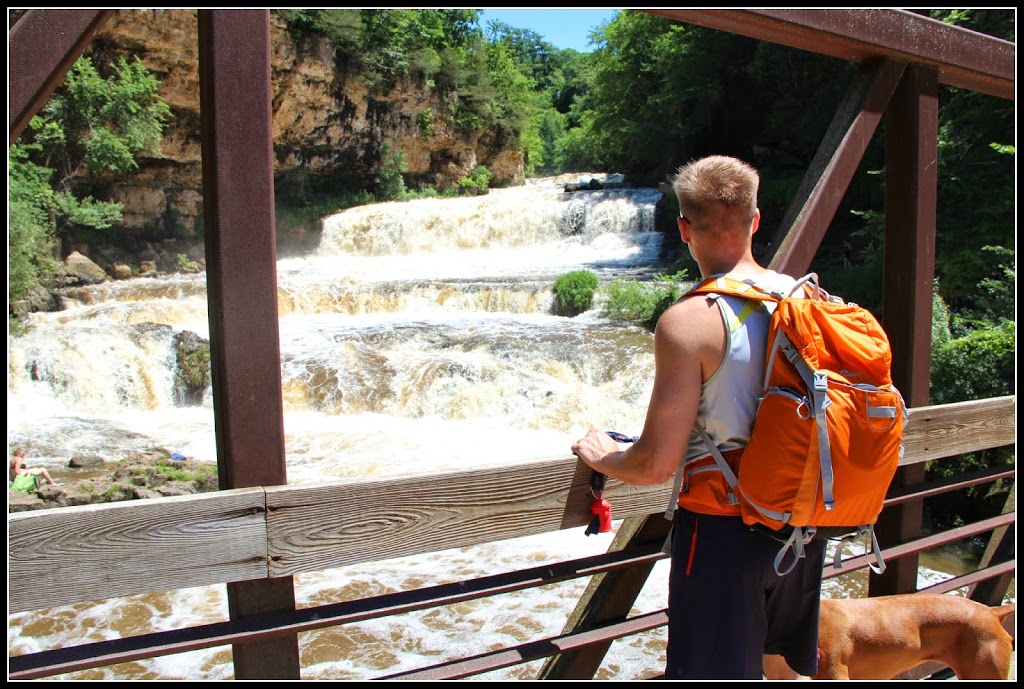 Matilda seemed to enjoy her first waterfall.
A family photo at Willow River State Park.
I posted HERE with some tips for hiking with your dog. As a reminder, we are always sure to bring plenty of water for her. We also checked her for ticks afterwards, in addition to using Frontline.
More recently, we have to be sure to keep an eye out for the blue-green algae that has been blooming on some Minnesota lakes. Read this article for more information on what you should be looking out for. This algae is highly toxic to dogs, so you really want to be sure to avoid it. There were signs up at the park warning patrons of this algae in standing waters, so we did not let Tilda get in the water.
The trails we walked were all very easy. There were some more challenging trails in the park, but we only had limited time. We will have to come back to check out more of this cool state park. The campsites looked pretty nice too, so we discussed potentially camping here for a night as well this summer.
More things to add to my Minneapolis Summer Bucket List!

Have you been to Willow River? Did you go swimming in the pools by the falls?
(Visited 562 time, 1 visit today)