Since my last post on Friday, I guess I can say I'm back to running…or "jogging."
Dustin and I were up early yesterday to get in a short run (about 6 miles) with Matilda (our vizsla). I still feel very out of shape. I'm hoping to run quite a bit this week, so hopefully my cardio will come back quickly…hopefully!
We had to get our run in early, as we had volunteered to host the support stops for the Calhoun Beach Running Club runners who are training for Grandma's marathon. They had 20 miles to run yesterday, so Dustin held a support stop around mile 7, and I hosted one around mile 14 of the route.
We could not have asked for better weather for a run and for a support stop! I arrived to my appointed spot a little early so I could write some words of encouragement in chalk on the route (it's the little things that help, right? That's what I think!)
I thoroughly enjoyed sitting out on my chair reading my book (The Art of Fielding, btw). The weather was great, and it was really relaxing. Eventually, the first group of speedsters came through for some fuel.
I had fresh cut oranges, cinnamon gummy bears, swedish fish, Gatorade, and water. Dustin had strawberries at his spot, as well as the rest of the same goodies. It felt good to return the favor for all the runners who have hosted support stops for us during our training!
After the final runners came through my spot, I packed up my things and headed home. We spent the rest of the afternoon at Art-A-Whirl in Northeast Minneapolis. We try to go to this weekend-long art festival every year (read about last year HERE), and we were happy to have such a great day weather wise to peruse all the art.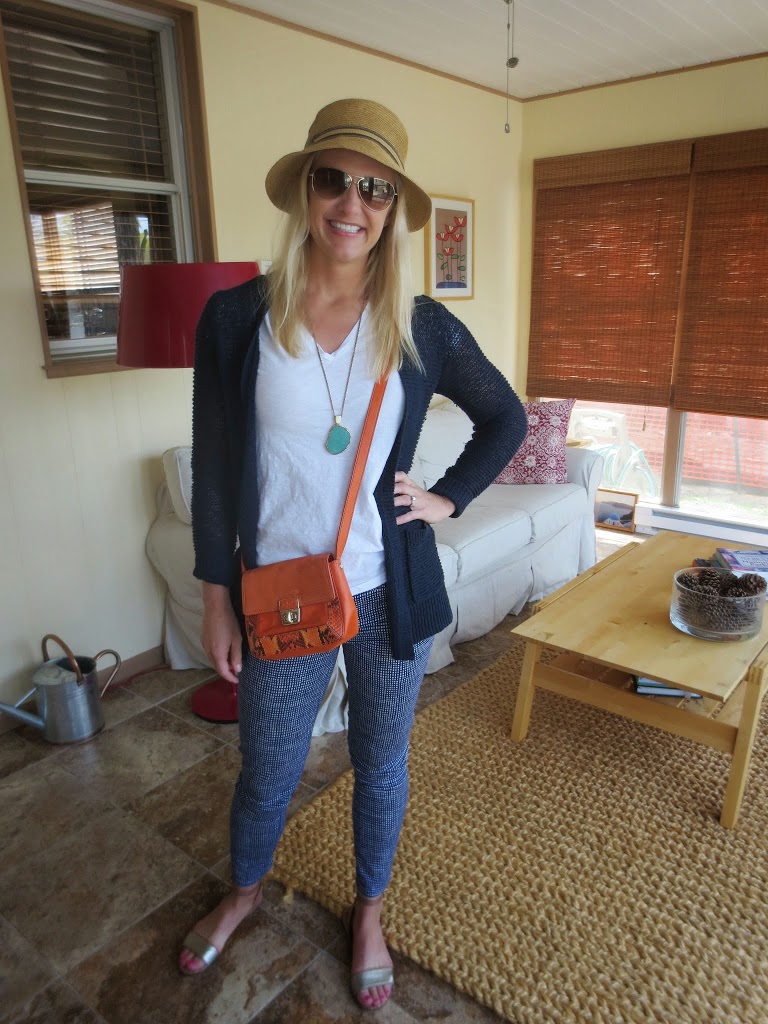 Art Festival Attire: JCrew pant, Old Navy tee and sweater, Cole Haan cross body bag, Lucky covela sandals, Nine West hat, Lulu's necklace, Tory Burch sunglasses

Art-a-Whirl is a the "largest open art studio tour" in the country.  Rather then vendor tents like most art festivals, this one is held indoors at several different locations around NE Minneapolis. For this one time only, the artists open up their studios to the public to explore. Along with all the artwork, the whole neighborhood gets involved in the festivities. Restaurants have specials. Food trucks are in the area. Breweries have bands and tents, and it's a good time for all!

We were able to check out quite a few different buildings and studios this year, and then we stopped for a quick pint at the Indeed Brewing Company where there was live music.
Eventually we also made our way to the
Dangerous Man Brewing Company.
NE Minneapolis has so many great breweries! We only explored two yesterday, but I think you could make whole day (or night) out of it.
Dangerous Man
was packed, but it was great people watching and good beer.
After our feet got tired from walking around, we came back home, and then went out for sushi at
Origami
in Uptown. Uptown was hopping due to the great weather! Seriously, our city really comes alive in the summer. (and we have the
2nd best airport for craft beer
– that's something, right?)
Today, I was up early again to run the same 6 mile loop with Matilda, and then I went to
Balanced Barre's BarreAmped
class afterwards. Groceries, meal planning, and yard work consumed the rest of the day, and now we're settling in to watch the recorded Saturday Night Live from last night. Andy Sandberg was the host, and I heard it was a good one.
I hope you were able to get out and enjoy this lovely weather!
Have you been to any of the NE Mpls breweries? Which one is your favorite?
(Visited 64 time, 1 visit today)