Here at the Right Fits, I primarily write about Fashion, Fitness, and Fitness Fashion, but I think a good skin care regime is an important component of a healthy lifestyle. Therefore, sharing my skincare regime somewhat fits into The Right Fits…right?
Well, either way, I thought I'd switch things up a bit and share a little about my personal skin care routine. I know I am by no means an expert. I am still learning and changing my routine as I age,  but here is what I have been using lately.
 In the morning, I use a cream cleanser to wake up my face in the shower. I have been using Neutrogena's Deep Clean for years, and I find it to be very refreshing.
True to its name, it offers a deep clean.
After my cream cleanser, I use an Aveeno moisturizer with SPF 30.
It's "ultra calming," or helpful for reducing red spots, as well as helpful for sensitive skin.
In the evening, I remove all my makeup with a Neutrogena cleansing wipe. I love these gentle cleansing wipes. They seriously remove ALL the gunk, so I don't wake up with mascara smears the next day.
After removing all my makeup, I either use a cream cleanser again to wash my face at night, or, as much as possible, I try to use my Clarisonic face cleansing system. I really love this cleaning machine, as it leaves my skin feeling very smooth. It runs on a cycle (I think its 90 seconds?) where it beeps to tell you to switch between your forehead, t-zone, and each cheek. 
The Clarisonic cleansing system is supposed to reduce the appearance of fine lines and help combat wrinkles, while really cleaning out your pores. The whole cleansing routine with the gadget takes less than 2 minutes. Every time I use it, I remind myself that I should use it more often. My skin feels great afterwards! These cleansing machines are a little expensive (over $200), but they are effective. I received mine as a birthday gift from my mother-in-law (thank you!). Definitely a great present idea!
After the Clarisonic cleanser, its time for some more Aveeno red reducing face lotion with SPF 30. Then, before bed, I  put on quick layer of Neirium.
Neirium? Let me explain.
I definitely have a bit of a love for the sun. Well, I don't get a lot of sun in Minnesota seven months out of the year, but when we take a beach trip (like this one to Turks & Caicos) I do like to lounge in the sun. I always wear an SPF of at least 30, but my skin still is starting to show the effects of a long love affair with the sun, with wrinkles and some sun spots.
Enter Neirium. My friend Tara is a supplier of this magic potion, and she is very confident that it works. She has shared many before-and-after pictures supporting the effectiveness of this lotion for her clients. In fact, she sent me these before-and-after pictures of one of her very own sun spots. You can really see how much it has faded after using Neirium.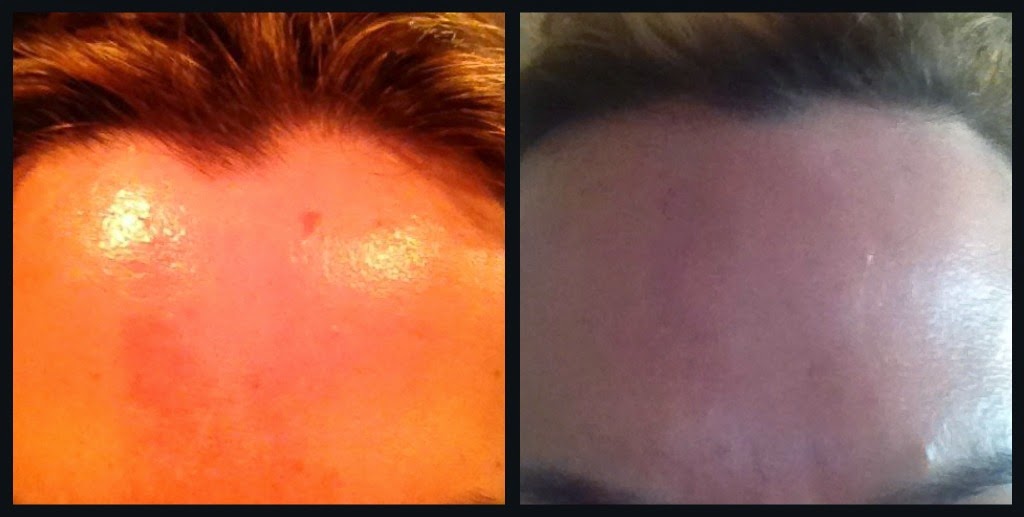 The picture on the left is the "before", and the picture on the right is the "after." You can see how much the sun spot has faded. It's basically gone!

When I first started using Neirium, I had originally thought about doing before and after pictures myself, but I haven't been as diligent about using it every day. But I will admit, I have noticed a significant reduction in my "sun" spots, and the texture of my skin has improved. Have my wrinkles gone away? Well, no. But based on Tara's experience, and several of her clients' testimonies, I feel like I am doing the right thing to try to prevent them from getting worse.
Here's the science behind the "magic potion" straight from the source:
"The Nerium Oleander plant (NAE-8 antioxidant) extraction process is what makes this so special; it is called NBio-PL²T. That and the minimal amount of ingredients, all are concentrated and not diluted. It is noncomedogenic, paraben-free and gluten-free for those with sensitive & allergy ridden skin."  

**My skin is pretty sensitive, but I haven't had any negative reactions to this cream.
"NeriumAD Age-Defying Treatment is a true breakthrough in anti-aging skincare that harnesses the patent-pending NAE-8 extract from the Nerium oleander plant. This extract, in conjunction with other synergistic, age-defying ingredients, is responsible for the creation of real results. This powerful formula allows NeriumAD to address multiple concerns at once. Third-party clinical trials conducted by ST&T Research show that NeriumAD Age-Defying Treatment dramatically reduces the appearance of fine lines and wrinkles, uneven skin texture, enlarged pores, and aging skin."
The primary ingredients are Aloe, Nerium Oleander Leaf Extract, and Quinoa!  <– apparently quinoa isn't just good for you to eat, it's also good for your skin!
You don't need to use very much each night- just a little bit goes a long way. I have been using Neirum now for about 1.5 years, and I have only just started my second bottle.
This is not a sponsored post. I didn't receive any compensation for sharing my experience about Neirium. However, if it sounds like something you'd like to try, it would be awesome if you sent your business to my friend Tara- This is her referral link: HERE

Well that's my current skincare routine. I hope you didn't mind the detour from regular posting about Fitness, Fashion, and Fitness Fashion!
(Visited 241 time, 1 visit today)