This week, my focus has been on the impending 26.2 mile jog quickly approaching on Sunday. I have been watching some motivational videos- videos like this one!
This video may be about the St. George marathon (which we ran in 2012, and it was AWESOME), but it still gets me motivated for Flying Pig this weekend! 
"The marathon is merely the reward!"
Anyways, thankfully, today I had a fun little distraction from thinking about the marathon. And this distraction actually fit in well with the "fashion" part of the blog!
Last June, I won a Wardrobe Consultation with A la Mode Wardrobe Consulting via a Silent Auction at a Share Our Strength Hotlist event. It ended up being one of the best items that I have ever won at a silent auction. I found the closet analysis that I did with Carly, the owner of A la Mode, to be incredibly valuable. She really opened up my closet in such a way that I feel like I have so much more to wear! She also gave me so much advice that I continue to use her tips when shopping a year later.  You can read all about my consultation HERE and HERE. I highly recommend Carly as her work is top-notch!
I have stayed in touch with her over social media and whatnot. A few weeks ago, she reached out on Facebook for "regular people" who were willing to participate in a photo shoot for a style feature in the Star Tribune. I'm a "regular" person, so I jumped on that opportunity.
The photo shoot was today at the Star Tribune office. It included 
four 
other women of different ages and with totally different "looks". The photos will be split into three features- one about how to update the maxi dress, how to style a "crop top," and how to wear a "soft pant."
I volunteered for the shoot, not knowing which of the three looks I would be wearing, and I ended up modeling 
the
 "soft pant." (Thanks goodness- not sure I wanted to bare my midriff in a crop top for all Star Tribune readers!)
What's a soft pant? 
Well, I didn't really know…Apparently, a "soft pant" is the hot look for spring/summer! These pants are often silky, and they look a little like "harem pants." They are often cropped or tapered.
I got to wear these gorgeous Yoana Baraschi cropped aloe lace pants in black and white (Find them
HERE
🙂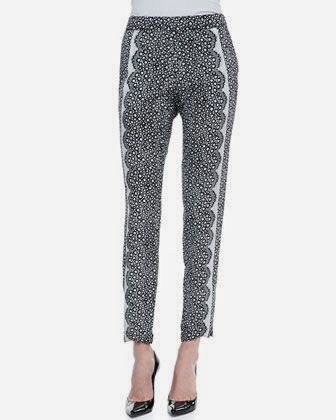 I

 found the same pair online at Neiman Marcus, but Carly pulled them for 

the shoot from a local boutique called MINQ. MINQ is located at the West End (I wrote about their opening party HERE) and now they have added a location at 50th/France!
For the outfit she picked for me, Carly paired the pants with a black sleeveless blouse from
Primp
(love that place!) and a white silky jacket, also from 
MINQ
  Carly provided earrings and a bracelet, and I provided the shoes (
THESE
from JCrew Factory)
Mark Navarro
was on site to do our hair and makeup, which was a lot of fun. He worked quite quickly, so before I knew it, it was time for the actual photo shoot.
Now, I have never modeled before, so I am the first to admit I was way out of my element. I tried my hardest not to look too nervous or uptight, but I am not sure how it worked…
The photographer told me to slightly change my pose after each camera click…well, I only have one pose- the "OC Hip."
…THIS is the "OC Hip"
Yep, the "OC Hip." It's all I got.
So…It was a little challenging to change my pose after every click, and I'm worried that my awkwardness might be reflected in the pictures.
But hey, it was a fun experience to play "pretend model" for the day. I enjoyed seeing the fun outfits that Carly picked for the other ladies as well, and I'm looking forward to each of the features in the Star Tribune.
What are some of the fun summer looks that you are looking forward to? Have you heard of "soft pants?" Do you have any?  I really loved the ones I wore today and would like to find a similar pair at a price that is a little more in my budget (that pair was $218)
(Visited 89 time, 1 visit today)