Linking up with Helene in Between via Real World Minneapolis: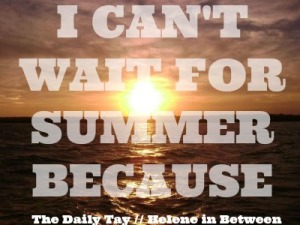 1) …the cabin! i.e. "Up North." Paddleboarding. Fishing. The "Relaxation Station."
2)…trail runs!
Actually, the schedule was just posted for the Endless Summer Trail series. Here it is!
3)….parking on both sides of the street. Yep. Ready for Minneapolis's snow emergency to be OVER!
4)…bright colors! Okay, I'll be honest, I wear bright colors all year long, but I'm excited for it to be a little more seasonally appropriate!
5) the end of salt on my suede shoes!
6) fun summer races, like the Torchlight Run!
7) leisurely walks at the dog park with Matilda
Seriously, the list goes on and on…
8) some color on this pasty skin!
9) sun bleached blond hair
10) not having to pack a huge bag of winter clothes every time I go to the gym
11) no more shoveling snow
12) no more wearing a different pair of shoes (i.e. BOOTS) to work and carrying my dress shoes
13) sunsets at 9 pm!
14) dinners on the back deck!
15) a nice glass of white wine…
Tell me how you would finish this sentence! I can't wait for summer because….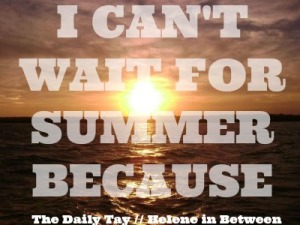 (Visited 276 time, 1 visit today)