By Jess in Minneapolis

Happy New Year! We are going through a crazy cold spell here in Minneapolis. The high on New Year's Day was only 0 degrees, and when I woke up, it was -7 with a "feels like" temperature of -20. I would normally just head to the treadmill, but a few brave souls had organized a New Year's Day run to start off 2014, and I didn't want to miss out on the….fun? Fun? Is that what we're calling it? Ha!
On New Year's Eve, there was plenty of texting back and forth with this group, and I was thinking (hoping?) that the run would be cancelled, but it wasn't. Nope! At 9 am, three girlfriends came over, all bundled up, and we ventured out into the arctic cold for a New Year's Day run. We managed 7.8 miles, and to be honest, it wasn't really that bad.
With the right gear- with the Right Fits– you can run safely and comfortably, even when the temperatures are below freezing.
This post is all about the gear! I'm going to share with you what each of us wore to run, providing links to similar products for you to purchase to complete your winter running essentials and run through the winter safely and comfortably.

Me (Jess):
Footwear: SmartWool, Yak-Trax & Brooks
The trails were mostly clear, but I still wore my YakTrax Run paired with my Brooks Ravennas.
I wore a regular pair of running socks under a pair of SmartWool knee high ski socks. I probably wear my YakTrax more than most people (I was the only one wearing them that day), but I think I'm a little nervous ever since I broke my ankle on the ice in 2008.

Bottoms: Two layers.
I wore two pair of tights- a pair of Craft running tights (similar) and then a pair of fleece lined Adidas running tights (similar). The Adidas pair are pretty warm, but they don't actually stay up on my butt very well. This wasn't really an issue though, since they were on top of another pair. Problem solved!

Top: Four layers.
On top, I started with a lululemon bitty bracer, then my Costco tank top, Athleta long sleeve twist top, Nike long sleeve half zip (similar), and then a Nike windbreaker jacket (can't find anything similar online). The jacket is puffy and bright, and a good top layer.

Head:
I wore my Nike face mask, but this was a bad choice. The face mask works well for a few miles, but then it starts to get sweaty, and then the sweat freezes, and you are left with a hard wall of ice covering your face and chin. I think that a warm hat, paired with a neck gaiter (like THIS) is a better choice, because you can rotate the neck gaiter around as it freezes. Sounds weird, but it works! I won't be wearing the face mask again. My chin was FROZEN by the end. Failed Fit.
Hands:
I wore my Craft XC split finger gloves. Best gloves ever.
They really kept my hands warm. In fact, I was tempted to take them off towards the end, as my hands were getting so sweaty! They are seriously the best running gloves.
So, that's a lot of layers, but other than my face issues, I felt pretty comfortable with what I was wearing in the cold.
Let's move on to what Lindsey wore!
Lindsey
Footwear: Brooks!
Lindsey is a Brooks girl as well, with the PureFlow 2 as her shoe of choice. She paired hers with SmartWool tall wool "ski" socks. Seriously, snowboarding or ski socks are perfect for cold weather running!

Bottoms: Two layers.
Lindsey also wore two layers on bottom. She went with a pair of Under Armour Fitted Coldgear thermal pants (similar) and Brooks Utopia Thermal Pants <–I have these too, and they're great!

Top: Four layers.
Four layers for Lindsey as well. She started with an Under Armour Heat Gear short sleeve (similar), and then a Champion base layer long sleeve (similar). Then she topped those with an Under Armour fitted cold gear thermal long sleeve (similar), and a super cozy Marmot polartec power shield shell jacket (similar) Marmot makes really great cold weather gear, and I think their stuff is worth the extra money.

Head:
Lindsey wore a 686 infidry balaclava with mouth vent, which she highly recommends! (similar here) She paired it with a Brooks headband, and said she felt pretty warm.

Hands:
She wore two pairs of gloves- Mizuno knit gloves and Nike storm-fit tech running gloves. (Find similar gloves HERE and HERE)
Lindsey said she felt pretty warm and was dressed well for the weather!
Next up…Kelly! Now Kelly used to say no running for her if the temperatures were in the single digits, but she was one of the primary organizers of the New Year's day run. I guess 2014 brings a new tougher, cold resistant Kelly!
Kelly
Footwear:
Kelly's shoe of choice is the Asics Nimbus. She paired hers with just ONE pair of regular fitsox (apparently she isn't on the SmartWool ski sock bandwagon yet!)

Bottoms: Two layers.
Kelly's base layer was a pair of well-loved (or, as she said "really old") spandex, with Nike running tights on top (similar).

Top: Three layers.
Only three layers for Kelly on top, but her top layer was quite warm. Her base layer was a Nike shell, topped with a warm long sleeve from Costco (I'm telling you, they have some decent fitness attire at Costco!) and then a black down jacket from Target that was super warm and cozy. (similar) I think I need to buy one of those. Only $34.99 and really cute, right? Go Target!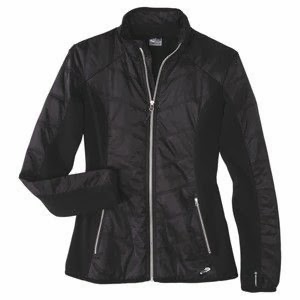 Head:
Kelly was smart and went with the neck gaiter and a wool hat.
All of Kelly's winter gear for today's run!
Hands:
She gets warm hands quickly, so she only wore a pair of Nike running gloves and was completely fine.
Kelly said overall, she was dressed well, and felt pretty warm. The only exception was that her hamstrings were a little chilly. She said should have used a warmer layer on bottom.
Next up…Monica! Monica is one tough cookie, and she is a really strong runner. I didn't get an individual picture of her on New Year's Day, but she's the second one from the left in the group photo above with the snow covered purple hat.
I feel bad that Monica didn't get own picture, so here's an adorable picture of her dog Darla!
Monica
Bottom: Two layers.
Top: Four layers!
Head:
On her head, Monica wore a
Bula Beanie.
To protect her face, she wore a
Dakine Hood-lum
bandana. Its not shown in the picture above, but this is kind of what it looks like:
They are pretty popular with snowboarders, but work well for running as well! Monica also donned a one-of-a kind polar fleece scarf (handmade by her mom- so awesome!)
Hands:
She kept her hands warm with some Saucony Ultimate Run Gloves.
Dustin joined us as well for the New Year's Day fun. He wasn't a big fan of being the only man on the run, so he cut his run a little short. He did recommend that we grow beards to keep our faces warm, but I'm not sure that's going to work for the ladies.
He wore his Brooks Cascadia trail shoes (he prefers those to YakTrax), a Patagonia base layer, Craft running tights (similar), a Craft running jacket (similar), his knit hat from the Mustache Run in 2012, and Craft gloves (similar to mine). Apparently this guy loves Craft brand running attire!
We didn't think it was a good idea to bring Matilda on the New Year's day run. Vizslas are superb runners, but they don't have a very thick coat, and aren't really winter dogs. Even when the temperature is in the teens, she still gets cold paws and ends up running on three legs. We took her to the neighborhood dog park later in the day instead to let her run free. That was a better idea for our little sweetheart.
So there you have it. Hopefully this post offered you some helpful ideas for the right gear to get you through the rest of what could be a very long and cold winter.
(Visited 630 time, 1 visit today)