Jess in Minneapolis
This past Saturday, Dustin and I joined in on an awesome 30th birthday celebration that was hosted on one of these:
Have you tried one before? This was my first time. I had heard that they are a ton of fun, so I was definitely looking forward to this party!
The two pedal pubs for this birthday celebration were rented from 3-5 pm; yes, right in the middle of a hot, hot August Saturday, (and we had run 20 miles earlier that day….)
So, the dilemma is…what does one wear on a pedal pub on a 95 degree day?

I have a few thoughts about what NOT to wear…and a few about what to wear.
Don't
wear a cotton t-shirt that you might sweat right through, especially if you're going to be one of the ones pedaling! It's a lot of work, and you probably will get a little sweaty…
This guy was working hard! But next time, I might suggest that he bring a change of shirt,
or maybe wear a running shirt for the pedaling portion!
Don't
wear light colored shorts either. I learned that one the hard way with a bit of butt-sweat showing right through my orange shorts. (Butt-sweat not shown in below picture)
DO
think about wearing dry-fit, light-colored fabrics, or anything breathable. Pedaling a pub full of 16 people is hard work, and you probably will get pretty sweaty. On a typical pedal pub, there are quite a few "seats" on the pub for people who don't actually pedal (i.e. they aren't pulling their own weight!). I was lucky and ended up on one of those, but even I still got sweaty, so I can only imagine how hard it was for those people who were picking up the rest of our slack.
But I digress. Let me draw your attention to this guy. This guy knew exactly how to dress for a pedal pub!
Dustin wore a pair of Onia shorts. This company makes men's swimwear with a mission is to "provide a solution for the design conscious gentlemen eager for classy options for their swimwear needs."

Let me clarify- these weren't exactly swim trunks; they're designed to be worn out and about, as well as in the water- a true functional fit! I bought Dustin a pair last summer for his birthday. The quick drying material made for a functional fit, and their classy design kept them from looking too "beachware" and more "pedal pub!"

Check them out here: http://onia.com/calder.php
He also donned a Patagonia Island Hopper shirt (find it HERE)
The Island Hopper shirt is ultralight and made of moisture-wicking material, providing big-time ventilation and 15 UPF sun protection.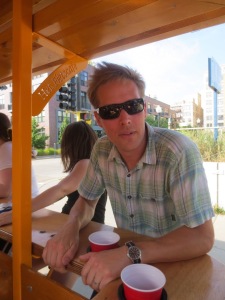 This guy was ready; he had the RIGHT FIT for pedal pubbing!
Personally I wore a white top that didn't show the sweat, paired with orange shorts. Unfortunately, as I mentioned earlier, light colored shorts might have been a bad choice. Dark shorts would have been a better option, or maybe a light breathable sundress. But if you decide to wear a sundress on your pedal pub, be careful of the breeze. The pedal pub can get going pretty fast downhill!
DO wear flats- Heels just don't work if you're pedaling. Toms are a comfortable shoe choice as well.
DO wear sunblock and sunglasses
DO
d
rink plenty of water, bring your camera, and enjoy!
The pedal pubs in Minneapolis have a variety of routes to choose from. Ours was a downtown route, so we pedaled around downtown Minneapolis for two hours, with one short pit stop at Nye's.
Some people choose to pedal for longer, or they might decide to stop at more bars along the way. I thought our route was great. We had plenty of time pedaling, and one stop was plenty.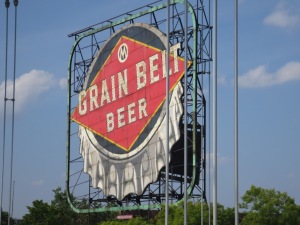 I thought we did the right amount of pedaling, though it was easy for me to say since I wasn't the one pedaling the whole way!
A pedal pub is a fun way to celebrate a birthday, bachelorette, graduation, whatever! I highly recommend trying it sometime; just be sure to dress appropriately- find the right fit, so to speak!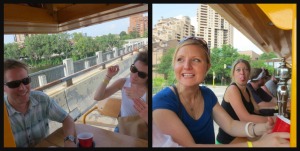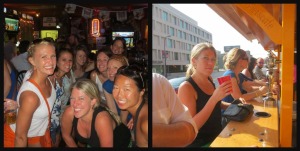 What a great party, and happy birthday to this guy!
(Visited 3,118 time, 1 visit today)