By Jess in Minneapolis
Men if you're reading, be forewarned. This post mentions boobs!
I have struggled in the past to find the perfect sports bra- one that I can wear for 20+ mile runs, with no chafing, with no soreness….I usually have really good luck with the Moving Comfort Serena bra, but I was willing to see what else is out there.
This week I splurged on the Lululemon Bitty Bracer. A friend of mine who has larger boobies said it was her ideal sports bra. I trust her opinion. Afterall, she has larger boobies, so she knows her stuff. I decided to give it a go, even though the price is a little hard to swallow ($68).
I picked it up in a C cup without trying it on. I was in a rush; who has time to try stuff on? Why would I bother trying to find the Right Fit?
Well, maybe I should have. When I finally put it on, I couldn't even get it over my boobs! I'm definitely not a D cup, so I was really confused….what's the deal? Is the bitty bracer only for the itty bitty? I sent my friend a frantic text. How the heck do you get this thing on?

Luckily she got back to me quickly (what a pal!), and she explained to me that you really have to work the girlies into this bra. It's not supposed to be easy! In fact, you want to have a very tight fit.
If I had only tried it on at the store, I'm sure this would have been explained to me. Had I not been in such a rush, I also would have seen this clearly on the tag.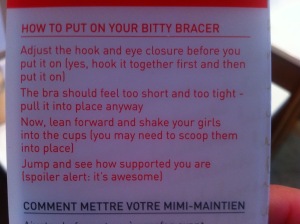 Once I figured out how to get the thing on, it actually felt really comfortable, and it only got better. As the material "warmed up" it molded to my body and really became the right fit.
Also, there are no seams, which makes it chafe-free for the long run. Its actually made out of what lululemon calls "swim" fabric, though I have never had a swimsuit made out of this material.
I tried it out yesterday morning for a 7.5 mile morning run, and the bra was great. (So was the run!) Everything on top was secure and there was very little movement. I am definitely a big fan of the bra.
The only downside (other than the high price) is that it currently only comes in two colors, black and hot pink. Even so, I highly recommend this bra to my runner friends.
Check out this video for more information on how to "fit" your bitty bracer bra:
According to lululemon's site, "this bonded bra was engineered to mould to our unique shapes as it warms up."


specially designed for B to C-cup athletes

fits tight for maximum support – it will relax and mould to your body as you wear it

lightweight Swim fabric is soft against the delicate skin of your bust

bonded construction moulds to your body shape as it warms up

adjustable hook-and-eye closure puts the fit in your hands

racerback straps give you freedom to move

support level:

high
This Saturday, I will be running the
Madison Mini-Marathon!
This half marathon is the #14 best half marathon in the nation (according to Runner's World, aka, the runner's bible). I have heard great things about this race, so I hope it lives up to my expectations, and I hope I live up to my own personal expectations for performance! But even if I don't, at least I know that the boobies will stay in place, because you can be
sure that I'll be wearing my new
Lululemon Bitty Bracer
for the 13.1 miles!

T
here are over 1,500 half-marathons in the U.S. and The BMO Harris Bank Madison Mini Presented by Meriter & Physicians Plus
hosted in the heart of downtown Madison was recently ranked the number 14th best half-marathon by Runner's World Magazine. From a great fitness expo to pace teams, a high-energy course, free beer and much more the Madison Mini delivers on multiple levels!
(Visited 1,100 time, 1 visit today)