By Jess in Minneapolis
The Athleta Esprit de She 5k debuted last Thursday night at 50th/France in Edina. It was a very fun and exciting running event that just happened to correspond with "Ladies Night Out" at one of my favorite shopping destinations!
The 50th/France shopping area has several great boutiques and stores- Anthropologie, Athleta, Hot Mama, Prana, Fringe, Il Vostro Boutique, Title Nine, and so much more!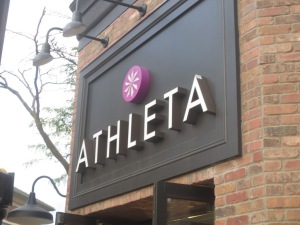 For Ladies Night Out, there were so many business offering discounts for participants in the race (full list below) Each runner received two coupons for glasses of bubbly after the race! How fun is that?
Packet Pickup: Packet Pickup was held at slightly random times at the Athleta store at 50th/France. It was on Tuesday from 5-7 pm, Wednesday from 10-12 am, and then Thursday before the race started. I picked up my packet on Tuesday after work at the Athleta store, which just happened to be having their semi-annual sale…so of course I also picked up a new bikini as well…I couldn't resist!

Apparently, a few of my older swimsuits are now a little saggy in the bottom, so I was sure to buy one that fits pretty snug in the bum. Athleta's suits a made for someone with a more athletic build- I felt like I could do some serious paddleboard yoga in this one!
Paddleboard yoga poses like THIS:

Back to the race…
I liked that I could also pick up packets for my friends, without having their driver's licenses, etc. which was helpful. Unfortunately, though, they ran out of size small singlets, and wouldn't let my friend Meggan switch to a medium, so she still had to pick hers up at the race. And then at the race, they ran out completely! They did say that they will be shipping her a singlet once they get more in stock, so hopefully that little snafu will be remedied, especially since the singlets are really cute.They are a bright yellow color and a unique style- not just your standard race t-shirt.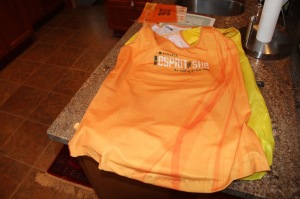 These singlets are actually fun! I give the race swag a 10/10! The goodie bag also offered coupons for $25 off at Prana (a yoga/athletic apparel store) and a free appetizer at the Edina Grill. The bag itself was a nice reusable bag, and it also included a simple workout watch/timer. Sweet!
Race Start: The start time for the race was 6:30 pm. Since the race location was only about a mile from my house, it was easy for my girlfriends and me to run to the start as a warmup.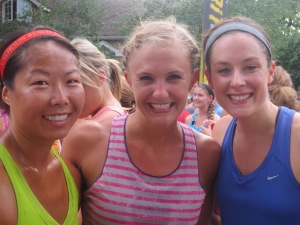 We decided to take quite a round-about way, and got in 4.5 miles before the race as a warmup. We did get some crusty looks from the other runners when we arrived at the start line already sweating. I would have expected a little more girl power/female commaderie, like I found at the Women Run the Cities 10 miler a few years ago. That was the only other women-only race I have done, and I remember really loving the energy there. Maybe it was because of the shorter distance of this particular race, but it didn't seem to have the same energy at this event…Don't get me wrong, I'm all about wearing matching outfits for a run (fitness fashion is the name of the game!) but I'm also not afraid to sweat! So maybe others just thought it was odd for us to arrive already sweaty.

Overall, this wasn't the most competitive 5k out there, though the winner did run a 16:25 (holy moly!). Yet even with a few faster runners, the three of us "average" runners were pretty comfortable moving up close to the start line, though we didn't quite put our toe on the line, so to speak.
Parking: If you weren't able to jog to the start line, there did appear to be plenty of free parking at the ramps at 50th/France. I would still suggest parking in the Linden Hills or Morningside neighborhoods and jogging to the start so you wouldn't have to worry about getting stuck in a ramp after the race.
Course: The race started and finished at West 51st Street and Halifax Avenue South right near the 50thand France business neighborhood. There were a few rolling hills. It was an out and back course, which actually made it go a little faster, since you knew what you were in for, and you knew where the finish line would be, as the start/finish were at the same place. There was limited crowd support- just a few families out in front of their houses cheering, but that's to be expected for a small 5k. The "back" part of the out-and-back course did get a little crowded at one section, when those of us who were running collided into the large groups of walkers going the other way. We ended up squished a bit up on the sidewalk, as the walkers didn't really move to the right to make way.
Post-Race Party: Similar to the Torchlight 5k from last week (read about that race HERE) this 5k was all about the post-race "rendezvous"! There was the aforementioned two glasses of bubbly at the finish and all the shopping and discounts for Ladies Night Out. There was also a photo booth available for funny pictures with your girlfriends. There was Greek yogurt, Starbucks iced coffee, cold towels, water, Gatorade, banans, etc. It was an impressive set up!
I actually finished over a minute faster than last week's Torchlight 5k. The cooler temperatures definitely helped as well as the less crowded start line. It was a nice reminder that a 5k can serve as a fun tempo run as a change of scenery. I ended up with 7.5 miles total for the day, with 3.1 miles at tempo pace, which was almost exactly the workout on my schedule.
Overall Rating: I think I would give this 5k a rating of 8/10. The issues they had weren't that big of a deal, especially considering it was the first year of this race. They'll figure out those little quirks for next year, I'm sure. I'm guessing they had a lot more late registrants, which is why they ran out of singlets. I'm not sure what caused the fifteen minute delay at the start, but again, it didn't ruin the event. I loved the SWAG.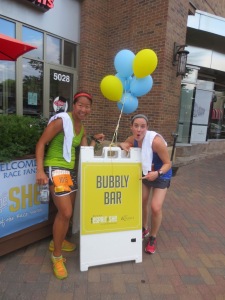 I thought the course and the finish area were very well-organized. Packet pickup was easy, even though the times were a little odd. I love a chip-timed 5k- there are plenty of 5k fun runs out there, so it's nice to do one with an official time. There was quite an impressive list of sponsors as well. I could tell a lot of effort went into planning this event, and I hope to see it continue on in the future. I definitely recommend this one to my running girlfriends!

Discounts At The Esprit De She:

Enjoy the fabulous Ladies' Night Out specials.
Athleta Esprit de She is excited to be part of the ultimate ladies night out in one of the city's most desirable shopping destinations.

Ladies' Night Out

, hosted by the 50th& France Business Association, will feature hosted activities and shopping discounts from participating businesses during the

night market

.
| | |
| --- | --- |
| | |
| 50th & France Chiropractic & Wellness | Demonstate Kinesio taping for athletes as well as present information about the clinic |
| | Featuring athletic/active wear from The Firm. |
| | Let's face it, when you look good you feel good! dpHue would like to offer product discounts and free samples, while one lucky lady will win a free dpHue hair makeover! |
| | The hair district logo sweat wrist band free with purchase. |
| | Featuring new line of Adidas/Stella McCartney workout wear. |
| | Why Every Woman needs to Invest in the Right sports bra! Coupon at table for 20% off through the end of month. |
| | Tips for stress-reduction, self-care and living mindfully. Acupuncture demonstations will also be featured. |
| | Free food samples and our Martini Special: $10 Tempo Figo Sobieski vodka, muddled orange, cucumber and agave nectar. Skinny and tasty! Plus you get to keep your Mozza Mia martini glass. |
| | Handing out Angie's Kettle Corn to participants at the Finish Line! |
| | $2.00 glasses of wine and $12.00 bottles of wine with any food purchase (Pinot Grigio, Chardonnay, Merlot, or Cabernet). |
| Arthur Murray Dance Studio | Come in for a free group class at 7:45 p.m. and/or dance party at 8:30 p.m. Register and receive a free week-long dance membership. ($129 value) |
| | Receive 25% off of your purchase (certain exclusions apply). |
| | Extending Happy Hour price until 9 p.m. on heart-healthy wine. |
| | |
| | bumbershute wants to thank its customers for five great years in Edina with 20% storewide sale and a fall fashion preview. |
| | Mamacita cocktail (Hibiscus Margarita) and grilled shrimp with quinoa salad |
| | 15% off good for regularly priced, in-stock merchandise only. Excludes electrics, gift certificates, sale or promotional items, special orders, crop shares, classes and events. |
| Corset Styling & Fashion Boutique | Free gift for the first 30 guests who visit Corset Styling & Fashion Boutique. |
| | Meet Julie Maclowe, Vbeaute Founder of Lipspread, an anti-aging hydrating lip gloss; paraben and gluten free, fragance free, and nut and oat free! Complimentary consultations and gifts with qualifying purchases. Celebrity makeup artists. |
| | Gather the girls for dinner at D'Amico & Sons! We'll be featuring a Ladies' Night Out Healthy Choices menu as well as Ladies' Night Out Wine Specials. Patio seating will be available. |
| | Storewide sale from 5 to 9 p.m.! |
| | 20% off everything! Because every lady deserves gorgeous hair color. |
| | Join us for food and drink specials! |
| | Free sampling from 4 to 7 p.m. of Smirnoff light sorbet vodkas and cocktails. Drawing for a free bottle and coupons for participants. |
| | Register to win a $100 gift card at the premier upscale resale shop! |
| | Specials from 4:00 p.m. to 9:00 p.m., including 15% off denim and 25% off all other purchases. |
| | 15% off storewide and free earrings with any $50.00 purchase |
| | Spin the Gather prize wheel when you make your purchase. You can win a gift with purchase or up to 70% off your entire purchase. Every spin is a winner! |
| | Seasonal sale featuring 30 to 75% off. |
| | |
| | 15% off entire purchase. Edina location only. Not valid on previous purchases or gift cards. |
| | Invest in the right sports bra! Professional fitting and 20% off any sports bra 30D to 40HH. Best brands on the market for busty women that reduce bounce up to 83%. |
| | Run into Live, Laugh, Love for an evening of fun, food and festivities. In-store drawings and free gift with Vera Bradley purchase. Remember you can always find what you want and more at Live, Laugh, Love. |
| | Drawing for a "Post-Run Wellness Basket" ( a $70-$75 value). |
| | Complimentary tomato mozzarella bruschetta with purchase of pizza. |
| | 20% off the entire store and 50-70% off summer clothing. Edina location only. |
| | Shop with refreshments and enjoy 20% off the entire store*. Stop in for pop-up shop featuring Stella and Dot jewelry. *Excludes custom orders. |
| | Featuring post-run yoga and a gift card for participants. |
| | Ladies join us for "The Price is Right" featuring fabulous prizes and a cool summer drink. R.F. Moeller Jeweler; the place to be cool! |
| | Vietnamese cuisine is considered one of the healthiest in the world for its lightness, freshness and sparse use of oil. To celebrate this night of health, we are highlighting our Indochine Salad with (special LNO price, $7.50) with chicken or tofu. It is a salad tossed in a Vietnamese slaw made of cabbage, which the NY Times recently named one of the healthiest foods, tossed with our popular peanut sauce. Come celebrate health with Rice Paper! |
| | Free jewelry cleaning, complimentary refreshments and $10 off rhodium plating. Plus, enter to win $150 off a custom jewelry mounting. |
| | Raffling a gift from one of our designer collections offered at Room No. 3! A winner to be announced at the end of the night. |
| | 25% off any appointment booked that evening, and 25% off all products. We're also offering food, drinks and chair massages. Representatives from our product lines will do demos as well. |
| | Stop by STEELE to experience our award-winning personal training for yourself! Complimentary sessions happening the whole night. Plus, save up to 20% off on active apparel and fitness packages. |
| | $25.00 gift card drawing. |
| | 20% off all retail including Bumble & Bumble, Pureology, Moroccanoil, Bamboo Natural Inspirations and Jane Iredale. Receive a free gift with purchase! |
| The Optical @ 50th & France | Chanel Trunk Show! $100.00 off a complete pair of prescription eyewear. 20% off non-prescription sunglasses and accessories. |
(Visited 328 time, 1 visit today)