By Jess in Minneapolis
Happy Sunday friends! Did you have a long run yesterday? I had a 17 mile run, and it was great! It's been awhile since I could say that…summer longs runs so far have been kind of tough for me this season, with the heat getting the best of me more often than not. But yesterday morning was unseasonably cool for July, and it made a world of a difference!
I realize that not everyone who reads the Right Fits is a seasoned long distance runner, so I thought it might be helpful if I share more details of my long run. This is what I do, and I am by no means an expert. What works for you might be completely different, but this blog is all about sharing LL and my experiences with fitness, fashion, and fitness fashion, so here is my typical long run experience.
Rest: I almost always take Friday off completely from working out. If I do anything, I might do a barre class or a yoga class, but I rarely run the day before the long run. The few times I have taken a Body Pump class or something with a lot of leg work, I learned the hard way that my legs just can't take it, as I usually had a terrible long run the next day.
Eat:
It seems as though Dustin and I are almost
always
training for a marathon, so our Fridays are historically quite low-key. We usually pick up a
Punch Pizza
and catch up on the TiVo (anyone else watching Orange is the New Black on Netflix?) I may have a glass of wine, but I am careful to drink plenty of water on Friday night.
Prep
: Our long runs start at 7 am on Saturdays in the summer. I look at the forecast, pick out my running outfit, and pack my bag for showering after the run on Friday night. A nice perk of being a member of the
Calhoun Beach Running Club
is that we can take advantage of their showers and towel service. On Friday night, I throw together some clothes for after the shower. But even when I plan ahead, I still forget things. Yesterday, I forgot my bra
and
underwear…awesome. Oh well- I still really love being able to shower right after the run, so we don't have to get into our car all sweaty. Then we also have the option to stop for brunch or errands on the way home.
Route:
Part of Dustin's role with the run club is to help plan out the routes and support stops each Saturday.Therefore, I usually don't have to think much about
where
I'm running. However, I'm sure a lot of you do have to plan out your routes the night before. There are a lot of apps out there to help-
Google Maps
,
Map My Run
,
Gmap Pedometer,
etc. Try them out and see which one you like the best.
Fuel: Since yesterday was cooler, I didn't bring my fuel belt along for the run for extra hydration. Since all of the Minneapolis water fountains were on and we had a support stop around mile nine, I didn't think it was necessary to carry the extra hydration. Most days, however, I do wear my Nathan Fuel belt, like in this picture from our cabin long run last weekend.
So, no fuel belt yesterday, but for most summer long runs, I definitely do bring it. I'd rather have it and not use it, than really need it and wish I had brought it along. I did bring two GU's and I used them both. I used one at the support stop at mile 9 with Gatorade, and the second one around mile 13 with a water fountain.
*Thanks Abby and Andrew for the awesome support stop yesterday! They had Gatorade, water, fruit, jolly ranchers, and more. It was perfect.
Recovery: Lately after a warm long run, Dustin and I have been treating ourselves with a refreshing smoothie from Jamba Juice. Now, I know these smoothies are high in sugar and calories, but after burning 1700+ calories on the run, I'm not too worried about it. Its something to look forward to on the run, and it just tastes so good afterwards! However, we have realized that as refreshing as they are, they aren't filling enough for us as a post-run meal, so we're going to start making a real lunch/brunch afterwards instead, now that our mileage is getting high.
I also try to foam roll after the long runs. If we're not going anywhere, I'll wear my compression socks for a little while as well.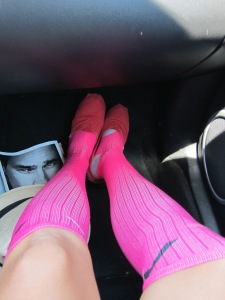 I haven't ever tried a true ice bath (other than swimming in a cold lake or Pacific ocean after Newport) but I know many people swear by them.
Throughout the rest of the Saturday after the long run, I try my best to drink plenty of water to ensure I'm fully hydrated again. Yesterday was rainy and gloomy, so it was a perfect excuse to relax. After a quick walk to the dog park with Matilda and then her yearly veterinarian appointment, we lounged around the house a bit. We were well-rested in time for a goodbye party for Coach Paul and his fiancee Laura at
Moto-I
in Uptown.
They are heading to Chicago today where Laura will be starting her MBA at Northwestern this fall. They both will be truly missed. The club just won't be the same without them. Paul will still be coaching remotely through the end of this training season, but after that, he is looking at options for his replacement. I don't think he'll ever really be replaced!
Good luck Paul and Laura in Chicago!
The party was a lot of fun- great job Rachel with planning it! Good times were had by all, and I think we sent them off with a bang.
Chris, me, and Kelly
(Visited 125 time, 1 visit today)