This was what my outdoor thermometer read this morning:
So this is where I ended up:
But it was a good opportunity for me to try out my new Nike Flyknit shoes.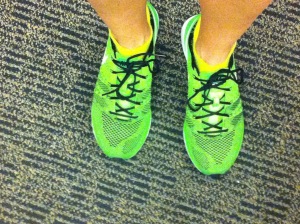 I only managed about 5.5 miles (but with a 1.0 incline!), but it was enough for the "beast" (i.e. the dreadmill). As for the shoes? They were very light. I barely felt like I was wearing shoes at all.
However, my toes started to get tingly towards the end of the run. I wasn't sure what that meant. The D-man thinks that it's just because it's such a different type of shoe than I'm used to. It's probably a bit stiffer in the sole to make up for the softer structure elsewhere. I hope it doesn't mean they are a failed fit for me.
For now, I'll rotate this pair in with my Brooks Adrenaline…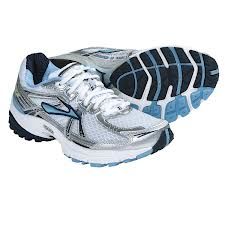 ….at least when I'm on the treadmill. They are significantly lighter and they sure are a fun color, aren't they?
"
T
he innovative Nike Flyknit Racer Unisex Running Shoe gets its structure and support from Nike Flyknit technology. As a result, it's incredibly lightweight, with a precision that feels like a second skin.The one-piece knit upper seamlessly integrates areas of high support, breathability and stretch where you need them most—without overlays, which add weight. For an adaptive fit, lightweight dynamic Flywire wraps the foot and is adjustable through the laces."
I hope the Flyknit shoes work out for me. They are definitely a nice change from my clunky Brooks!
(Visited 66 time, 1 visit today)