By Jess
Most of you have probably heard the term "carbo-loading". Even if you're not a runner, perhaps a runner friend of yours has mentioned it, as they scarf down a plate of fettuccine!
Or, if you've done a full marathon or a half, there might have been a pasta feed the night before. This tradition is quite common, but is there science behind the pasta pig down!!??
I turned to the runner's bible, (
Runner's World
of course) for some information as to why we carbo-load.
The Science Behind the Carbo-Load:
When you eat a bowl of spaghetti, most of the carbs are stored as glycogen in your muscles and liver. Glycogen is your body's most easily accessible form of energy, but it's not the only source. During a half or full marathon you burn both glycogen and fat. But the latter is not as efficient, which means your body has to work harder to convert it into fuel.
When you run out of glycogen during a race you hit "the wall." Your body has to slow down as it turns fat into energy. (Quoted from
Runner's World
)
Benjamin Rapoport, a 2:55 marathoner, is intimately acquainted with the wall. The Harvard M.D. student hit the wall so hard at the 2005 New York City Marathon that he dec
ided to study how to avoid it in the future.
"Proper carbo-loading—or filling your muscles to the brim with glycogen—won't make you faster, but it will allow you to run your best and, if you race smartly, avoid the wall," he says.
So…what should I eat?
Tortillas, oatmeal, bread, pancakes, waffles, bagels, yogurt, and juice are all easy-to-digest options. Many fruits are high in carbs but are also high in fiber—and too much can cause stomach trouble midrace. "Bananas are a low-fiber choice," says sports nutritionist Ilana Katz, R.D. "And you can peel apples, peaches, and pears to reduce their fiber content." She also gives her clients permission to indulge in white bread and baked potatoes without the skin since both are easily digested.
This article suggests steering clear of high-fat foods—like creamy sauces, cheese, butter, and oils—as well as too much protein. Both nutrients fill you up faster than carbs and take longer to digest, she says.
Advice?
Pick jam—not butter—for your toast, tomato sauce in lieu of alfredo sauce on your pasta, and frozen yogurt instead of ice cream for dessert.
How MUCH Should I Carbo-Load?
You can't completely fill your muscles with glycogen from just one meal, "which is why you should start carbo-loading two or three days before your race," says Ryan. Since you're running very few miles, the glycogen will accumulate in your muscles. At this point, 85 to 95 percent of your calories should come from carbs, says Katz. Ryan recommends eating about four grams of carbs for every pound of body weight (for a 150 pound runner that's 600 grams—or 2,400 calories—of carbs per day).
So how does the Calhoun Beach Running Club carbo-load?
Well, we planned a pasta dinner as well!
However, it was not the night before the race. With so many runners doing marathons in various locations (Scranton, Chicago, Mankato, Twin Cities), our pasta party is held the Wednesday before Twin Cities.
And this year, the carbo-loading occured at Pizza Luce in Hopkins. It turns out one of our members is a manager there, and he generously hosted us there for a reasonable price of $20/person for all you can eat pasta/pizza, as well as one drink (beer or wine).
So, this is a fashion and fitness blog right. What do you wear to a pasta feed?
Well, I came right from work, and didn't have time to change. So this is what I wore…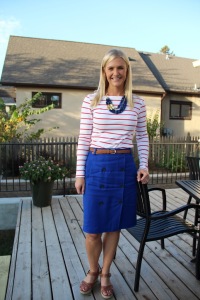 Necklace: Stella & Dot Bahari Necklace. Buy it
here!
Belt: Len Druskin
But enough about me.
This is what the real CBRC members wear…
And this is what the true hipsters wear:
So…the where?
Pizza Luce in Hopkins of course!
How did we carbo-load?
Pizza, spaghetti, mostaccioli, lasagna (veggie or meat), garlic bread, salad…so much good stuff!
We had a semi-private room, which was a nice touch.
This guy (with the arrow pointed to his head) stood up and gave a little thank-you toast to Coach Paul for all his hard work. I thought it was really sweet for him to do that, and the whole room agreed with his words. We feel the same way about our awesome coach. Thanks Paul for everything!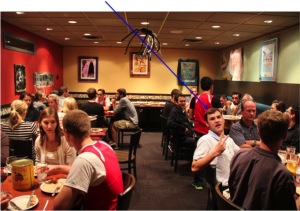 And good luck to ALL the runners this Sunday!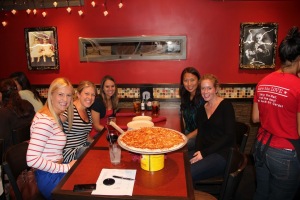 (Visited 98 time, 1 visit today)