For my "final" Sweden post, I thought I'd share my observations of Stockholm Style!
What's hot in Stockholm?
Now, I never claim to be an expert. As I'm sure you've figured out on your own, LL and I are just a couple of regular gals trying to find the right fits for us in this world. But here are the top three things I could confidently say were HOT, HOT, HOT in Sweden!
1. Converse All-Stars- It seemed that everyone was wearing these. I saw these on all ages, with dresses, with tights, with cuffed jeans- anything! It was more rare to see someone without all-stars than with them.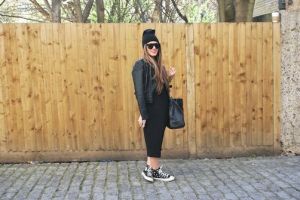 2. Cuffed Jean Shorts: This was a very popular look with the Swedish men, with a large number of them rocking a variation of this look. We saw cuffed cutoff denim, or even cuffed cotton pants. A cuff was mandatory!
3. Sheer Shirts With Black Bra: The D-man noticed this first (of course), but once he pointed it out, I did indeed notice that this was a very popular look in Stockholm. I've seen plenty of these tops here in the US, but it much more common in Stockholm.
And my Swedish style? Well, it wasn't all that different than my US style. The days were usually in the high-70's, and the evenings could get a little chilly. Blazers, layers, and cardigans were the name of the game for this gal.
(Visited 359 time, 1 visit today)