By Jessie
My husband and I decided to spend this NYE up at the cabin. I was looking forward to a cozy weekend of reading, napping, cooking, eating, cribbage, scrabble, and some wine. But alas, I still needed to "fit fitness" in somehow.
Fortunately, there are many different ways to do so up north while enjoying the outdoors.
My fresh new fit this new year was snowshoeing. "Santa" brought me a pair under the tree, and I was anxious to try them out. Unfortunately, there hasn't been any snow in our city yet, but we were lucky with abundant snow up North at our cabin, and my husband also got snowshoes for Christmas, giving me a partner in my new fit.
It's amazing how much snowshoes have improved- here's a pair that decorate the walls at the cabin. I am guessing these date back to the 1920's.
"Snowshoeing has been around for thousands of years. And, obviously, the art of snowshoeing has become more sophisticated over time – now it's considered a winter sport. From the early wood-frame to the aluminum-frame models, snowshoeing has garnered quite a following throughout the world. Modern day snowshoeing is made up of casual snowshoers who hike trails for pleasure, the snowshoeing enthusiasts who trek through the backcountry, and the competitors who race."


The snowshoes of today are much easier to get on and off, and quite easy to use.
What's so great about snowshoeing?
The sport is easy to learn, virtually inexpensive (compared to other winter sports), poses little risk of injury and is a great way to exert energy during the cold winter months. Known to help maintain or improve cardiovascular fitness, the sport helps burn more than 600 calories per hour. Snowshoers can burn more than 45 percent more calories than walking or running at the same speed.
The lake was frozen, so we could briskly "shoe" around the lake, which we estimated to be about 3 miles around. Matilda is a good dog when it comes to behaving off-leash. She stays near us, and usually comes when called. This activity was a functional way for my husband and I to enjoy the winter wonderland, while letting Matilda the Vizsla run off-leash through the snow.
Snowshoeing is basically just walking through deep snow, I know. However, I found that if I swung my arms and pushed myself, walking as quickly as I could, my heart rate rose and I started to feel the cardio workout.
I really enjoyed the snowshoeing, and I look forward to using these at some of the large off leash dog areas outside the cities, where Matilda will again be able to run free while I chase behind her on ungroomed trails.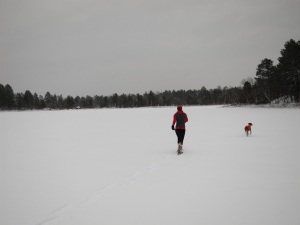 The road from the cabin to the main road in "town" is 3 miles, so 6 miles round trip. It's a hilly, challenging run (especially when unplowed). I managed to make this trek twice over the long weekend, and felt pretty good about this accomplishment in such challenging conditions. However, on New Year's day, the snow was much too deep to run, so instead, we did a couple times around the lake on the snowshoes, and I felt pretty good!
I think snowshoeing would be more challenging on uneven terrain. We only ventured onto the flat frozen lake. With a more challenging route, the poles might have been necessary as well. However, it was a very nice option to have to get outside when the snow was too deep to run on the roads. It also provides an active opportunity to enjoy the serenity of the frozen lake, while laughing at your puppy bounding joyfully through the snow!
What to wear when snowshoeing- what's the "right fit"?
Footwear: It is wise to choose your footwear according to your snowshoeing style. Leather hiking boots that have been waterproofed are great for hiking and backcountry trekking. Trail-running shoes are perfect for running and aerobic snowshoeing (look for waterproofing material). Snowboarding boots are also ideal for snowshoeing. Wool socks for hiking and/or a wool/silk combination for running are important to snowshoeing. Never wear cotton socks.
Clothing: Don't be afraid to dress in layers. And, use layers that can be taken off with ease, considering in some cases it can get hot during the spring season. And, perhaps a waterproof jacket (with breathable waterproof fabrics) will keep you dry and protect you from cold winds.
The more obvious choices in winter wear are gloves, a hat, and sunglasses.
(Visited 146 time, 1 visit today)