My dad loves woodworking. Pretty much anything wood-related that someone in my family discovers my dad will make it – and he will probably go even farther to give it some extra detail or flair. This includes, but is not limited to, cedar chests (which are ideal for storing wool sweaters), book shelves (tall, narrow, short, wide), jewelry boxes, shoe organizers, you name it.
I think that he especially enjoys a challenge – something that he has never made before and for which he doesn't have the exact measurements, so he can "wing it," as much as engineers ever really "wing it."
So, imagine his delight when I asked him to create a way for me to tastefully display own growing marathon medal collection. I gave him some ideas of ones that I had seen during my research of the idea, but he more or less took the design on himself and created a piece that is functional and also displays the medals in an organized, artistic fashion.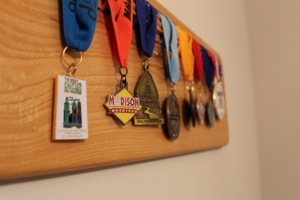 He also has been kind enough to make all of his daughters, and many of our friends, dresser-top, rotating necklace holders – which have only gotten fancier and more functional over the years. These are perfect for keeping your favorite necklaces on display and avoid tangling them in a drawer or dish.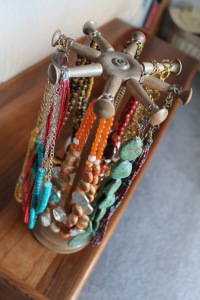 And, most recently, my dad solved the common problem of "whose bridesmaid dress is whose" at my sister's wedding this past summer, when he made beautiful wooden hangers for her and each of her bridesmaids. This was a major hit with the girls who can now use them to hang a favorite outfit on the back of a door, etc.
I think that we all, in one way or another, enjoy showing off our favorite fits, and keeping them organized. Plus, there is something extra special when they were custom-made by someone you know.
(Visited 75 time, 1 visit today)