Well, this was definitely a week. It started out okay, but ended on a bit of a low.
Before I get into my recap, I just wanted to share this post from earlier this week interviewing my running friend Christie (per inspiration from Kim's blog!) Check it out!
Here's my recap:
Monday: 8 easy miles before work, final 1.5 with Ruth. Virtual 1:1 strength training session after work with a Discover Strength trainer after work. 
Tuesday: Quality session of the week: 3 miles easy,  5x (90sec@ 5k effort, 1 min easy, 30sec@ mile effort, 2 min easy), 2mi cd, 8.64 miles total with a few at the end with Ruth. I wore my new Brooks Hyperion Tempos, which is their newest, fastest distance racing shoe. It seemed to work better for my feet than the Vaporflys did, though not sure it made me faster, haha!
That evening, I did QuizMaster Trivia with my family; it was "Friends" themed. I thought I knew a lot about that show, but apparently not! Still fun though.
Wednesday: 6.6 mile recovery at a 9:20 min/mile pace before work, with the last mile or so with Ruth.
Discover Strength 1:1 virtual training session after work, as well as a Zoom catch-up with some other friends I hadn't seen in years! It's interesting that this quarantine has actually made it easier to catch up with some friends. These ladies are all very busy with kids and careers, so it was always a challenge to find a time to get together, but finding an hour at the end of the evening when their kids are in bed to Zoom was much easier! 
Thursday: 8.2 miles before work.
Friday: I ran 3 easy miles with Ruth in the morning- her longest run so far! I wanted to wear off some of her crazies before work, but honestly it seemed like she was ramped up and excited the rest of the day. Running is her coffee, haha!

I squeezed in a 1:1 virtual training session with Discover Strength over lunch and then another 4 miles of running after work!
I ran the 2nd run of the day at a harder effort with Dustin; about 1/2 mile easy, then 5k at 7:30-ish pace, then 1/2 mile easy for 4 miles at a 7:59 min/mile.
The reason for the second run was that I helped organize a 'virtual' run/walk event for my work. People were encouraged to run/walk a 5k (but no requirement on distance) and then join for a happy hour afterwards, while raising money for "Feeding the Frontline Minnesota" via the Twin Cities in Motion "Run for All" event.

We had about 20 participants and I think we raised a good amount of money! Our company will match our charitable donations and PNC Bank matched all donations through the Twin Cities in Motion event. Essentially our money was tripled. Not too bad!
Saturday: Friday had been a full day with two runs and a strength training session as well as waking up to some sad news (more below.) I woke up on Saturday physically and emotionally drained. I let myself start my long run as slowly as I needed; I think my two first miles were over 10 min/mile and it was the best I had.
It did start to feel better as I ran and I ended up covering 12.5 miles for the day, with the last mile or so with Ruth. It was an absolutely gorgeous day (sunny and upper 60's), so that definitely helped.
More miles to raise funds for Feeding the Frontline Minnesota via the Twin Cities in Motion #RunForAllVirtual event!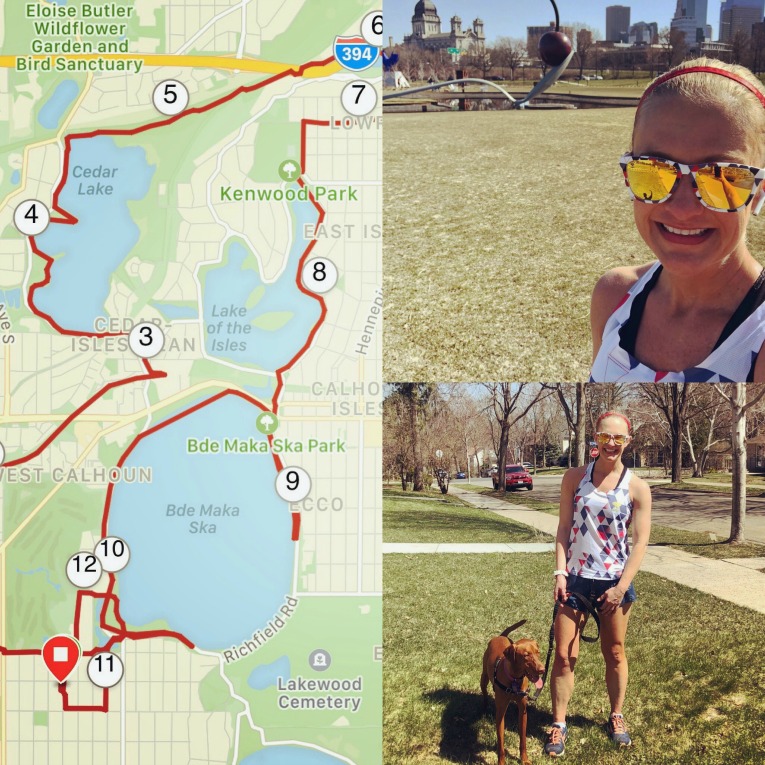 Sunday: I did 4 miles with Dustin at an 8:30 min/mile average, and then we picked up Ruth and Matilda for 1.2 miles more easy jogging.
Summary: 57 miles of running, 3 virtual strength training sessions.
Why such an emotional end to the week? Unfortunately, my grandfather passed away on Thursday night from Covid-19. He was 100 years old and was still living at home with my grandma. They did have help from nurses and my uncle lived there as well. Unfortunately one of the nurses had confirmed Covid-19, so assumably that's how he caught it. My aunt had also come to help at one point as well, so both she, my uncle, and my grandma have confirmed Covid-19. The fact that he made it to 100 years is amazing, though it is heartbreaking that it was this terrible virus that ended his life. It's even tougher that we aren't able to get together as a family to grieve.
My sister (a doctor) said it best; please listen to science.
I really hope all of you are staying healthy and safe during this stressful time. It's great to have the ability to stay connected virtually and support each other; this link-up hosted by Running on the Fly and Confessions of a Mother Runner 's is a great way to do so! Check it out below:
(Visited 284 time, 1 visit today)