Last Thursday, I attended a bodyART class at The Resistance Movement in St. Paul.
The studio:
The studio is brand-new, very modern, and clean. They have a full locker room and showers.  A lot of boutique fitness studios do not offer showers onsite, so that is a nice bonus.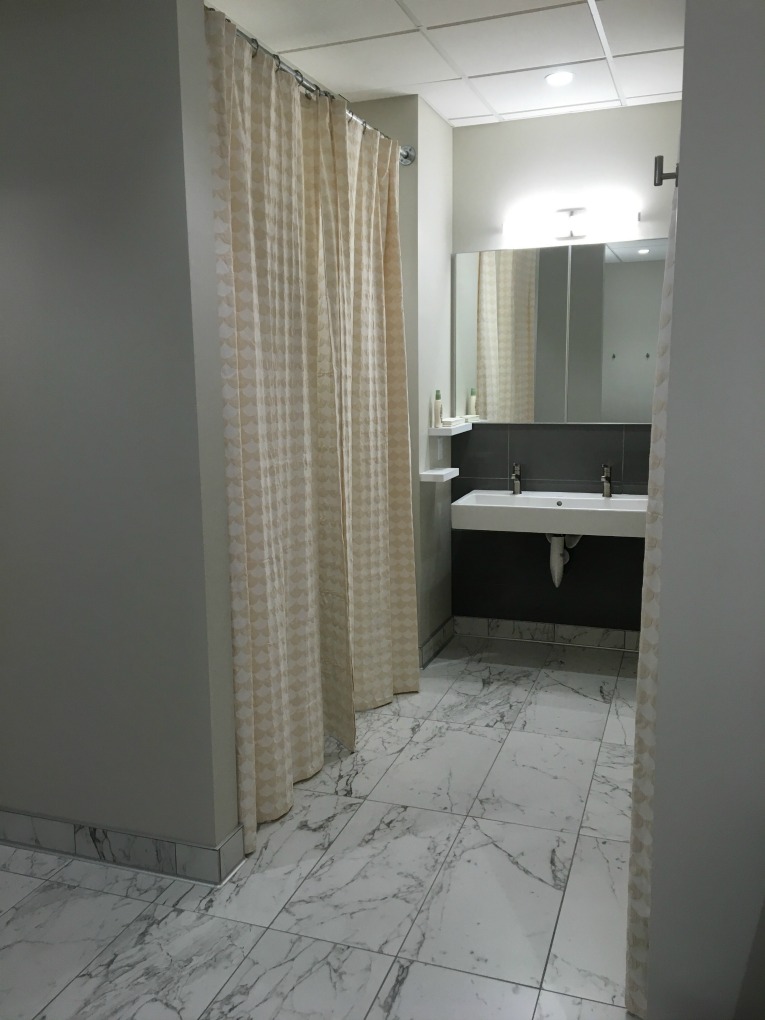 The environment:
Right away, I was welcomed warmly and given a full tour of the studio. The instructors were so nice to me. They didn't even seem annoyed that I switched up which class I was taking at the last minute, i.e. they were not expecting me that morning. Instead, they were very accommodating even though I came to check out their studio on a different day than originally planned.
Before the class:
I wasn't sure what to expect for the bodyART class, so I had emailed the instructor Alexa beforehand, and she was quick to respond with answers to my questions about what to wear/bring (though that information is also all on the website). For the bodyART class (and all the classes at The Resistance Movement, for that matter)  you wear grippy socks (like a barre class, i.e. these), yoga pants/tank. I brought my water bottle. There were towels available.
The class: bodyART:
I tried the bodyART class, which was an hour long functional movement class, i.e. no equipment, just your body!
The class is a balance of strength, flexibility, and mental concentration. It was a mix of yoga, physical therapy and traditional conditioning.
We used a thin large yoga mat. The class started with a lovely warm-up. In the middle there was a 12 minute burst of intensity, i.e. the "stamina" section, which really got my heart rate up and got me sweating. During the class, I didn't think it was SO hard, but I was surprisingly sore afterwards, for about two days! There was a lot of lunging and squatting, but it flowed together like more of a yoga class with a little bit of dance. I'm not much of a dancer and I am definitely not graceful, but I was able to follow along well enough. And I ended up having a lot of fun!
(Pictured below with the class instructor Alina)
Class Options:
The Resistance Movement offers a variety of other classes as follows (from their website)
ResistMAT
"If you think no equipment means an easier workout, you don't know ResistMAT yet! Far from your average Pilates mat class; you'll be combining low impact cardio with high intensity with for a twist you can't Resist!"
Get Strong!
"Take your favorite strength and conditioning moves out of the gym, and onto the MVe chair for an exciting new challenge. Pulling in elements of Pilates and yoga, this hybrid class incorporates traditional strength and conditioning moves (lunges, push-ups, and crunches) with unique stretching sequences, and high intensity cardio intervals set to an energetic soundtrack that gets you pushing each muscle to carry out these moves."

"The suspended resistance cords provide the confidence and stability needed to make Pilates approachable for beginners while enabling experienced practitioners to push a little harder and work multiple muscle groups and planes of movement. They also allow you to test your balance, coordination, and control by utilizing the cords and chair simultaneously.
If you are ready to reap the benefits of Pilates and yoga, with a twist, this strength and form focused class is for you!"
Get Moving!
"Push your cardio training and muscle coordination to the extreme in this MVe chair class for a high-tempo, stamina burn! Our Get Moving! class challenges you to stretch your body, exercise more fluidly, and maintain laser focus on performing every single exercise with complete muscular and breath control. The high intensity-low impact cardio intervals, seamless transitions between movements, and exercises using suspended resistance cords create an intensely engaging workout that will have you breathless but wanting more! After all, the whole goal is to Get Moving!"
ResistDANCE
"Leave your inhibitions and shoes at the door for this action packed dance cardio party Challenge your balance and coordination, all while dancing' your way into fitness!
In ResistDance, you will rock out to some energetic music, build your stamina with fun cardio sequences – a fusion of ballet, jazz, modern, hip-hop, and other dance forms to increase cardio endurance and get a great stretch. A fluid ballet barre section will isolate and challenge your muscles while strengthening and lengthening your total body. Make no mistake, this isn't your ordinary barre class."
I really want to try out the Get Moving or the Get Strong class. Those two look really fun!
Pricing:
The Resistance Movement is offering $12 community classes right now.
New Clients:
3 pack of classes for $39
Monthly-Unlimited Membership: $150
Attend any class, 1 per day
The Resistance Movement is (as of October 2016!) on Groupon for a monthly unlimited pass for $79!
Parking: Street parking was free for me as I was there before 8 am, but otherwise would be metered.
(Pictured below with the super friendly instructors at the Resistance Movement!)
I was offered a complimentary class at The Resistance Movement (thank you!) but I plan to try out some of the $12 community class and then buy a class package on my own.  All opinions are my own!
Bonus– The Resistance Movement is right near the Buttered Tin, which is a delicious spot for a post-workout treat. I picked up a four-pack of cupcakes to bring home to enjoy throughout my birthday "week"!
Lowertown in St. Paul is really cool- so many restaurants, bars, and fitness studios! If I lived in St. Paul, I would want to live there 🙂

Are you a dancer? I'm definitely not, but I still enjoy it.
Have you checked out The Resistance Movement? Let me know!
(Visited 426 time, 1 visit today)