Have you heard of Wantable? It's very similar to Stitch Fix, but they offer subscriptions for a variety of items- regular clothing, fitness apparel, makeup, intimates, and accessories. I kept seeing ads for Wantable show up in my Facebook feed (apparently Facebook ads actually work, eh?) so I decided to give it a try. I am reviewing my first box here for you. If you decide to try it out, please be so kind as to use my referral code HERE!
Just like Stitch Fix, Wantable costs $20 for a styling fee. You fill out a survey about what kind of fitness you do, what kind of apparel you like, and then your stylist sends you a curated box with five items to add to your fitness wardrobe.
Here are the five items that I received:
Item #1:
Glyder Performa Tank Black Pink Stripe in a size medium.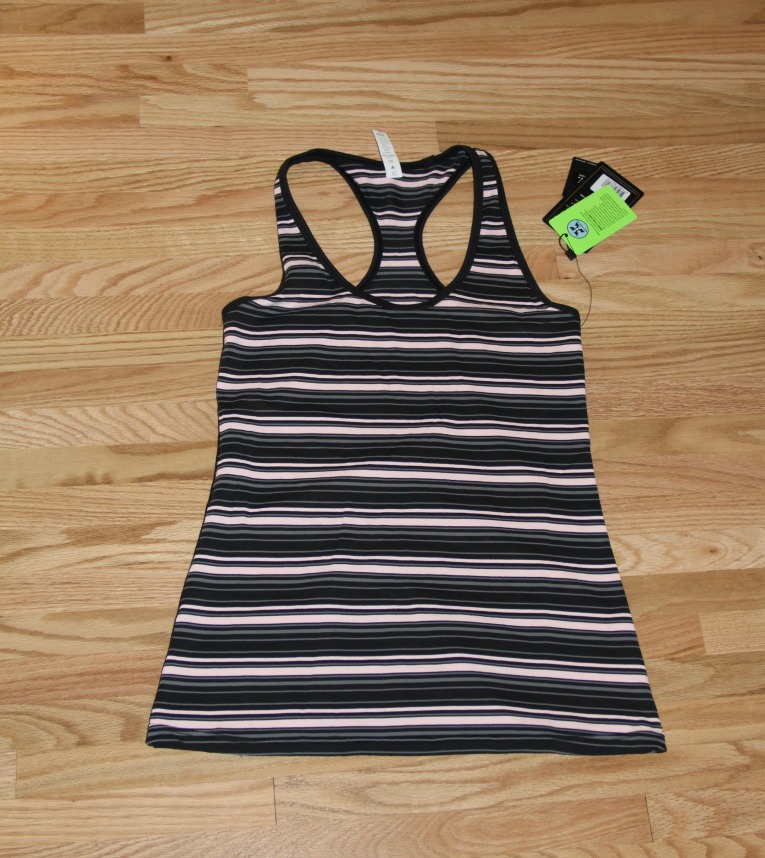 This tank was kind of boring on me. It was a little short too. The colors weren't incredibly "me" or flattering. Status? Return.
(Apologies for the tag situation!)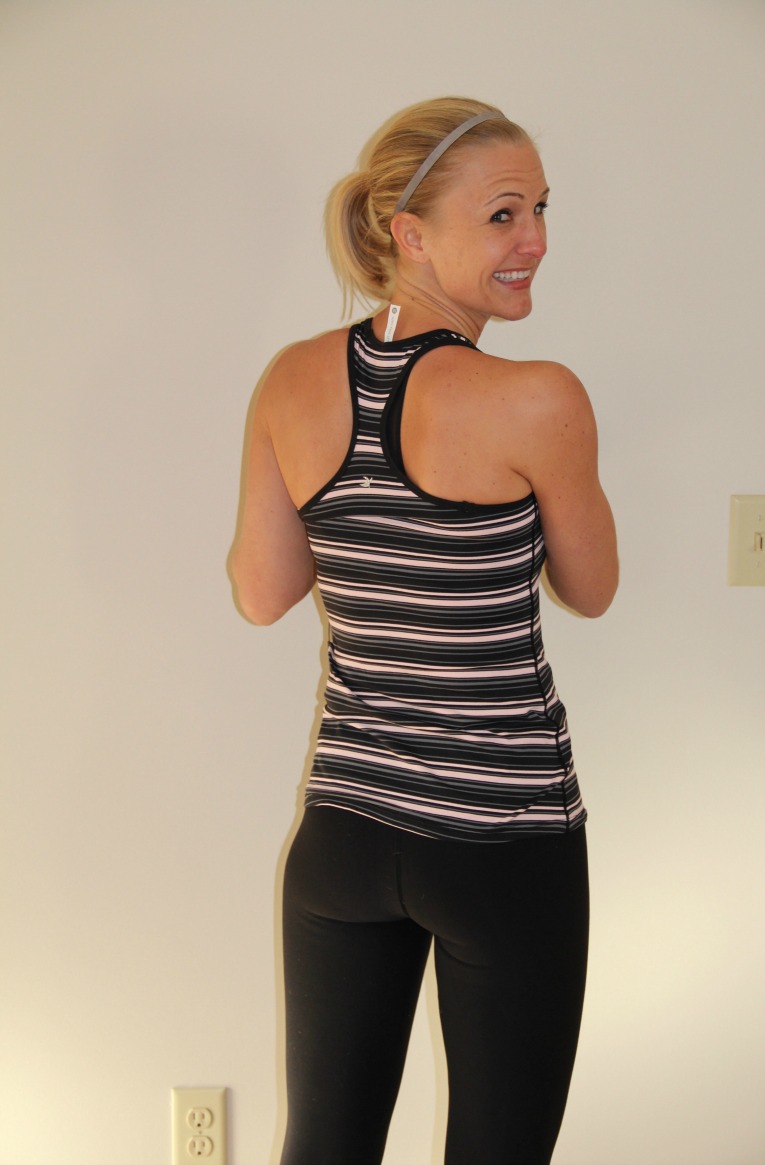 Item #2: 
Bella Compression Tank Blood Orange in a size medium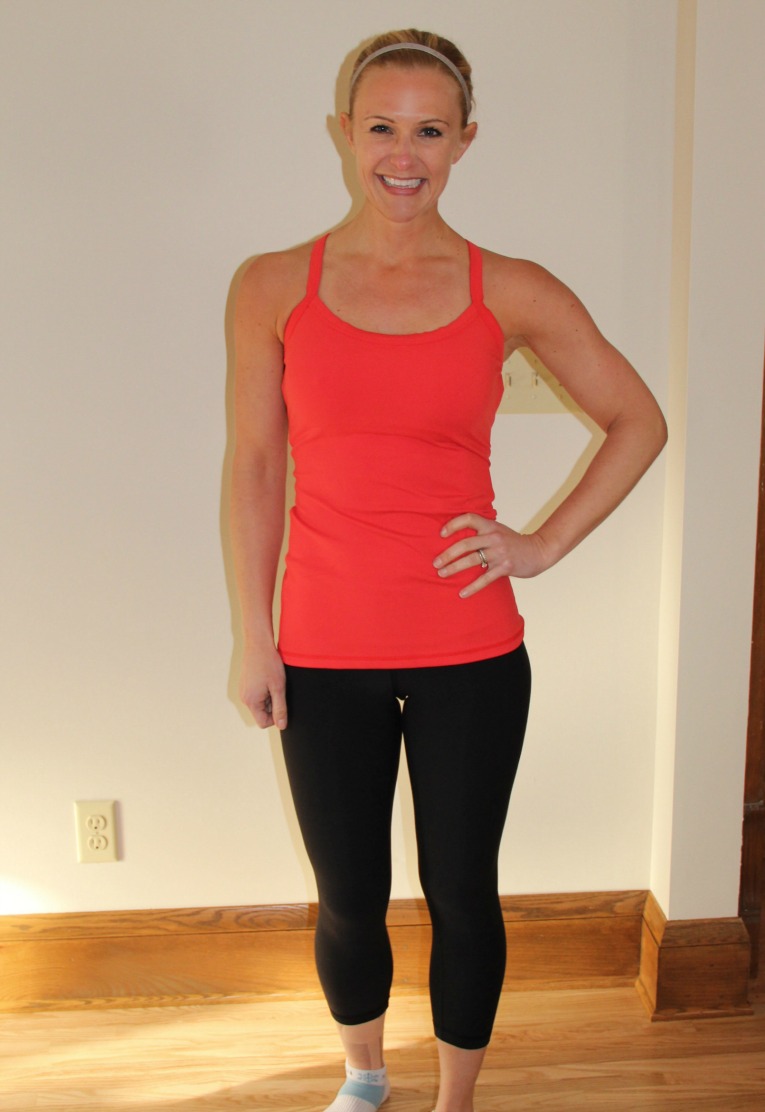 This tank was very fun. I loved the interesting straps on the back. It was long enough to cover the belly. It's not supportive, so I could never wear it running, but it would work for yoga or another low impact workout. Great bright color. Appears to be well-made. Status? Keep.
Item #3: 
Just Live Power Through Legging Rustic Watercolor in size small:

These leggings are BOLD, right? They probably are not running tights, but more for other activities (which I did say I partake in based on my style profile). This was also the most expensive item in my box but I have nothing like this, so I decided why not?
"I'm worth it." Ha!
These are a statement legging that I definitely have to be feeling confident to wear, but everyone needs a fun piece like this, right? Status: Keep!
In fact, I wore them to the Surge Cycling class last Sunday. They looked pretty awesome in the black light at the class!

Item #4:
Performance Active Skort with Drawstring Waist in size small:
I like running skirts on other people, but not on me. This particular one wasn't bad, I just know that I don't wear running skirts, so I didn't keep it. Status? Returned.
Item #5:
Premier Performance Cobalt Running Long sleeve in size medium

The color of this shirt was a win and it was well-made. I like the breathable material. It will be a great item to transition from winter to spring running; it could be a useful layering piece or just fine on its own for a warmer day. It is a little snug, so I'm glad that they sent me a medium. But still a keeper.
Status: Keep!

I kept 3/5 of the items. My $20 styling fee went towards the items, so I believe my total was about $150 for the leggings and two tops. If I would have kept all five items, I would have received an additional 20% off.
Will I do Wantable again?
Maybe. It was fun to receive of box full of fitness fashion, but I don't necessarily need 5 new items EVERY month. Most of the brands were not brands I was familiar with, so it was fun to try some new-to-me fitness fashion lines. I will let you know if the items hold up over time; that will be the true test if Wantable is the high-quality that I am hoping for!
(Visited 1,231 time, 1 visit today)