By Jess in Minneapolis
Where did we leave off with my wardrobe consultation with A La Mode Wardrobe Consulting?
Oh, yes, SHOES! After Carly helped me sort out my weak shoe situation, we moved on to pants and skirts. It was obvious very quickly that I had plenty of bright denim…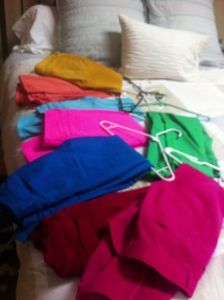 …yet I was lacking in basic well-fitting neutral pants. I had plenty of bright but not enough neutral, so she directed me to Banana Republic to purchase a pair of navy cropped skinnies (i.e. the ones I'm wearing below)
….and I picked up a black pair as well. She also noticed that I'm in need of a good pair of white skinny jeans, and she suggested JCrew or Hudson for a pair that actually wouldn't be see-through (a common issue with white jeans.)
As we moved through all my tops, I quickly realized how many similar Deletta tops I had from Anthropologie. At the time that I purchased each one, I thought each one was so unique and funky, but when I saw them all together, I realized they were all the same, and they really weren't that flattering on me. Those shirts quickly went into the discard pile.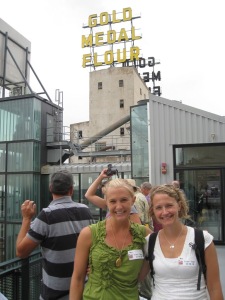 Deletta shirts like this green one…
It really was amazing how looking through my clothes through someone else's eyes made me realize just how much stuff I had that
1) Was no longer flattering
2) Was no longer in style
3) …or even better, could possibly be worn in a fun, new way!
Its true that we discarded a lot of clothes, but what I really loved was how Carly opened up my closet so to speak. She came up with all these great ideas about how to make more of what I already had, by filling in some holes with a few things that would tie things together. She came up with ways to make items that I already had appropriate for work (i.e. paired with the right shoe, a sharp blazer, perhaps a jean jacket). She also paired several different colors together with items I already had, or tops and skirts I had nearly forgotten about!
She was extremely knowledgeable about how to dress for your body type. She spoke about ways to elongate my athletic (i.e. thicker) legs, and even the best way to elongate my arms. She gave me tips to really dress "sharper" and more age-appropriate for work, while still maintaining my personal "bright and bold" style.
So what were these tips? I'll share a few….
1. How to Pair Your Necklaces with Your Tops: Carly was surprised by all my necklaces, but she advised me to wear them with care. With necklaces, try to always create a scoop neck with shorter necklaces paired with a crew neck tops.
Wear your long necklaces with scoops and vees so they come into the top of the blouse. Try to avoid necklaces that hang past your natural waist as they will look better for your proportions! Wearing a bold necklace often makes an outfit more casual. Be sure to pair all your funky necklaces with something classic, like a blazer.
2. Roll Up Your Sleeves Fold up your long sleeves to three quarter length to elongate wrists. Three quarter length is the most flattering. Worst length sleeve? One that ends right on your bicep, the biggest part. Avoid! Rolling up your sleeve works great for blazers and jean jackets.
3. Go crazy on bracelets! Wear as many bracelets as you want, but not thick cuffs, which aren't flattering on the arm. Just go with multiple bangles and thin bracelets. Mix and match textures and colors on the wrist.
4.
TUCK IT IN!
So important for someone with a body shape like me. She kept emphasizing to me that I needed to tuck it in. The day of the consult, I was wearing a loose flowy tank top (from Forever 21) and some bright blue skinny jeans, and she told me as politely as possible, that the outfit just wasn't working. I needed to tuck it in and belt it up. A
s much as you can, tuck in your shirts. Obviously some shirts really shouldn't be tucked in, but the majority of shirts can be, and it really cleans up the outfit and elongates your body. Tuck into your shorts, your skinny jeans, and wear a nice skinny belt.
Tuck it in!
5.
Don't Go Too Casual!
If you wear a more casual piece (a funky necklace), be sure to dress it up with heels. Casual with casual = sloppy, not business casual appropriate.
6.
Match Your Bottom With Something on Top:
Match your bottom (shoe) with something on top (necklace, a color in your shirt).
Black/cognac= awe
some combination! Don't necessarily wear black shoes with your black pants.
7. What About Earrings?: Wear drop pendant earrings. They draw attention to the face in a good way. Hoop earrings do nothing to flatter.
8. The Fit of the Shirt:
Make sure you can see your bust and your shoulder with the fit of a top. Avoid tops that are so loose on the side that you can't see your shape.
9. Pop Your Collar! Pop the collar of your blazer to elongate the line.
10. Expand Your Wardrobe With Cardigans:
Stock up on flattering cardigans- they make your wardrobe that much bigger, as you can pair them with dresses, etc But m
ake sure your layers don't end at the same point (i.e. the cardigan and the shirt underneath should not both end at your waistline. The under-shirt should be tucked, unless it's a long flowy top under.)
11. Not So Many Tom's….Tom's are great, but they read very casual, and they don't always flatter with shorts. Usually a sandal is better at elongating the leg.
Please remember, while these were great tips for ME, every person's consultation would be different. From our initial discussion about what I wanted to gain out of the meeting, Carly knew that I was looking to dress better for work and dress my AGE for work. Another person's goal might be to "funk" things up a bit more. Some of you might actually have too much neutral stuff in your closet, whereas I had the opposite issue.
I highly recommend hiring Carly for personalized advice for your wardrobe needs. I really found it extremely valuable, and enjoyed every minute!
**In fact, I enjoyed it so much, I purchased a gift card for her to do the same consultation for Dustin…shhh! It's a birthday surprise!
(Visited 131 time, 1 visit today)