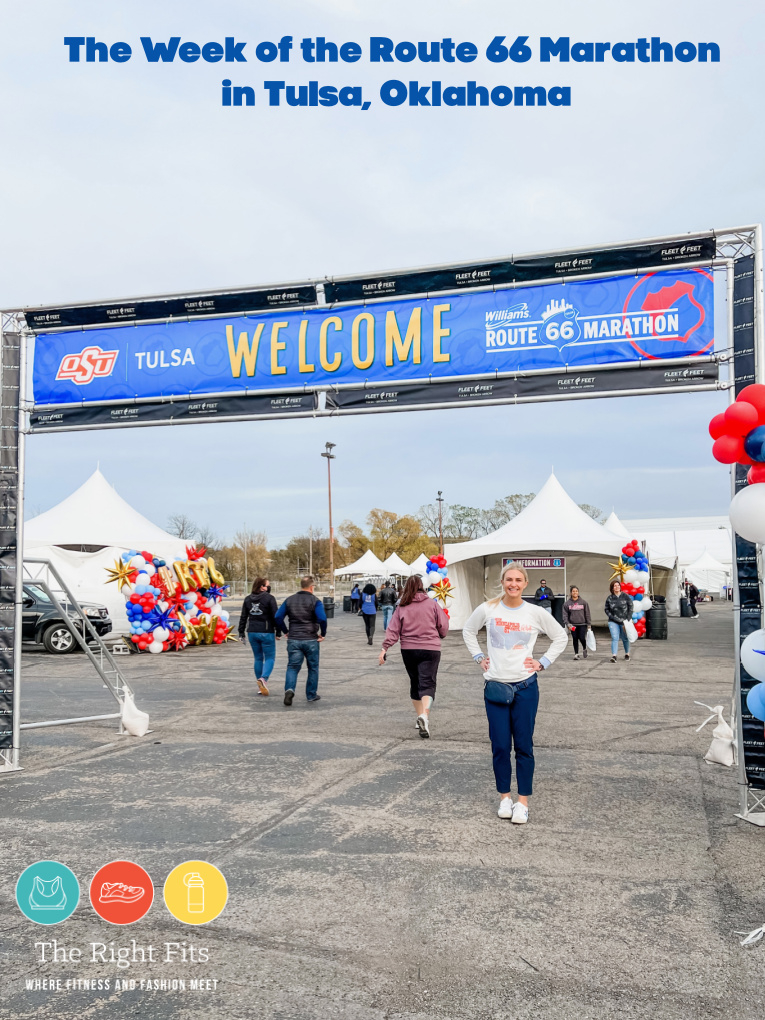 Race week! By the time this is published, I will have completed my 37th marathon and 26th state in my 50-state quest. Hopefully!
Here's how race week went:
Unfortunately race week coincided with a very busy work week where we were 'strongly encouraged' to be present in the office the whole week…which meant early early runs every day.
Monday: 6.5 mile run with Ruth, 8:30 min/mile average.
Ruth is not big on post-run selfies. Ha!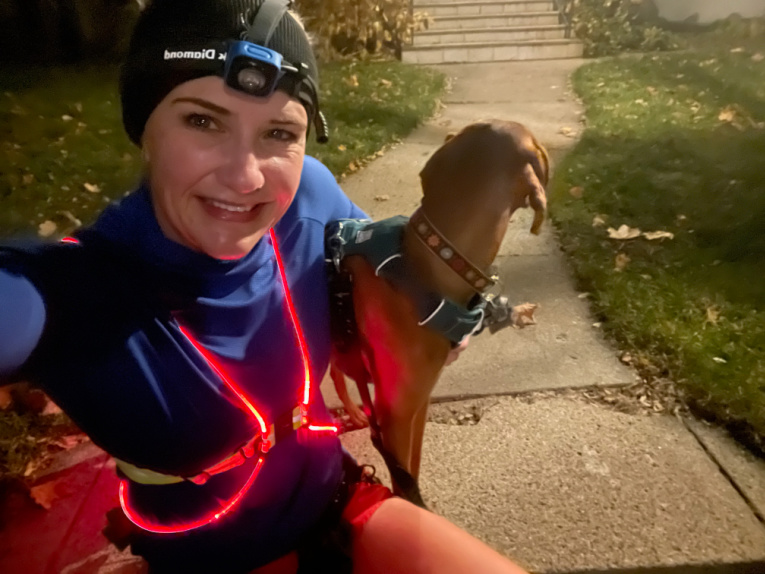 Peloton: After work, I did a little upper body work on the Peloton app: 10 min Arms & Shoulder Strength with Rad, 10 min upper body strength with Adrian, 10 min Arms & Light Weights with Camila, 10 min core with Matty, and 10 min full body stretch with Ben.
Tuesday: My friend Isabelle and I met at 5:15 am- so early and dark! I had 3 miles easy, then 6x(3 min at marathon pace, 2 min jog), cool-down for 7.75 miles total, 8:50 min/mile average. 10 min core class with Matty on Peloton after.
Wednesday: 4 mile run with Ruth before work, 8:40 min/mile average. 10 min core with Matty on Peloton after
That evening, I started to get congested and a bit of a sore throat; I had been in the office with lots of visitors from other locations; even though I'm vaccinated, I was nervous that I had caught Covid. If you've been following the news, you probably are aware that Minnesota is basically the worst state in the nation right now for Covid cases, so I was freaking out. I sent a message to my manager and HR that I was symptomatic and wouldn't be in the office the next day. I took an at-home test that was negative and scheduled a PCR test for the next day. I was stressed…Obviously I did not want to board a flight or run a marathon without knowing for sure that I wasn't spreading Covid.
Thursday: My cold symptoms had abated almost entirely and I was feeling pretty good- maybe my body was just drained from long days in the office? But I still took another at-home test that was negative, went to my scheduled PCR/saliva test (free at the Convention Center downtown Minneapolis) and waited for results.
I did go for a run with Ruth, but we were careful to stay very far away from any other runners, just in case. She was on-fire and did not want to go slow; 5.2 miles at an 8:15 min/mile pace.
Since my sore throat and congestion had cleared, I was thinking I had over-reacted, but there's nothing wrong with being cautious right? My PCR test did come back negative, which gave me a lot of comfort. Better to be safe!
A week can't pass without some sort of drama with our puppy, Ruth, can it?
Last week was the Himaylan cheese chew that landed her in the ER. This week, Ruthless Ruth caused more drama; Matilda (the senior vizsla) spent the long weekend at my sister Cresta's, but Ruth is a bit more work, so she was booked at Pampered Pooch Playground starting Friday morning.
Thursday evening, we took Matilda to Cresta's and briefly left Ruth at home; I think she was anxious as to why we left her and took Matilda, so she literally jumped up and took my running gloves that were up on the kitchen island (which is pretty high); we came home to catch her destroying one glove and the other glove was nowhere to be found. We kept searching the house with the hope that she hadn't actually consumed the other running glove, but we quickly realized she had.
So, like many times before, we had to force her to consume some hydrogen peroxide (just a teaspoon per 10 pounds that your dog weighs per our vet) and wait until she threw up. It took about 10 minutes and there was the glove- so gross! That dog! I tell ya, she is trouble. She was fine shortly thereafter and back to her normal self.
I honestly thought the gloves were out of her reach….Lesson learned.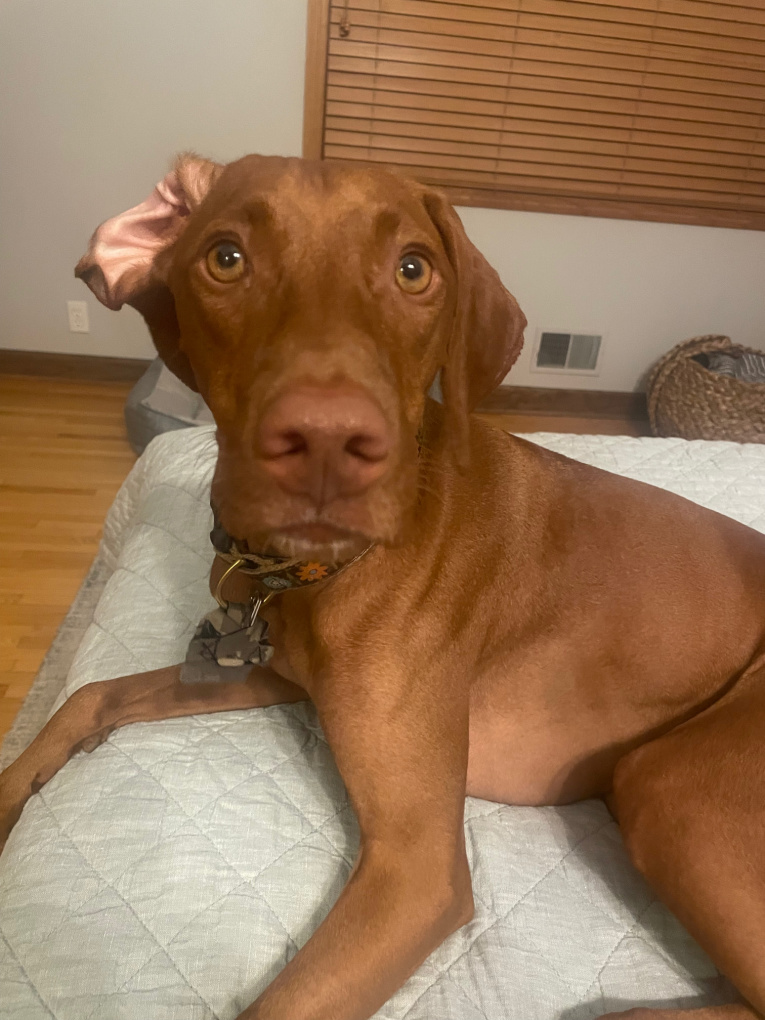 Friday: We were up early to drop Ruth off at Pampered Pooch Playground for the weekend and then head to the airport for our flight. Originally, we had a direct flight from Minneapolis to Tulsa, but Delta dropped that flight. Instead, we had to go through Atlanta to get to Tulsa, which definitely made Friday a much longer travel day!
We arrived in Tulsa late afternoon and checked into our hotel, the Hyatt Regency in Tulsa, and then took scooters over to the expo.
In order to eliminate any challenges with masks mandates and whatnot, the organization decided to just have the expo outside! Worked for us.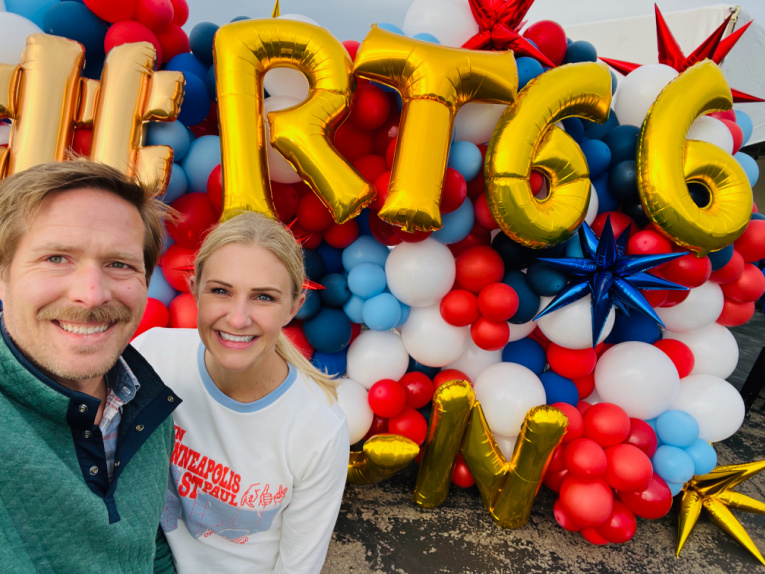 That evening, we took an Uber to Prairie Fire Pie, which was delicious.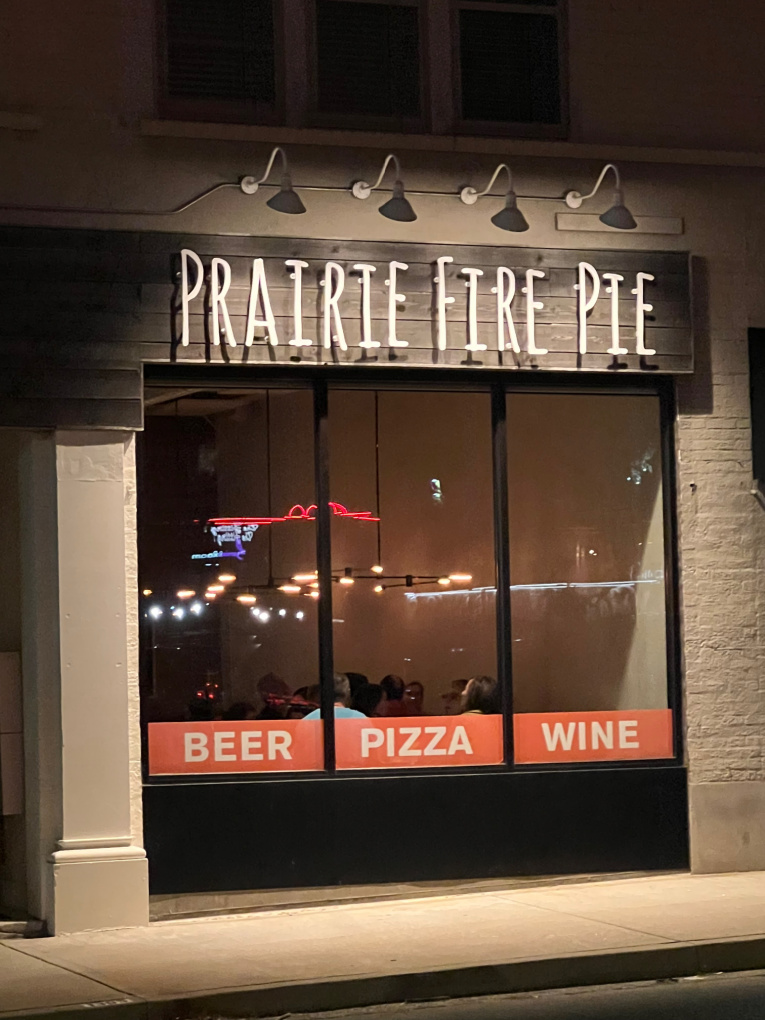 Saturday: When my sister Erin was originally planning to run Tulsa, we decided to do the "double" which was the 5k on Saturday and the full marathon on Sunday. Unfortunately, Erin had to bail on the trip for personal reasons, so I was on my own for the 5k.
I figured I would use it as my shake-out run, but honestly it was hard to go super easy. I ended up running a bit of a progressive, ha!

Splits: 8:02, 7:44, 7:19 = 24:30. It was kind of fun to do a short race as my shakeout! Dustin hadn't registered so he just jogged around the race course a bit and snapped a few pics as he did his shakeout.
First official race as a masters runner, ha!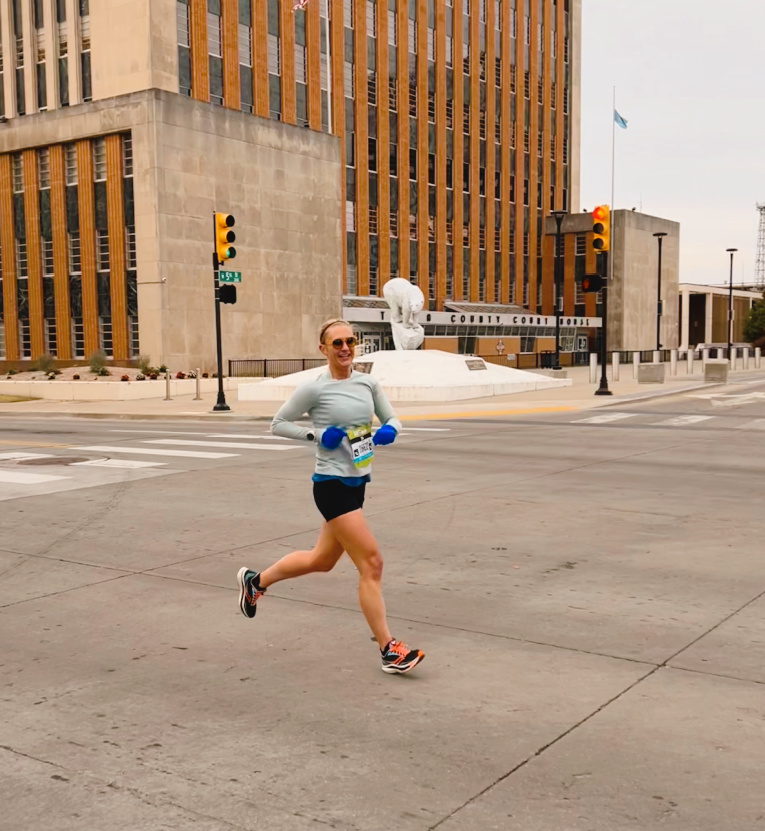 Saturday afternoon, we went to the Woody Guthrie Center for a little music history.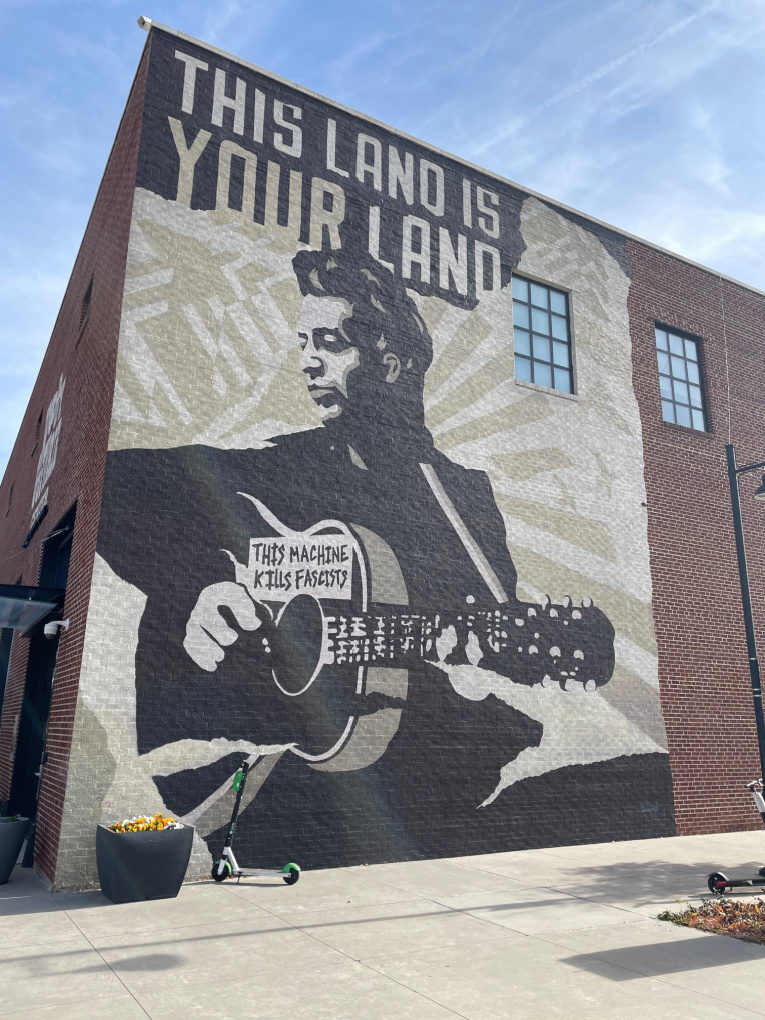 We visited some of the historical marks from the Tulsa Race Massacre; I had watched the History Channel documentary "Tulsa Burning" recently to learn more about this terrible event.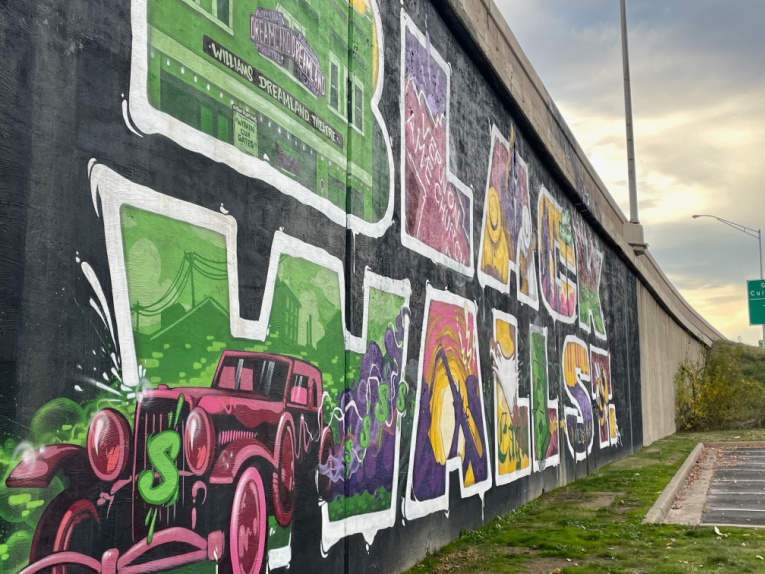 We also stopped by the "Center of the Universe." I thought the Center of the Universe was a marker of the center of the country, smack-dab in the middle of Oklahoma. But I was totally wrong!
"The "Center of the Universe" is a little-known mysterious acoustic phenomenon. If you stand in the middle of the circle and make a noise, the sound is echoed back several times louder than it was made. It's your own private amplified echo chamber."
Very strange. You have to try it to understand!
Sunday: Marathon day! I'll share a full race recap as soon as I write it up.
26.6 miles as I did do the Center of the Universe detour for the "shortest ultra in the world."
Summary: 54 miles of running, some core and a little upper body on Peloton, but not a lot since it was race week.
I'm linking up with Running on the Fly and Confessions of a Mother Runner as part of their Weekly Rundown. Check it out!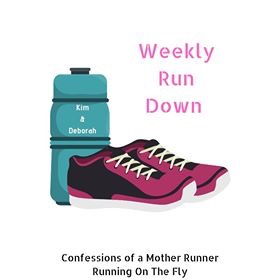 (Visited 376 time, 1 visit today)