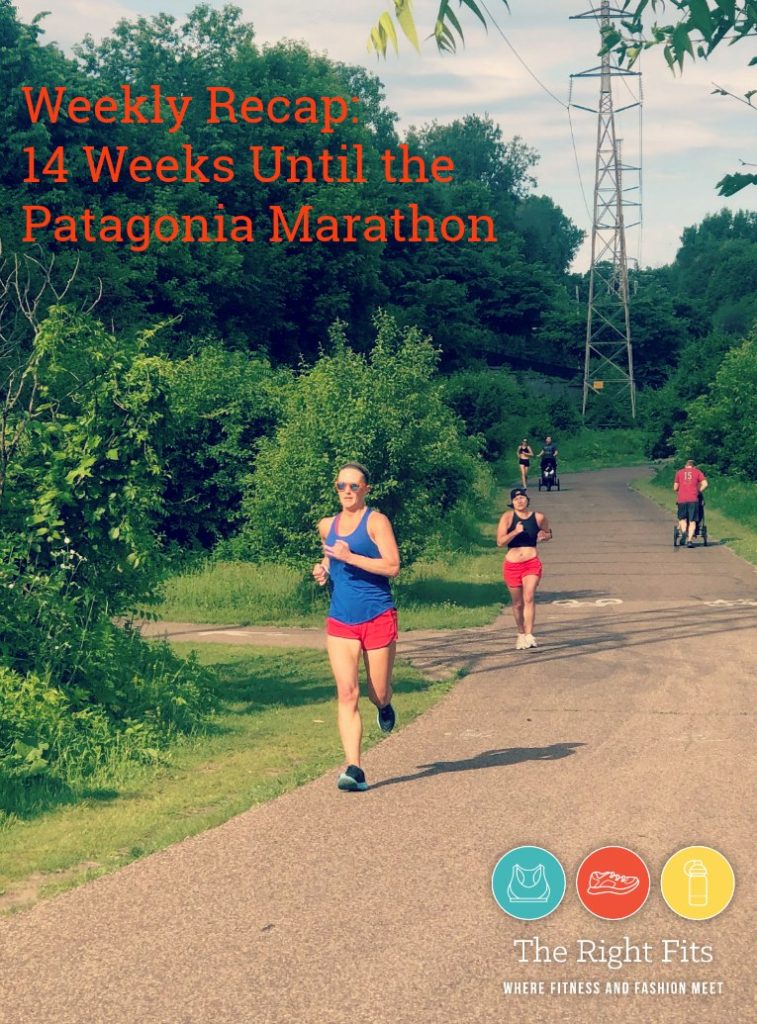 Welcome to June! That means summer is here, right? I hope so! I swear, I'm not going to complain about the heat and humidity, as I much prefer this to worrying about slipping on the ice in the winter!
We received an update this week from Marathon Tours about the Patagonia marathon and trip, and they are still optimistic; no cancellation yet.
So here's how training went this past week, with the idea that I will have a (challenging) marathon in 14 weeks!
Monday: 8.2 mile run, 9:10 min/mile average before work, 1:1 virtual strength training session with Discover Strength after work.
Tuesday: Hot and humid (not complaining, I swear!) Christie and I met in the early morning as we had the same workout. 20 minutes easy, 5x(2 mins HMP, 1 min recovery, 1 min 5k, 2 mins recovery) , 15 minute cool-down. 8 miles total, 9 min/mile average.
Wednesday: 10 miles before work, 9:20 min/mile average. Nice and easy. Even though it was just an easy run, I need to start carrying fluids, even during the week, as I was feeling the heat this morning.
I saw this guy on my run!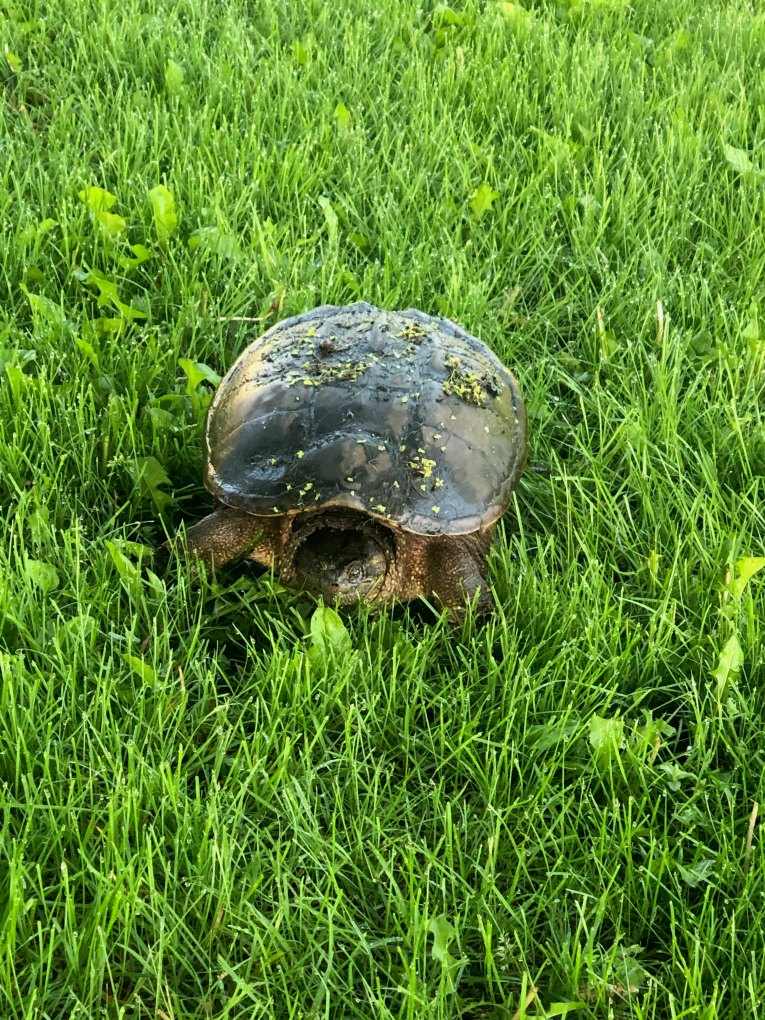 1:1 virtual strength training session with Discover Strength after work.
Thursday: 4 miles with Ruth before work, 9 min/mile average, 4 miles with Dustin after work at 8:30 min/mile average for 8 miles on the day. I actually like splitting up the run this way; each run was short enough that it was almost easier to fit in, though it does lead to lots of laundry!
Friday: 4 miles with Ruth before work, 9:15 min/mile.
Saturday: Mile #3 in the McKirdy mile series! Dustin opted out of participating due to an injury he's nursing, but he still jogged over to the Cedar Trail with me (and took some pics!)
4 mile warm-up, 1 mile race, 3 mile cool down for 8 miles on the day.
I ran side-by-side to Christie for most of the race this time; it was good because she helped me to pace better and not go out too fast. This time my quarter splits were as follows: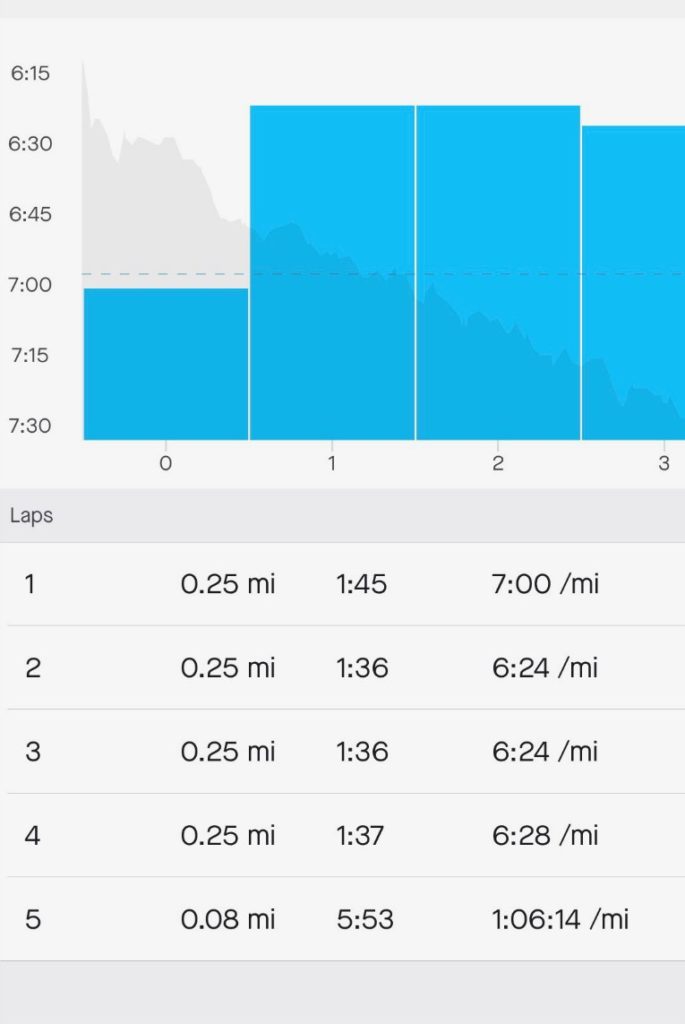 My official time was 6:36. Over the series, I ran 6:47, 6:40, and now 6:36. Maybe on the last one, I can break 6:30!
That last 5-6 minutes at the end on the above screenshot was me standing around catching my breath and forgetting to turn off my Garmin! Fortunately, the mile split still registered at 6:36, and I was able to post my result to the McKirdy Mile website and get credit for that time.
I didn't feel pukey at the finish and didn't spend the next ten minutes coughing when I finished. So even though I paced myself better, I think I can push a lot harder for the next (and final) mile of the series!
(Twinning in full Oiselle!)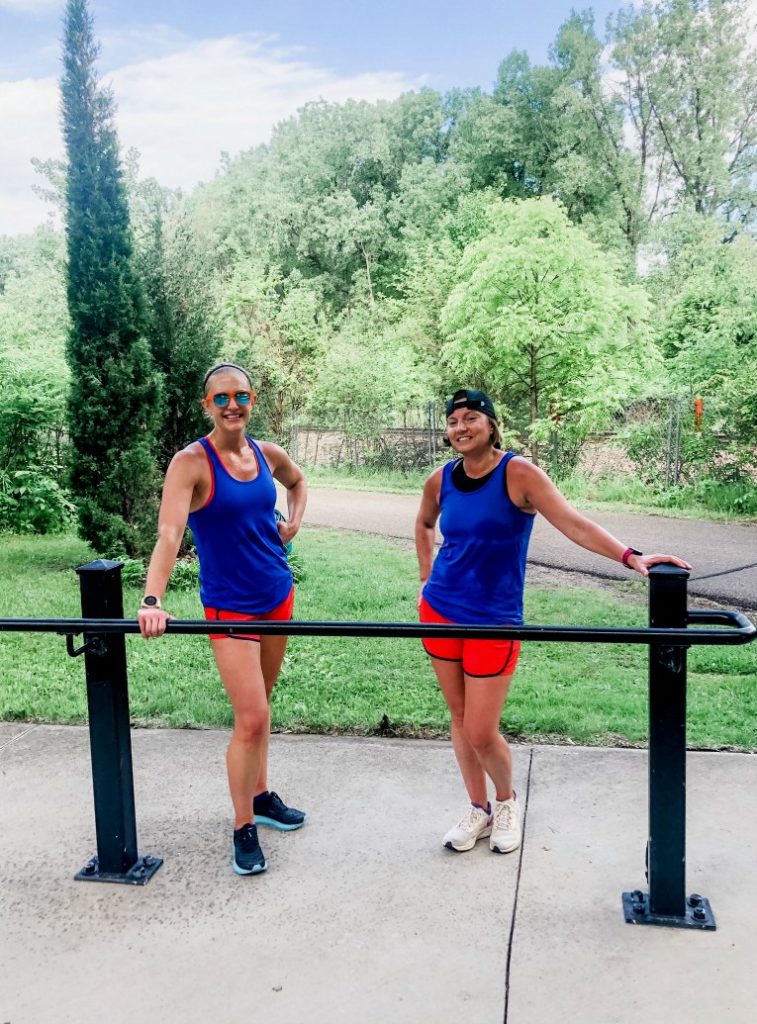 My sister Erin ran the mile at her lake house and cut a few seconds off her time. Virtual high-fives, sister!
Sunday: Since I did the mile on Saturday, my long run was moved to Sunday. I had two hours on my schedule, so Christie, Julie, and I met early in the morning to beat the heat. We covered 11 miles together and then I did 1 with Ruth and 1 with Matilda for 13 miles total. Legs were definitely feeling the 1-mile the day before though. Uffda.
It was my first time wearing the Camelbak I ordered; it didn't bounce or bother me, but the extra layer did add to the sweat factor! I think I need to put ice in it. However, it held plenty of fluids for a 13 miler in the heat, so that was good.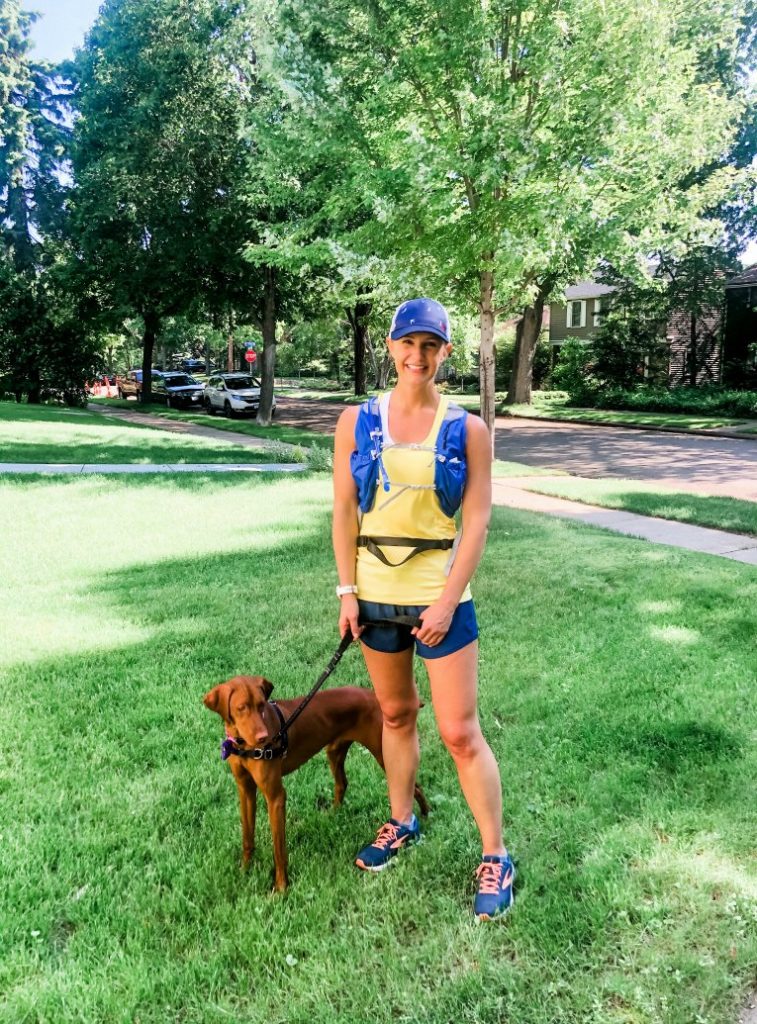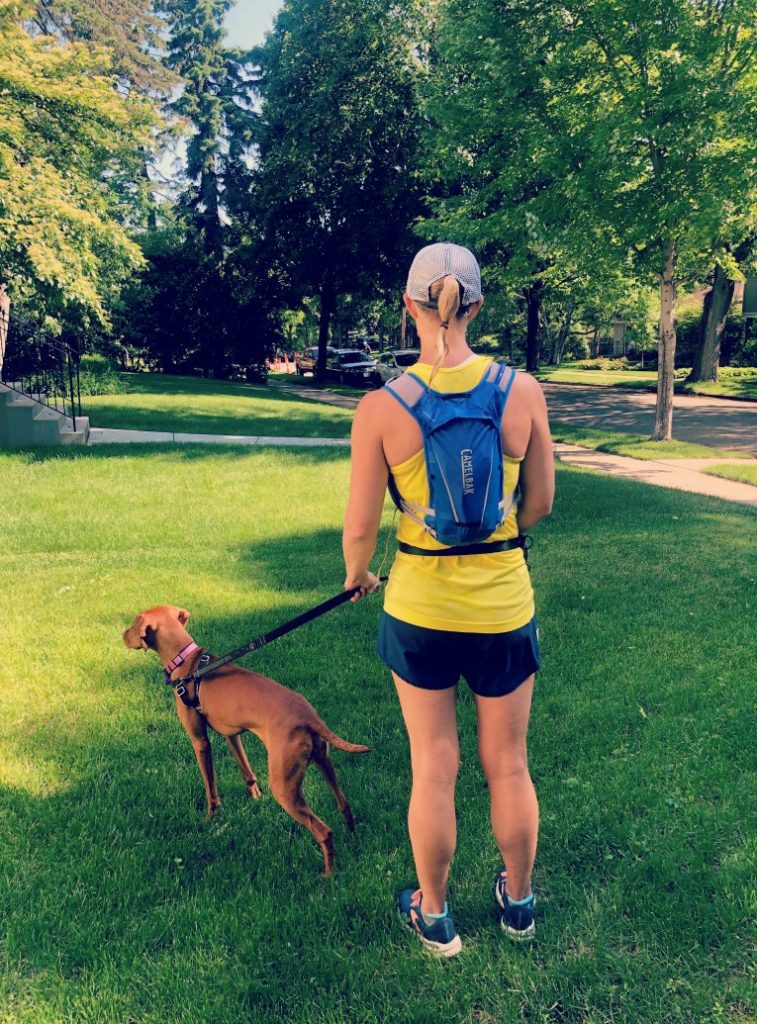 Summary: Nearly 60 miles of running, 2 strength training sessions with Discover Strength. A little part of me was tempted to run another 0.3 miles to get to 60, but I am sure I will cover it walking the dog later today.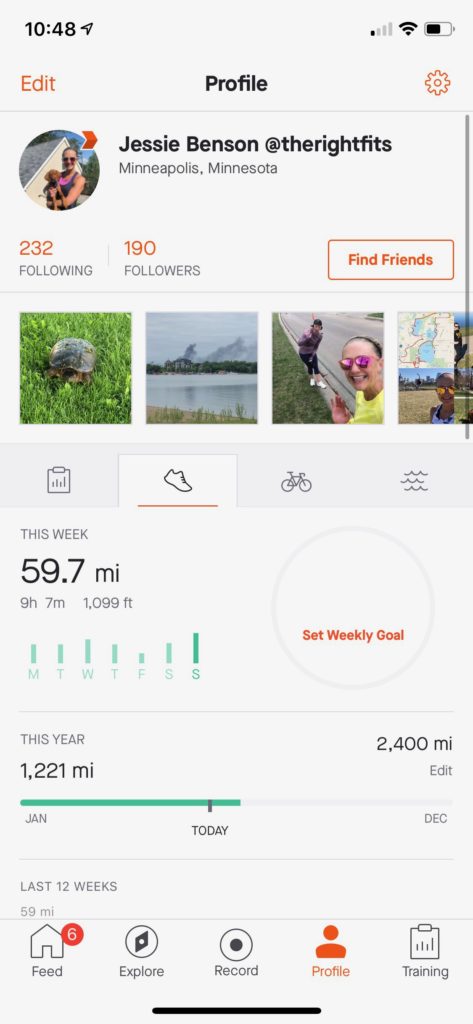 In Minneapolis news, a run club friend of ours had his car stolen before the riots; apparently it was used to ram into an ATM multiple times to try to break it open (it was caught on video). This is what it looks like now!
This was from last weekend; things are pretty peaceful now in Minneapolis with continued protests, but less looting. I do hope the cause continues to get the attention it deserves, even though the rioting seems to have ended for now.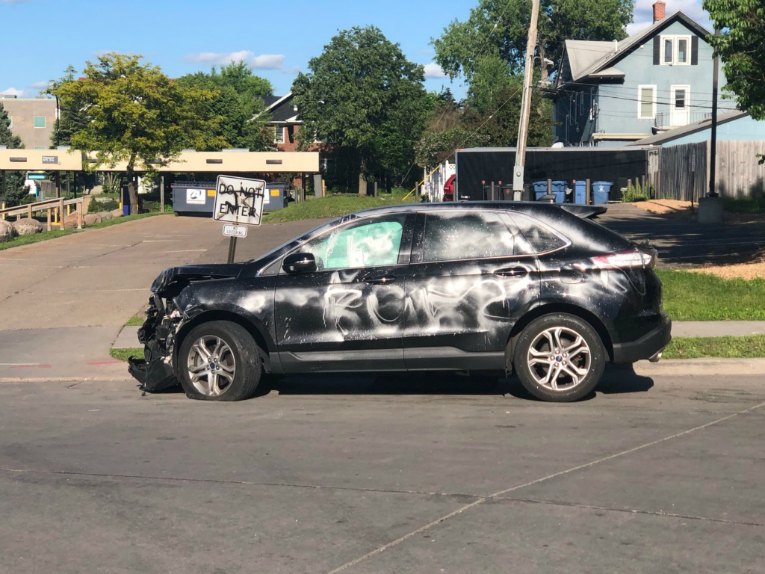 In less serious news, I have been enjoying the new and improved Kona Cola flavor from Nuun! I used to be a big fan of the original version and was gifted a tube of it in 2018 (long after it was off the shelves.) I saved it for a special occasion (my first 20 miler post-broken leg!) and it wasn't very good! I'm guessing that's because it just didn't age very well.
Fortunately, the new and improved version of Kona Cola is much better! Just a subtle hint of a flat Coke taste. I like it!
(My dad made the wooden display case for all my Nuuns!)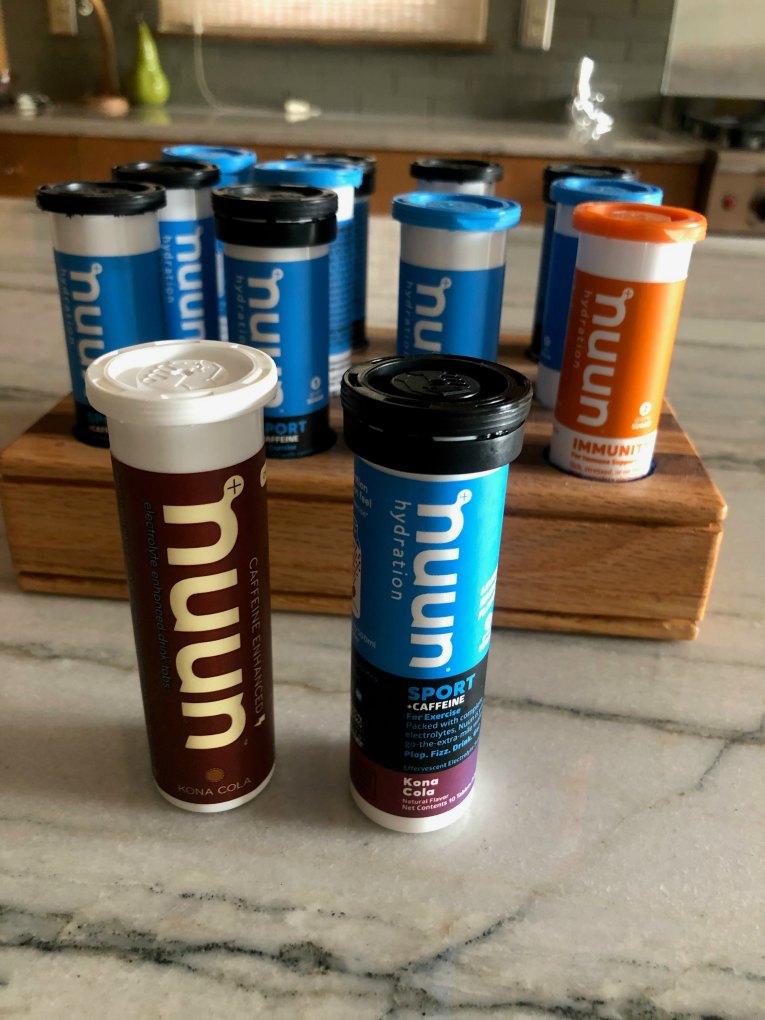 And that's a wrap for this week!
It's great to have the ability to stay connected virtually and support each other; this link-up hosted by Running on the Fly and Confessions of a Mother Runner 's is a great way to do so! Check it out below: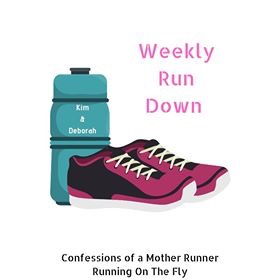 (Visited 255 time, 1 visit today)