Weekly recap time! I'm linking up with Kimberly and Deborah for their weekly wrap, details at the end of this post.
Here's how my training for the Indianapolis marathon went this past week!
Monday: Victory Labor Day 10k! 3 mile warm-up, 10k, 1 mile cool down. 10.2 miles on the day.
Race splits: 7:25, 7:20, 7:37, 7:18, 7:30, 7:13. Finish Time: 46:05.
I was really happy with this race as its right where I was pre-broken leg. Perhaps my training is paying off…finally!
Only at the Victory Labor Day 10k is it okay to have Kool-Aid Jammers and a hot dog before 10 am, ha!
Dustin set a 10k PR, so we headed out later that afternoon for a celebratory beer, bringing the pup along for more socialization!
Tuesday: 7 miles at 9:45 min/mile before work. My legs were very tired from the 10k the day before, more so than I expected. I listened to my body and took things slow. Discover Strength session after work.
Wednesday: Workout Wednesday! 3 mile warm-up, a mix of 800m at 7:30 and 200m at 7 with 200m recovery, with 2 mile cool-down to get to 10 miles total.
Thursday: Discover Strength after work and then a 5 mile run after that. I rarely run after lifting or after work either, to be honest. Terrible combo! I felt so drained during this run and my legs were still so heavy.
Friday: 7.5 mile run before work; legs Then, as a bonus, I finally was able to join a group of people at my office who run over lunch. Generally I have too many meetings to make it work, but Friday was a bit quieter, so I took advantage!
The group is currently all men and they generally run between 7-7:30 min/miles, but they slowed it down a bit for me. We ran 5 miles at an 8:20 min/mile pace.

There are showers in the building I work in, so I quickly rinsed off and was back to my desk in just over an hour. Not bad! I was really happen to be able to connect with a few new-to-me people at the company through running.
That evening, my sisters Laurie and Erin arrived. They had already planned to be in town to run the City of Lakes half marathon on Sunday, but now they had another reason to visit as my mom was still in the hospital here in Minneapolis. The good news is that she was released on Saturday; we were there to help see them off before their 10 hour drive back to Michigan. She definitely still has a ways to go, but she is doing a lot better!
Anyways, Friday night when my sisters arrived, we headed to dinner at Hai Hai in NE Mpls, followed by a beer at Dangerous Man. It was so fun to have them in town!
Saturday: After helping my dad load up his car and my mom at the hospital, my sisters and I went to pick up our race packets at Marathon Sports.
Then it was time for a 4 mile shake-out run.
After the run, we grabbed lunch at the 44th/France cheese/sandwich shop and then stopped by Gear Running Store to purchase a few items (like this sweatshirt of the lakes!)
We wandered around the North Loop for a bit; we tried to stop by Mill City Running for a trifecta of Minneapolis running stores in one day, but they were closed! Instead we went to "I Like You" and Martin Patrick.
"I Like You" has basically the most instagrammable wall out there:
For our pre-race dinner, we had Punch pizza of course and watched the documentary "Iron Cowboy." Has anyone else watched it? I didn't find the lead character all that likable or inspiring, but maybe I was missing something, as I was only half paying attention.
Sunday: City of Lakes half marathon!

My younger sister Laurie's lifetime PR is 1:52; I've been coaching her back to running after having her second baby. Her goal for the race was sub-2 hours. She's going to write a guest post about the race (and having a coach!), but spoiler alert, she hit her goal, with a finish time of 1:57:20!
We ran from my house to the start line (1 mile) and back, for 15 miles on the day. Such a fun morning!
Dustin set a big PR, with a finish time of 1:23:42!
After the race, we had a delicious brunch at Martina.
And then I had to say goodbye to my sisters; I will see Erin in 9 weeks, as she is racing Indianapolis as well! I will see Laurie at Thanksgiving.
Summary: 64 miles of running; two Discover Strength sessions.
In vizsla news, Matilda had to have a few suspicious moles removed, so she's been wearing the cone of shame for a few days.
Poor Ruth doesn't fully understand that Matilda doesn't really want to play as much right now. She's still bursting with all that puppy energy every day!
And that's a wrap! I'm linking up with Running on the Fly and Confessions of a Mother Runner as part of their Weekly Rundown. Check it out!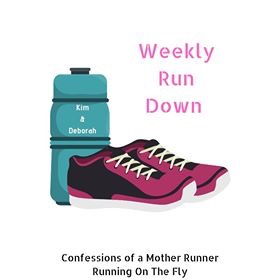 (Visited 302 time, 1 visit today)