If you've been watching the First Time Marathon Webinars that I have been doing with Nathan from
Minneapolis Running,
you've probably heeded our advice, and you've given a lot of thought to your gear for race day. Great! So, you've got your race day outfit all planned out, but have you given any thought to what to wear to the expo?
I'd like to share some advice that comes from an experienced marathoner in another local running club in Orono. My friend Abby used to run with this crew, and she shared this email with me last year, and the author, Todd, was nice enough to allow me to post.
It's all in good fun, so I hope you find it as entertaining as I did!
(Remember, it's all in good fun…in truth, you should wear whatever you want to.)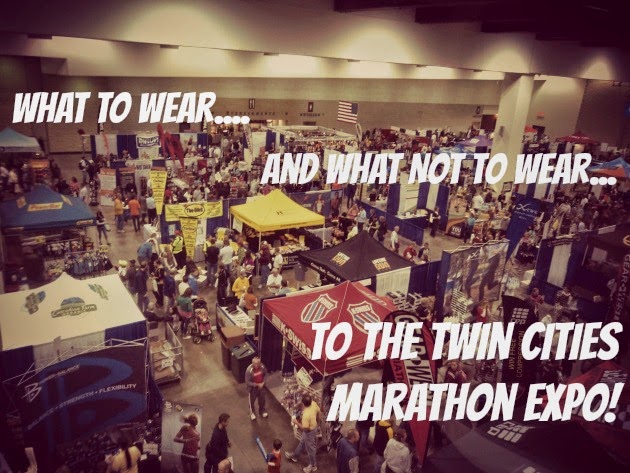 For newbies especially, here's a list of what to wear and what not to wear at the Twin Cities Marathon Race Expo this Friday or Saturday. The trick is, you want to look like you belong there (because you do), but you also don't want to look like you are trying too hard to belong. The look you are going for is "confident athlete who doesn't look like you ran here, but easily could have".
Also, you might as well pick up your goodie bag and race number right away, because you look cooler walking around with it (BUT DON'T PUT THE NUMBER ON JUST YET).
If you are going to wear a race t-shirt, here are some rankings of shirts on a scale from Really Cool down to Dork:
Super Cool Finisher's shirts- anything from the Boston Marathon, a Western States 100 shirt (or any 100 mile race shirt), or an Ironman shirt. 
Last year's TCM finisher, any other year's finisher shirt (the older, the cooler – old Grandma's shirts work well for this too if they aren't too yellow and faded), a NY, Chicago, London, Paris or Berlin finisher's shirt. 
Also "pretty cool"
: Any obscure ultra shirt, (if it has blood stains – you are up in the super cool category as long as it was from the race and not from chopping broccoli), Border to Border Triathlon, Big Sur, Marine Corp, California International, etc.
"Cool": 
Last year's 10 miler finisher shirt, any other year's 10 miler, any TCM volunteer shirt (but be prepared to give directions to the bathrooms), 
TC10k, 
any 1/2 marathon shirt (except the Monster Dash)
A
 5k race shirt, sprint triathlons, inline skate races, any Monster Dash shirt.
"Dork": 
An ALARC Shirt, a racing singlet, generic under armor shirt, AND especially any shirts from the
Warrior Dash, Color Runs or other "pretend" races, these are especially uncool (I'm not counting the Tough Mudder – that's cool because it's more like 10 miles and really hard, not just pretend hard). Not making a judgement here, whatever gets the masses off their asses I say – and I'm sure they are plenty of fun, just don't go to the Expo and expect any respect…because while the marathon is many things to many people, it is a race after all.
Running shorts. This applies to guys especially – trying to look like a runner at an expo full of runners means you are just plain trying too hard. We get it. You are here to pick up your number because you are a runner. So is everyone else.
Funny tips- thanks Todd!
In all honesty, I do have some fitness & fitness fashion tips for the expo. 
Tip #1- Dress comfortably. Wear comfortable shoes. Don't wear high heels. You do not want to start Sunday's race with sore feet or blisters.
Tip #2– Dress in layers! It can get hot in there with the crowds.
Tip #3– Bring a water bottle. Hydration is the name of the game!
Tip #4-  Buy a poster/shirt/sweatshirt/something. You'll want some memorabilia from your marathon.  Buy a TCM t-shirt. Then in ten years, it will be a "pretty cool" thing to wear to the expo. Vintage TCM shirts…plan ahead for TCM 2024!
Tip #5– Go on Friday if you can. It will be less busy.
Tip #6:
Bring a camera- you might meet some local celebrities. Heather Kampf, Carrie Tollfeson, who knows? Kim Jones will be at the expo on Saturday. She is a two-time women's champion at the Twin Cities Marathon (1986 and 1989) and author of the book
Dandelion Growing Wild
.
Share your pics, tweets, and words of wisdom with me for the expo @TheRightFits on Twitter.
GOOD LUCK!
*Have you signed up for my weekly newsletter? Never miss a Right Fits post!
(Visited 1,472 time, 1 visit today)