Tilda has been very pleased at how popular Tilda Tuesdays have been. She is beyond flattered that you enjoy vizslas/dogs so much!.
Today, I'd like to share with you a little about our first experience camping in a tent with Matilda…let's just say it was less than a successful endeavor. A failed fit….
We booked a campsite at Afton State Park. We chose this park because its one of the few local campgrounds with "backpacking" or hike-in sites. Most of the other local campgrounds (those within an hour drive of the city) only have "car-camping." We wanted to get away from the crowds a bit, just in case Matilda barked or misbehaved (and to make it a more pleasurable camping experience for us as well). A hike-in site seemed like the best way to do this.
It did take a little more planning of course, as we had to carry everything for us and for Matilda with us. That's why we only tried it out for one night for our first time…just in case we missed something important!
Afton's campsites are only $11, so if the weather had been terrible, we would have just cancelled. However, Saturday was a gorgeous sunny 80 degree day, cooling down to the 60s at night- lovely camping weather.
We arrived around 3 pm. Our site was actually a tough 2 mile hike up a steep hill carrying a heavy pack. After a 19 mile long run Saturday morning, my legs were feeling it!
After setting up camp, we set out for another hike around the park. We were told that we should expect to see deer, turkeys, and coyotes, but unfortunately, we didn't see any. But we did enjoy the fall colors, fresh air, and saw a ton of bald eagles!
Dogs have to stay on leash at the park and of course you need to pick up after them. They also are not allowed on the beach (There is a decent beach within the park on the St. Croix river.)
However, when we were at our campsite, we would let Tilda off her leash and she was really good about staying nearby. We did bring a long rope to hook her up just in case she wandered too far while we hung around the campsite, but we never had to use it.
Feeding her was easy since we were only there for two meals; however, if we were to camp with her for an extended period of time (like in the Boundary Waters) we determined we would need to use a dehydrated food like this one. We received a free sample of this at Woofstock and Matilda loved it. It would be easier to carry this type of food with us, as obviously its more compact and condensed than her regular food.
But for just two meals, we were able to bring along her normal food and feed her out of one of the camp bowls that we brought along. We used her portable water bowl that we often bring to dog parks and that worked just fine.
As for our dinner, it consisted of a freeze-dried lasagna (which actually wasn't so bad).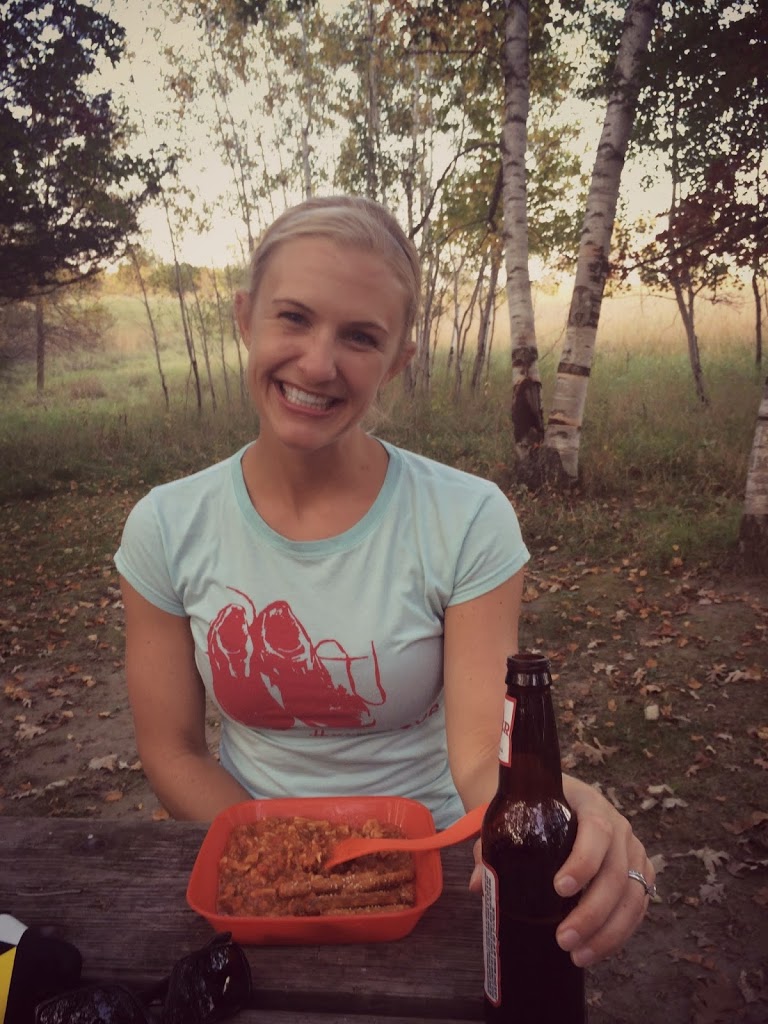 enjoying freeze dried lasagna
After our romantic lasagna dinner, Dustin started a campfire.Tilda has been around our fireplace in our house and at the cabin plenty of times, but for some reason, the outdoor fire freaked her out! She alternated between hiding under the picnic table to curling up on one of our laps the whole night, eager to stay away from that scary fire.
Once the sun went down, she seemed to be getting pretty anxious- too many animal noises (yes, we could hear  the coyotes, even though we didn't see them) and the occasional noise from a nearby campsite. Vizslas are such a high-strung breed and this was definitely a perfect example of their skittishness. When we finally went into the tent for the night, she was not ready to settle down and was still quite wound up.
Our tent has a mesh paneling on top that Tilda could see out of during the night and she spent a lot of time staring up at the stars and getting spooked by any movements. It was very confusing to her….
We had brought a blanket for her to sleep on, but the only way that she would settle down and sleep at all is if we actually unzipped one of our sleeping bags and let her curl up inside of it with one of us. Even then, she'd only sleep for 45 minute increments before getting up to scratch at the exit of the tent to go back outside to explore the noises. Needless to say, we did not sleep all that well that night.

What could we have done differently? What tips do you have for getting your dog to sleep in a tent?

She is such a good sleeper at home in bed (yes, she sleeps in bed with us) so we assumed she would be just as good in a tent.
Though I called the trip a "failed fit," truthfully it was still fun, even though we didn't sleep very well. I think we just need to do a little research on different sleeping situations for her in the tent.
My first search led me to these BarkerBags:

"The BarkerBag is an insulated sleeping bag that zips to the side of your standard sleeping bag. With zippers on both sides, it can attach to a single sleeping bag, regardless of which side of it zips, or it can attach between two sleeping bags that already mate together." (source) 
These Boulderlite NobleCampers also look pretty slick. They must work for vizslas if they feature one in the ad, right? Matilda loves to curl up super tiny and she really likes to be under a cover, so I think this is a good option for her. However, it is $180, so I wish I knew that it would actually work! The reviews are all pretty good though, so I might have to just try it.

There seem to be some good options out there, so we won't be giving up on camping with Matilda yet. Hopefully with the right fit in dog camping gear, we'll be better prepared next time around!

**For more dog camping advice, I found this article from R.E.I. quite helpful!
(Visited 1,264 time, 1 visit today)