Hi all, and welcome back to Tilda Tuesdays! If you're coming here for running advice, I'll be back with more running posts later this week. But Tuesdays are officially all about our vizsla Matilda. Today, let's talk about grooming!
One really great characteric of the vizsla breed is that they are a very clean dog that needs minimal grooming. They only shed a tiny bit (we don't even notice). But the best part is, they don't smell like a dog. Don't get me wrong, I love ALL kinds of dogs and don't care about the smell, but it was a nice surprise to find out how clean Matilda was.
We didn't know that much about the lack of a dog smell, but then we were watching a special on Animal Planet about vizlsas (this video
HERE!
). In this segment, they explained that vizslas don't have an undercoat, which helps with the shedding (though this does make them a poor choice for cold weather climates like Minnesota) Their skin also produces some sort of oil that reduces any smell.
As for grooming a vizsla, its quite easy. We rarely, if ever, need to brush Matilda, as just wiping off any excess hair works fine.
We do have to cut her nails (which she absolutely hates) and clean her ears (especially after time at the lake.) We frequently need to wipe off any sleep from her eyes too.
As for bathing, we only really bath her when she is really dirty; maybe after a muddy trip to the dog park or a weekend at the cabin where she was in the lake water a lot- then she'll definitely get a bath.
But bathing her is easy! In the summer, we can bathe her outside with the hose and some dog shampoo. In the winter, we just plop her in the tub and give her a quick bath. She doesn't love it, but she tolerates it.
I came across a few pictures from one of her first baths.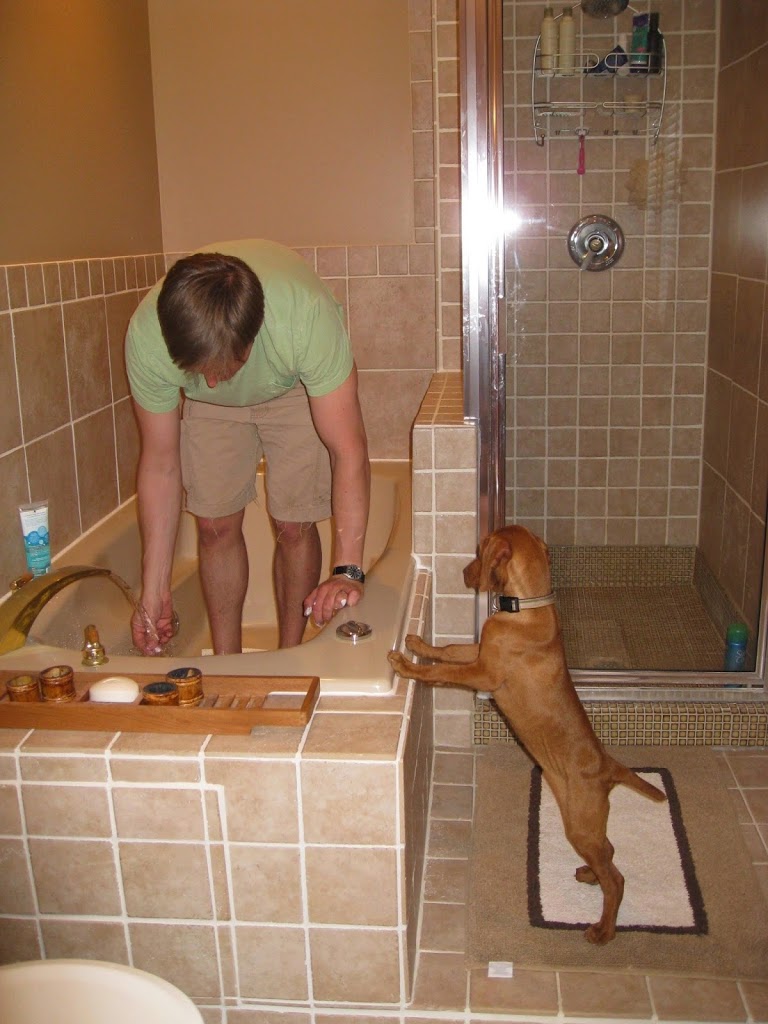 She obviously didn't know what she was in for now, as she is not quite as eager for bath time these days as she was in this picture.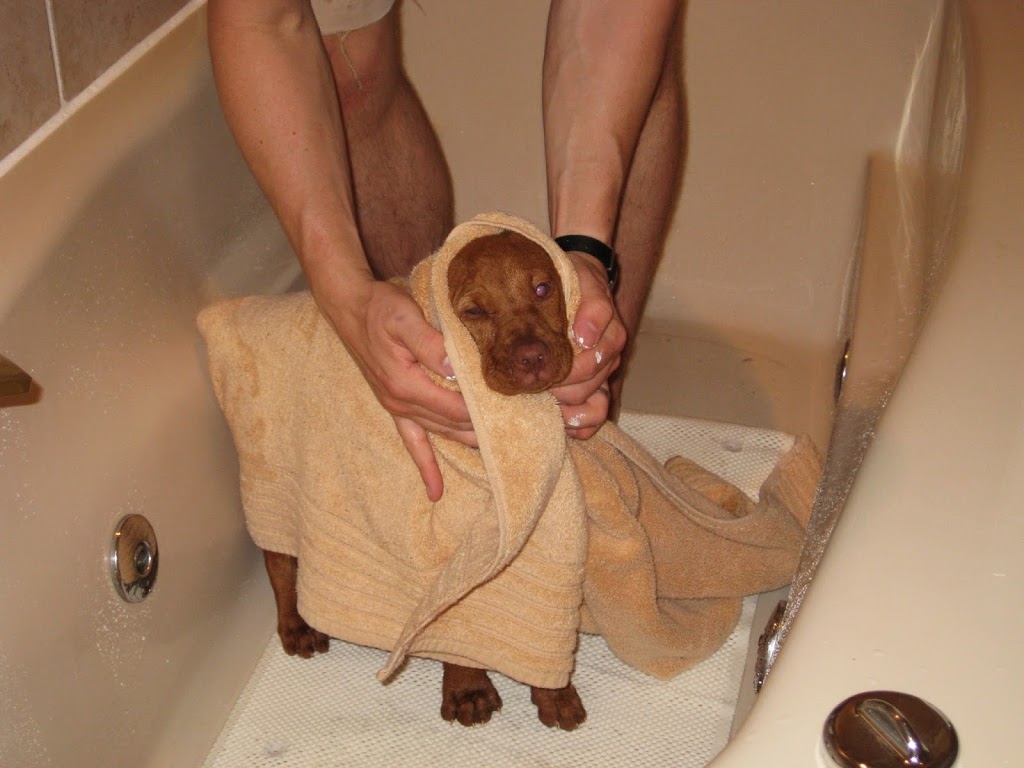 Occasionally, we have taken her to Bubbly Paws after a muddy dog park trip. Bubbly Paws is owned by the same great owners of Pampered Pooch Playground, Matilda's favorite doggy daycare.  Bubbly Paws is a professional dog groomer or a self-service dog wash.
If you have a breed of dog that needs a lot of grooming, 
Bubbly Paws
 is the place to go.  Vizslas just don't need much bathing, so we haven't gone there that much.
Like any dog, we are supposed to brush Matilda's teeth. I try my hardest to do this, but its definitely one thing that we don't do a good job with. We try to make up for it with greenies or other teeth cleaning treats, but our vet chastises every time we bring Matilda in, and she has had to have a few professional teeth cleanings already…
Anyways, if you want an easy to groom dog, a vizsla is a good option! But remember, what they lack in grooming needs, they make up for in EXERCISE needs. I would never recommend a vizsla to someone who doesn't like to walk, run, hike, or dog park with their dog, as vizslas are high-energy and kind of crazy!
Tilda Tuesdays: Training Your Vizsla
Tilda Tuesdays: Flashback to the Early Days
(Visited 2,089 time, 1 visit today)