Hi everyone! As I mentioned in my last post, I'm trying to catch up now that I have a normal working computer again. I think I overloaded the last one with too many pictures! Anyways, 
I wanted to check in to share last week's recap in Fitness, Fashion, and Fitness Fashion!
What's happening in fashion?
In fashion, I actually received another Stitch Fix! You can read about previous Stitch Fixes 
HERE
 and 
HERE
. I will definitely share pictures later this week of my latest fix, as I ended up 
keeping
 quite a few items this time around.
By the 
way
, my cat definitely loves Stitch Fix!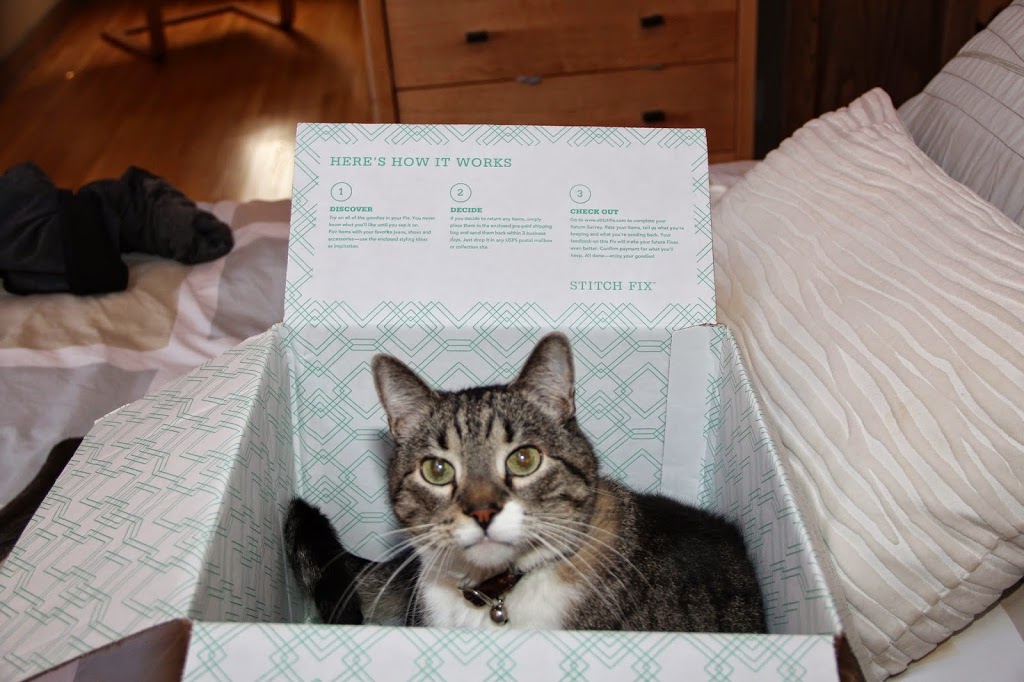 What's happening in fitness fashion?
Not too much happened last week in Fitness Fashion, but a few of you asked me about the top I was wearing for the pub run over Memorial Day:
I got it at the new lululemon at the Galleria. It's the Wamo Camo tank, which is unfortunately already sold out, but you can find it HERE on ebay.
And last but certainly not least, here's what's happening in fitness last week:


Monday: 7 miles in the morning in the rain with a great group of girls that made the rain less miserable
Wednesday: Morning 10k for National Running Day. Did you do anything to celebrate??
Then 1 hour kettlebell/strength at Balance Fitness with the following workout:
Jump rope/squat/swing 40-30-20: do that circuit 5 times

Full sit-ups and 

kettle bell

 snatches 20 each, do that circuit 3 times

TRX pull-ups, triceps push-ups, and shoulder press 20 times: do that circuit 5 times

Final round was more jump rope and full lunges (I think 50 jumps, 10 lunges, 2 rounds)
Thursday: Morning 6 mile run with Kelly, and then Twins game with my work team. Going to a Twins game this summer was definitely on my bucket list, and it was a lot of fun going with my work group.

Friday: Complete Rest! I was a tired old lady after being out late for the Twins game and then having a long day at work.
Saturday: 11 miles with the CBRC. This was my first double digit run since Flying Pig! It was pouring most of the run but otherwise I felt pretty good. Saturday afternoon, Dustin and I took a static trapeze class (read all about it HERE)

Sunday: Complete rest again! Well, I suppose there's always walks with the dog, but I don't usually count those…though it is active recovery. 
Saturday night, my friend Susie hosted a little slumber party at her house. We started out with dinner at Pig Ate My Pizza in Robbinsdale, (which, by the way, was amazing).  We did one tasting menu, which included a few appetizers, 2 pizzas, and dessert, and then we added one additional pizza for 5 of us. Plenty of food and so tasty! 

After dinner, we went back to her house nearby for some games and gossip…maybe a little hair braiding. I still don't know how to do the fishtail braid though!
On Sunday, I went to St. Paul to play photographer for the make-up TC 1 mile race. The original TC 1 mile was cancelled due to the weather, so the USATF race circuit hosted a make-up race on Sunday at the Hamline University track.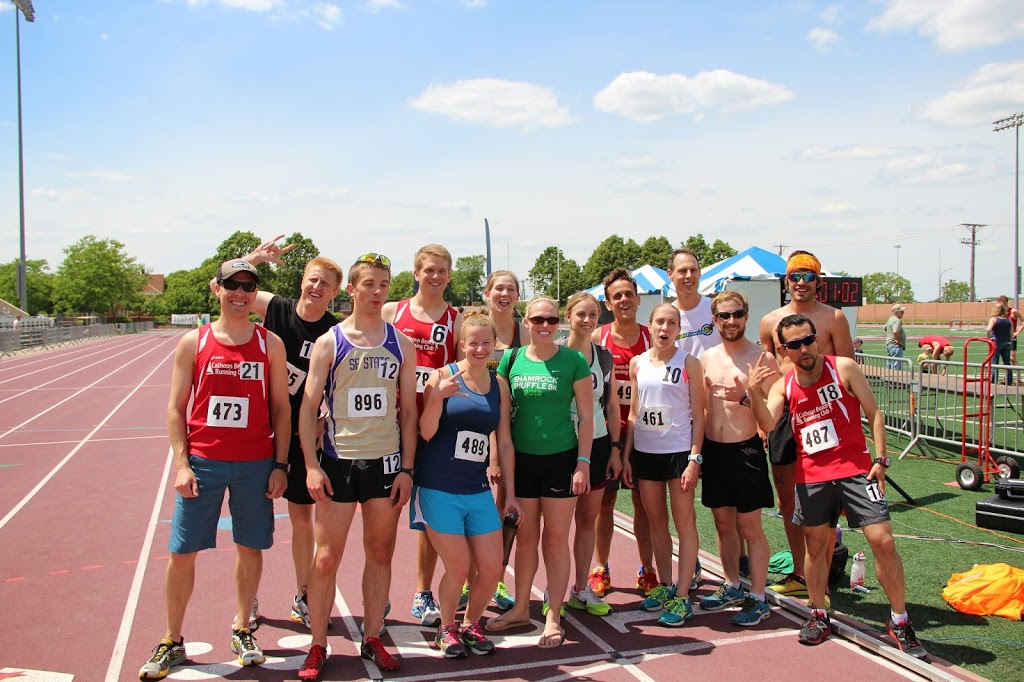 I probably should have participated, but I just took pictures instead. I was slightly misinformed that we had our requisite 5 women for a full competitive team for our USATF team circuit, so I figured they didn't need me (and I was a little relieved). But when we arrived, it turned out we only had 4 women. Fortunately, there was another member of our running club who was willing to throw together a hodge-podge running outfit and share running shoes with a girl in a different "heat" to run the mile. That girl ended up doing really well too! In fact, most everyone had a PR day for the mile, which was awesome. I suppose it makes sense that it was faster running a mile on a track than down Nicollet Mall as the usual TC 1 Mile would have been.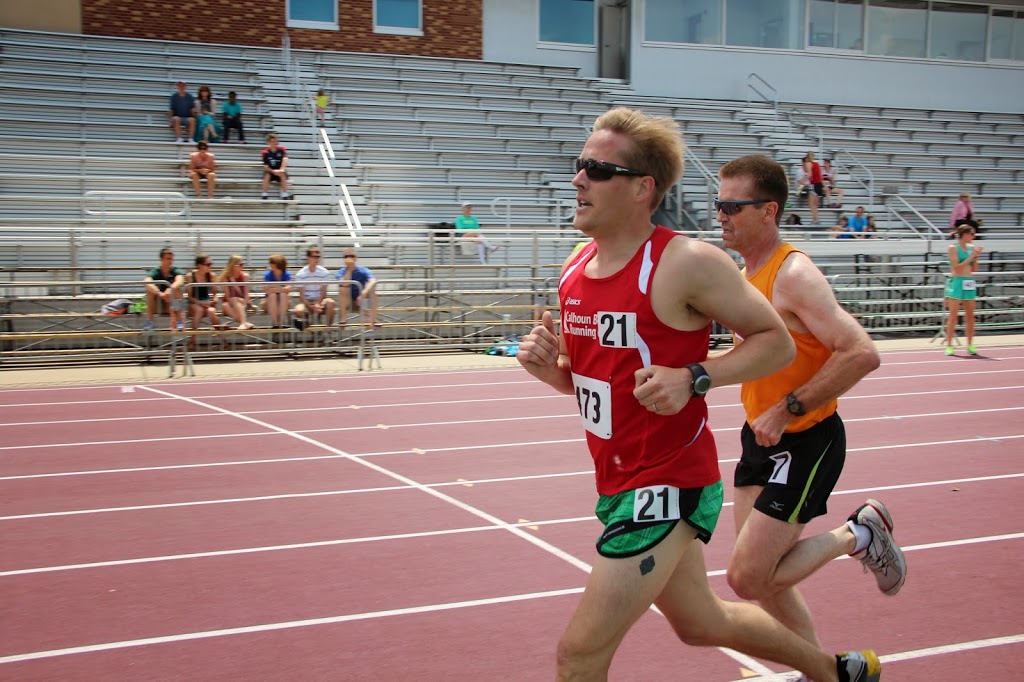 In summary, I ran about 30 miles last week, with 1 yoga, 1 strength, and two complete rest days. Not too shabby!
I hope you had a great week in Fitness, Fashion, and Fitness Fashion….Are you keeping up with the push-up challenge? Today is a rest day, but 25 push-ups tomorrow!
(Visited 177 time, 1 visit today)