Hey, are you keeping up with the 30 Day Pushup Challenge? Today was a rest day, but tomorrow we have another 15 pushups!
Other than the pushup challenge, let me fill you in on the past week at the Right Fits!
What's happening in fashion?
When I was in
NOLA
a few weeks ago for a bachelorette party, my sister filled in for me on the blog. She wrote a
great piece
about some killer deals at Kate Spade recently. I took her advice, and ordered a pair of the
Broom Street Capris
in navy/polka dot, and I LOVE them.For reference, I ordered a size 27, and there are only 28, 29, and 30's left. The 27s are snug, but still work- in fact, I really like the fit and want to wear them every day!
I wore these pants to a sneak preview the other day of "The Fault in Our Stars." We read this book in my book club, so my friend Kelly joined me at the preview to see how the movie compared to the book. We had no idea that people would start lining up 3 hours in advance!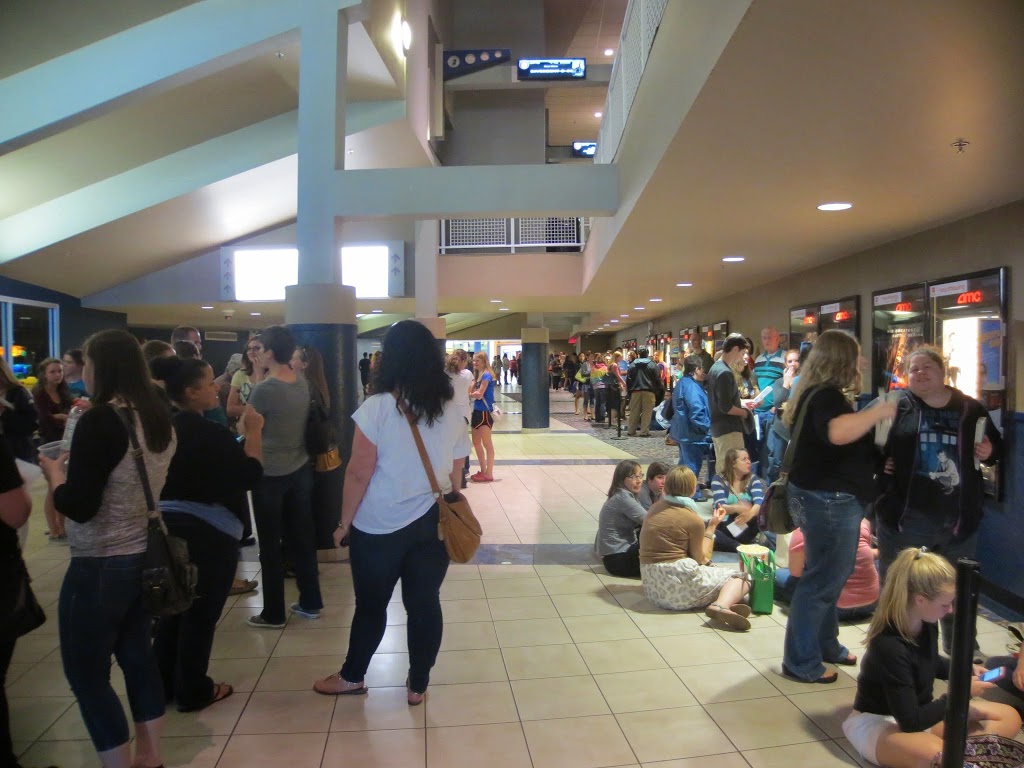 The movie started at 7:30, and we arrived at the Southdale Mall at 5 to an already long line…
We grabbed something to eat first, so by the time we made it back to the line, we were a little concerned that we wouldn't even make it into the movie. The theater held 250 people, and we were numbers 240 and 241- just barely made it!
By the way, I thought the movie was pretty well done. Kelly and I were the only people either not in high school or not a parent of a preteen in the theater, but that's just fine!
Anyways, here's what happened at the Right Fits last week in Fitness:
Monday: Brian Kraft Memorial Day 5k. 1.5 mile warm up, 3.1 miles, then 1 mile cool down, total 5.5 miles. Race recap HERE.
Tuesday: French 5k Endless Summer Trail Run Series. Race Recap HERE.
Thursday
: 5.5 miles, 1 hour kettlebell class at 
Balance Fitness.
 This workout was a killer! We did a version of the
Filthy Fifty
Crossfit workout: 50 box jumps, 50 pull-ups (jumping), 50 lunges, 50 thrusters, 50 overhead swings, 50 sit-ups, 50 full release pushups, 50 squats, 50 
burpees, 
50 double-unders (did 200 jump ropes instead). I was sore for seriously 3-4 days, and not just
kind of
sore, but
super
sore.
Friday:  1 hour barre class at The Barre– I should never have signed up for this class after such a tough strength workout the night before. Unfortunately, by the time I realized this, it was too late to cancel without losing a class credit…so I went, even though I was only able to do about ½ of the moves.
Sunday:  Easy recovery run with Matilda, 4 miles
Total– about 20 miles for the week, 1 barre, 1 strength. It was a full week, but lots of fun too!
What's happening in fitness fashion?
Let's see…in fitness fashion, there's THIS shirt.  
Are you familiar with the term "hangry"- the horrible combination of hungry and angry, i.e. what happens to me when I haven't eaten in more than two hours? Tell me you know what I'm talking about…You know, where you start to get crabby, and can't think straight, and you say mean things to people because all you can think of is FOOD!!!!!!!!!! Yes, hangry. If you get hangry like, me, you need this shirt.
I'm sorry for what I said when I was hungry…
With that said, its time for me to have a snack. Have a great night!
(Visited 317 time, 1 visit today)