I'm back with more Fits on the Road from Park City, Utah!
After Susie's and my short high-altitude-holy-cow- am-I-out-of shape run, we were showered and ready to ski by 9 am. Our condo was very close to Park City Mountain Resort, so we decided to check out that resort on the first day. The really nice thing about Park City, Utah is that there are a TON of resorts very close to each other- Park City Mountain Resort, Snowbird, Brighton, Deer Valley (ski only), Alta (ski only), the Canyons, Solitude, and probably even more that I am missing.
I'm not into tricks and all that on a snowboard, but if you are, the Park City Mountain Resort has one of the best terrain parks out there. This is where the Olympics were held. It features 80' kickers in the Pro Park. Even if you don't ride park, it is fun to go and watch. It is not uncommon to see Sean White, or other professional riders. The resort is huge and features all types of riding. However, the downside is to Park City Mountain Resort is that it doesn't get the deepest snow in the state. If it doesn't snow within a week, the conditions won't be great. The resort gets a lot of sun.
If you stay in Park City, you can take a lift right from downtown Park City into the resort. In fact, we took this "Town Lift" once, and it was really cute! Most lifts I have seen that pick you up right in town end up being really slow lifts to flat catwalk trails, where you have to kick for a while to get to a real trail, but the Town Lift actually took you practically to the top so you were in a good spot to ski!
The names of the lifts at Park City were a little questionable

!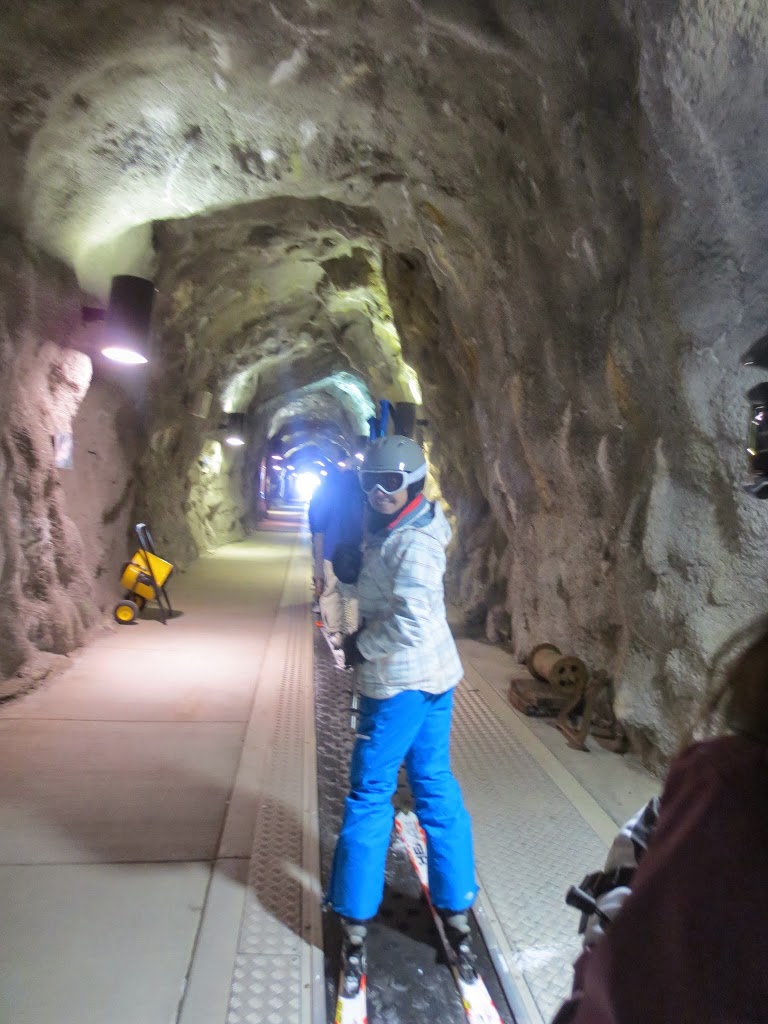 On our second day at Park City (3rd day of skiing), the snow wasn't quite as soft, and the crowds were definitely bigger (it was a Saturday). However, the cafeteria never seemed that busy, even though we were usually breaking for lunch right at noon, and the lift lines still never seem quite as long as some of the lines I have experienced in Colorado.
Snowbird:
On our second day, we went to Snowbird and it was AMAZING. It was so beautiful, and had some really interesting features. Right away in the morning, we took one lift up to the summit that involved a tunnel with a magic carpet that went through the mountain to the other side.  The other side was even less busy, and gorgeous!
It was here that Kelly and I braved a few black diamonds. Sure, we took some falls, but that's how you improve, right? We had such a blast on this mountain! Just one word of wisdom- this is not a beginner's mountain. The greens and blues were very limited, and usually they were just catwalks to get from one area to another, with potentially very sharp drop-offs on both sides, and very narrow paths (a beginner's nightmare!). I would not suggest this resort for a newbie. I definitely pushed myself pretty hard on this mountain, and was exhausted and very sore by the end of the day.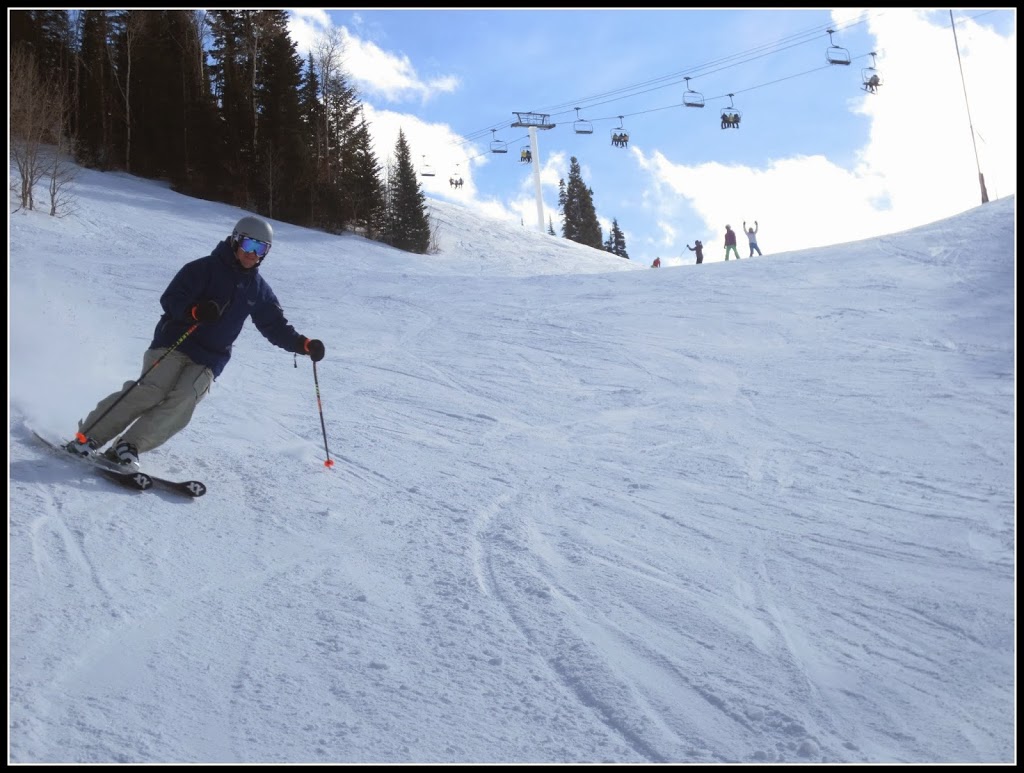 Sam's action shot!
According to my coworker who grew up in Salt Lake City, Snowbird is a local's resort that gets heavy snowfall. If you take the tram to the top, it is like a 3,500 foot vertical drop in one run. The resort has limited grooming and great backcountry. It doesn't have a terrain park, so don't count on that. If you like riding double blacks, it is the place to be. However, the downside is that is there isn't any fresh snow, the resort isn't the best.
We did take the 150 person tram to the top- it was pretty packed, and not a good idea if you are claustrophobic or scared of heights. It dropped us off at the summit, and you would need to be able to do at least a challenging blue trail to get down. But getting down is the fun part!
For reference, I have skied most of the Colorado resorts (Vail, Breckenridge, Aspen/Snowmass, most of the Vermont resorts (Stowe, Sugarbush, Jay Peak, etc). The past four winters, I have gone to Big Sky, Montana. I thought Utah (particularly Snowbird) was up there as one of my favorites so far, though I know there are so many other resorts out there that I haven't tried yet.
Park City in general…
Park City, particularly downtown on Main Street, had more of an Aspen vibe, with fancier restaurants and cocktail lounges, as well as long waits for a table. Big Sky, on the other hand, has more of a cowboy vibe- very low key and casual. Park City was clean, cute, and fancy whereas Big Sky is casual, casual, casual.  Sure, we found some more casual bar-food type restaurants in Park City, but there were also quite a few very upscale places around as well.
Other highlights of the trip? 
Playing Quelf, Catchphrase, and Cards Against Humanity. Our condo also had a 5 person hot tub, which was thoroughly enjoyed after long days of skiing!
Salt Lake City
On Sunday, we had a lot of time to kill before our return flight, so we explored Salt Lake City. We toured Temple Square, the center of Mormon life.
Most of the buildings were not open to non-Mormons, but we were able to explore the grounds.
We had planned to do a little shopping at the City Creek Center, but unfortunately ALL the stores there were closed because it was Sunday! We did fine another mall, the Gateway Mall, which was open, so we killed some time there.
Candy store at the Gateway Mall
I would go back to Utah to snowboard in a heartbeat. I loved that the resorts were very close to the airport, and VRBO has a lot of options for places to rent. It would have been fun if we had had really good snow at least one of the days, but the snow was still pretty good…maybe next year!
What's your favorite place to ski? Have you been to Utah? What did you think?
(Visited 397 time, 1 visit today)