By Jess in Minneapolis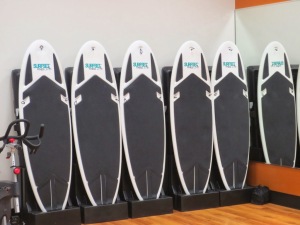 So, what is Surfset? Its a fitness program inspired by the sport of surfing. It combines "elements of aerobic fat burning, lean muscle build, and balance & core training in one 45 minute routine on top of a custom made unstable surfboard." In the same way that a barre class is designed to mimic ballet or a dancer's moves to develop those lean dancer muscles we all envy, a Surfset class is designed to promote long, lean muscle rather than bulky body builder muscle.

I have posted in the past about my love of the stand up paddle board and snowboarding, and I do plenty of barre and yoga…so you'd think my balance was decent, right? Wrong! Apparently, I have a lot to work on, and taking a surfset balance class on a Surfset Fitness board was quite a challenge for me, and it definitely made any muscle imbalances and weaknesses quite apparent. Yet the Surfset Fitness class was a really fun workout, that I would love to do again! I have a feeling my muscles will be sore, as we definitely were working hard to stay balanced on the board last night at my first Surfset Fitness class!
Just getting started…

Here's the scoop: my friend Meggan of the Yoga Garage (the same friend who joined me for Salt Cave Yoga– she's great!) invited Dustin and me to join her and her partner (who works for Anytime Fitness) to check out a Surfset fitness class last night at the Inver Grove Heights location of Anytime Fitness.
Meggan rocking the bicycle twists on the Surfset board

Of course, this is Minnesota, so last night was a snowy/wet mess on the roads. The weather made the drive down to the Inver Grove Heights Anytime Fitness location a bit of a hassle, but it was a hassle that was well worth it!

You may have heard of Surfset Fitness if you watch "Shark Tank" on NBC, where their pitch for investors led to a PR frenzy and loads of publicity! (Read all about it HERE) Enough publicity resulted from that show that even in Minnesota, we are now fortunate to able to check out this fresh, new fit! We may be nowhere near an ocean, but we can reap the fitness benefits of surfing, thanks to hockey player and founder & CEO of Surfset Fitness, Mike Hartwick. He surfed during the off-season of hockey. He loved the lean and toned physique that surfing gave him, so he designed the Surfset boards to mimic that same type of workout that he got from surfing.

Surfset Balance Class: The instructor started us out easy, while we got used to the feel of the boards. She led what was called a "balance class." The different class types are:


Balance (what we did last night) Learn the fundamentals of instability training, improving core strength, balance, flexibility & coordination.
Build: Build lean muscle with compound, multijoint movements on the Board. We introduce resistance bands & other strength training implements for max results.
Burn: Torch fat & tone your core with high-intensity intervals on the Board. Burn up to 900 calories per Session.
Blend: This fast-paced program combines elements of Balance, Strength & High-Intensity Sprints with an extreme core focus. This is our most advanced program, building lean muscle, core strength, stability, agility & power.
We began with planks and lots of core (bicycle twists, leg lifts & lowers). We did squats, side lunges, and "kayak paddling" on the board. Eventually we worked our way up to "pop-ups," or standing up on the board, just like real surfing. From there, we'd rotate sideways, do more lunges and squats, and return to plank. Sounds simple enough, but it was a challenge for the whole body. We were working all those stabilizer muscles at all times, and I was sweating!
And they're up!
This introductory class was only thirty minutes long, but we were working pretty much the whole time, until a few minutes at the end of the class for stretching.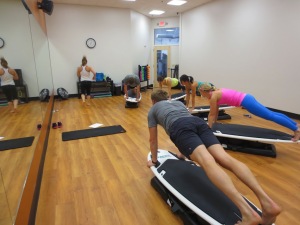 The Boards: There are stability straps on the sides of the board that make it easier (more stable- more straps) or more difficult (less stable- less straps). Once we realized that we weren't actually going to fall off the boards, we all became a little more courageous. As we progressed, the moves became more challenging.

Purchasing your own board would set you back about $500, but you could download youtube workouts or purchase DVD's. Santa, are you feeling generous? I'd love my own Surfset Fitness board, ha! I've been so good this year!

Right away, I loved the challenge of working out on the board. No matter what you did, your entire core was working to stay balanced. It was similar to a BOSU ball, but for your whole body at once. It engaged a lot of the same muscles as stand up paddleboard or snowboarding, but it was even more challenging than those activities, as you never stopped working.
Why Inver Grove Heights, MN? Currently, Anytime Fitness in Inver Grove Heights in the only place in the Twin Cities area that you can take this class. Meggan joked about buying a few boards and opening her own studio, but I think that's a wonderful idea! I would love to take this class more frequently, but making my way up to Inver Grove Heights would be a challenge.

I am so glad I had the opportunity to check out this fresh new fit. Thanks to Andy, Meggan, and Any Time Fitness for this cool (and challenging) opportunity! Surf's up!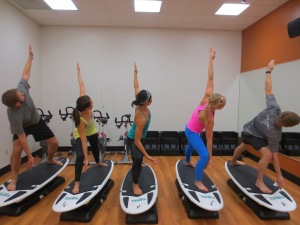 More information:
Website: http://anytimefitness.com/gyms/489/inver-grove-heights-mn-55076
Surftset classes are available for an additional fee (in addition to the membership fee) at Anytime Fitness. Members can sign up for a 12 or 24 class series, and the instructor recommends that you attend twice a week for the greatest benefit of the workout.

She said that after a month of teaching classes, she has progressed to removing one of the stability straps on her board, and even more impressive…she can do a headstand on one!
(Visited 601 time, 1 visit today)