By Jess in Minneapolis


Happy Halloween everyone!
I know, I know, it's not Halloween yet, but we celebrated Saturday night with a small get-together at our house, before heading to Icehouse for their costume contest, some live music, and some dancing.
I'll share another post filled with all the fun costumes from that night, but here's a quick sneak peek of my Khaleesi costume (from Game of Thrones). If you watch the show, you know that Khaleesi is the queen of dragons, so Dustin dressed as my dragon…He looks a little more like an alien though!
The rest of the week was pretty uneventful in fitness, with lots of easy runs and a little bit of yoga.

Weekly Fitness Recap:
Monday: 5.5 miles with Matilda
Tuesday: 7 miles with a group of friends in AM
Wednesday: 5.5 miles with Matilda and a friend, C2 (vinyasa) at Corepower
Thursday: 4 miles
Friday: rest
Saturday: 10 miles
Sunday: Hot Power Fusion at Corepower, rock climbing
Total: 32 miles, 2 yoga, 1 strength (climbing)
The highlight of my week in fitness was definitely climbing at Vertical Endeavors. Yesterday, Kelly, Theresa and I joined Dustin (a season pass holder) there for some rock climbing. I have been to the climbing gym a handful of times over the past year, but it was Kelly and Theresa's first time trying this sport.
I provided a lot of information in this post about rock climbing from when I first tried it out last year. Not much has changed since then, though now Dustin is certified to belay me, which opens up a lot more options for me to climb. It is a little "scarier" though, so since it was Kelly and Theresa's first time, they stuck with the auto-belay routes.
Auto-belaying: An auto belay is an automatic belay device that eliminates the need for a human belayer. The auto belay takes up the slack as a climber ascends and controls the descent when the climber reaches the top or in the event of a fall. Rather than requiring one human belayer per climber, auto belay devices allows multiple climbers on the wall with one person as a supervisor
Both of them caught on really quickly and were zipping right to the top of the 5.6 and 5.7 routes.
Dustin was really helpful, coaching them (and me) and reminding us to use our legs, not our arms!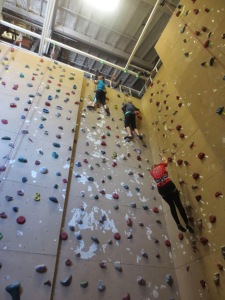 Even though it was not my first time there, I still was definitely working muscles that I don't use very often. My forearms are killing me today! Clearly, I still need to work on using my legs more.
My friends really enjoyed their first time at the climbing gym. In fact, we all decided to purchase 10 session punch cards! They were having a sale, so regularly priced punch cards were marked down 20%. We all agreed that rock climbing will be a fun activity for the cold winter months that are quickly approaching.
So, what's the Right Fit for climbing?


Comfortable clothing that does not inhibit movement. Remember, your clothes need to fit under a snug harness. In winter you may want to bring a sweatshirt or fleece for when you're not actually climbing. Jewelry and watches should be avoided! Rings and watches can take a real beating. They get scratched on the wall and can catch on things.
How many calories do you burn rock climbing?
Self Magazine has a handy calculator that says we burned about 700 calories in the hour were were climbing. We probably weren't actually climbing the whole time, but I would guess we were working for a good 45 minutes. Shape Magazine estimates that we burned about 500 calories in a hour. Even if those estimates are high (which I think they are) it still seems to be a pretty solid workout. Like I mentioned, my muscles are feeling it today, so that's a good sign that I got a workout! This fresh, new fit was fun and challenging. You should give it a try!

Here's more information for you on Vertical Endeavors:
Hours
Monday to Friday 8a.m.-11p.m.
Saturday 10a.m.-11p.m.
Sunday 10a.m.-6p.m


Daily Passes
Weekday $15
Weekend $17
Punchcards
10 Visit Punchcard $120 (stay tuned for a sale! 20% until the end of October)
Rentals
Rental Package $12
Single Rental Items
Climbing Shoes $5
Harness $5
Belay Device $5
Chalk Bag $5
Helmet $1
We will be back many times this winter. Hope to see you there!
(Visited 240 time, 1 visit today)