**First of all, I forgot to congratulate my sister Cresta on the blog on her finish at the Milwaukee marathon last week, and today, my sister Erin at the Chicago marathon! Way to go sisters!
With the recent focus on posting about Berlin, I realized that a whole week has past since I returned, and I haven't filled you in on any news post-marathon #15!
Fitness: I took a week off from running (basically the week we were in Germany) and eased back into it with some easy 4-6 milers each day, mostly with Matilda and definitely with no Garmin. I have also been going to yoga every other day or so at Corepower Yoga, which feels great. (I seriously need to keep up with yoga more during marathon training!)
I did a post last year about how much time to take off from running post marathon. One of the 25 Golden Rules of Running that I shared the other day from Runner's World was also about this topic, recommending that for every mile you raced, you should take a rest or at least an easy day. I'm not taking off from running for a whole month, but I definitely plan to take 26 easy days! I don't plan on incorporating any speed work until that time has passed, to ensure I'm ready to delve into training again afterwards. (see below for what's next on the racing calendar!)
However, I am adding more distance. Yesterday, Matilda and I bumped it up a bit and joined up with three friends for a nine mile run. Nine miles is definitely a longer run for Matilda, but she didn't seem to have a problem keeping up, and I felt pretty good too. It was a nice brisk fall morning, and the leaves seemed to have turned overnight. I love fall in Minnesota!
My name is Matilda, for those of you new to the blog!
After the run, shower, and lunch, I met up with some other friends to go for a walk around Lake Harriet.  I kept my Garmin on, and ended up with another 4.5 miles of walking!
This morning, I met up with three other friends for another seven miles on the weekend. Again, we were treated with a picture-perfect fall morning. So pretty!
not my picture, but you get the idea!
It was such a picture perfect fall morning that Dustin and I decided to spend the afternoon doing a very "fall" type activity- apple picking!
My friend had suggested we check out
Fall Harvest Orchard
in Montrose, MN. This was not a stereotypical apple orchard. Rather, it was a working farm, with a ton of animals. I could definitely see how kids would LOVE this place, and adults too!
We held the baby goats, pet the baby chicks, fed the cows apples, admired the pigs, chickens, turkeys, ducks, etc. It was great!
We finally tore ourselves away from all the cute animals, and picked some apples. We both love Honey Crisp (who doesn't??) so we filled up a large basket of those.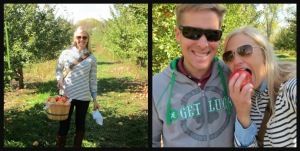 While we were there, we also picked up a few pumpkins to carve later this week.
I definitely recommend this cute little orchard if you're in Minnesota! They had a little something for everyone, not to mention some good looking apples.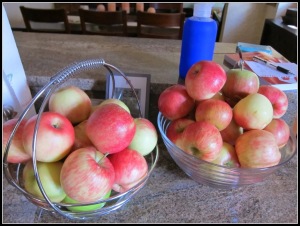 Fall Harvest Orchard:
Well, enough on our fall outing. Back to running!
What's next for running? 
 I'm pretty sure our next marathon has been selected- the
Flying Pig marathon
in Cincinnati, Ohio! I have heard good things about this race- great crowd support, great medals, great city to visit! Of course, there is a risk of hot weather, and all of the reviews I have read mention some killer hills. But it still sounds fun, and an early May marathon in a state we have not run a marathon in sounds perfect to me!
Other Blog Reviews of Flying Pig:
With Flying Pig on the horizon, I'll fill in the rest of my time with a few shorter distance races, such as the
Monster Dash
half on 10/26 (just for fun!), a
Drumstick Dash 5k
on Thanksgiving morning, the
Securian Winter Run
in January, and perhaps the
Get Lucky
Half marathon again in March.
What's next for you? 
Heard anything about Flying Pig before?
(Visited 164 time, 1 visit today)