Readers, you are in for a treat! Today we have a guest post from two of my dearest friends who are also the most awesome running buddies, Kelly and Abby, as they share their review of the Surly Trail Loppet Half Marathon!
Abby and Kelly here for a guest post!
You may have read about this little
Surly Trail Loppet
event in past posts as Jess has been with us for a few of the sponsored 5-mile training runs over portions of the course. She didn't join us for the main event since the big Berlin Marathon is next weekend. That was probably a good idea of her part, because aside from the risk of injury on the challenging terrain, we are super sore, and you
probably
want to go into the marathon with fresh legs! So Cool J trusted us to do a race review and even lent the blogging camera! So, here's our report:
The
Surly Trail Loppet
sponsored by Minnesota's favorite
Surly Brewing Company
, consisted of several events at Theodore Wirth Park just outside Minneapolis. There was a half-marathon, a 13.1K, and a 5K. Early this summer we ambitiously signed up for the half-marathon, since neither of us had a fall marathon planned after Newport marathon back in June. (
Remember the Newport marathon? Read all about it HERE)
Pre-Race
Given the limited parking near the start/finish, there was an option to park in the Mortensen Construction Company lot and then shuttle to the start line.

Along with our friend Jen, we carpooled to the parking lot, but opted to walk the short 0.6 miles to the start rather than taking the bus. It was a bit of a 'warm up' for us.
Once we got to the start it was time for packet pickup in a very long line. There was no option for packet pickup prior to race day which required the 1000+ runners to do it race day.
Long lines for packet pickup…
We proceeded through the line to get our numbers and chips. We laughed about the 'commemorative chip,' given that the chip was plain white on both sides. That's something to remember!
"Commemorative" chip…?
After a final bathroom stop, we stalled heading to the start by enjoying some time in the sun. It was a brisk 49 degrees at the start, and neither of us was fully ready to check our bag and give up our warm up extra layers for our racing attire (tank and tee).
Enjoying the sun!
Finally when we thought we'd timed it well, we checked our gear bags and headed over to the start.
The start was staggered in waves named for popular Surly brews. We were in the Abrasive wave, the second wave after the faster Furious wave and followed by Bender and Hell.
While trying to keep warm at the start, we learned that the start would be delayed by 15-20 minutes. This led to a fairly disorganized start. No one could really hear the announcements and so we didn't quite know when we were starting. One big wave in 15-20 min or all waves delayed 15-20 min? Finally we heard a gun and the Furious wave was off. We were ready to get going 5 minutes later.
The Course
The 13.1 miles of trails were a fun and challenging change for us normal road runners. It consisted of a mix of asphalt paths (~25%) and narrower dirt and wooded trails, often single file. There were sections to pass someone if needed, yet even being stuck behind a runner on a single track section was a welcomed chance to slow down. There were a couple sections so steep that resorting to a walk proved to be a faster option. The course was very well marked by blue ribbons tied to branches, blue arrow signs, and flour on the ground. We spent so much time watching footing to avoid falling and the markings to stay on course that the race seemed to speed by.
Many of us long distance runners have become Garmin dependent. The Abrasive wave we were in was recommended to half marathoners with a road race of 1:41-1:50 to give a predicted trail race of 2:00-2:15. Given the challenging terrain, the Garmin became more about distance than pace, in that, 'when will this be over?' type of feeling. Although no one was really complaining, we fell short of the 13.1 mile distance by our trusted Garmin friend. Apparently the incline, decline and the woods make the GPS signal drop out and not accurately measure distance. Either way, the finish line was a welcomed sight and it was on to the post-party.
Post-Party
First things first, we picked up our finisher t-shirts. Given that it was 55°F at the finish, we loved the long sleeve cotton t-shirts we were given! The finisher swag was different for each race, the 5k finishers received a t-shirt and the 13.1k finishers picked up a Salomon bag with a handy Surly pint glass (we were jealous).
Given the brewery race sponsor, we'd expect nothing less than a party for the finish. There was live music playing, food for purchase from Tollefson Farms, family of Olympic runner and Dawson, MN native Carrie Tollefson, and of course beer! Nothing like a Surly Coffee Bender to finish off the morning.
It was a great scene to meet up and enjoy some time with our fellow CBRC friends. Luckily no one was a contender for the "Surly-est" runner contest, a special award for the most messed up by scrapes, blood, sprains, and lacerations. We had no major falls and our only injuries were a couple of bee stings, one for Mason and one for Kelly. Oww!
But be sure to watch out for burrs on the trail!
We wish Cool J was with us as we met up with Katie, a fellow Right Fits reader and runner, who recognized us from the pictures on the blog. Congrats Katie on a great race! Hope to meet more Right Fits readers at events to come.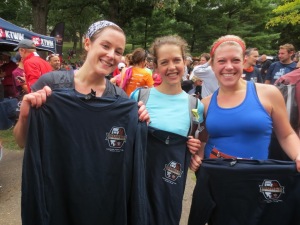 The Good:
Very well marked trails that offered a beautiful variety of scenery.
Soft and cozy long sleeve finisher t-shirts that kept us warm while drinking our Surly.
Supportive and friendly racers, volunteers and spectators.
The Not-so-good:
While the race itself was great, we had to dock some points for both the start and the finish. They may want to consider moving to a pre-race day packet pickup to alleviate some of the line we faced at the start. We think the longer than anticipated packet line led to the delayed race start. Also some amped up audio equipment could help them with announcing the start, or the delay.
They had also advertised GU or fuel at the support stops but all we encountered was water or energy drink at random distances along the way.
The end was a ton of fun but could have some improved flow to the finish. The lines for water, food and most importantly, beer, were not clearly marked. There were just lines of people throughout the finish area, so we just hopped in one and hoped it was for something. Also the gear check didn't appear to be supervised and ended in a bit of a free for all. We wish it would have been a bit more protected for the secure belongings.
Overall
Overall we give this race an 8/10. It was a super fun event and a nice change from our usual routes around the lakes. We both want to incorporate more trail running into the mix. Theo Wirth has some great paths and is so close that we need to take advantage. Minneapolis is awesome!
Thank you Kelly and Abby for this guest review!
You probably recognize these two ladies as their pretty mugs have been on the blog many times in the past. In fact, apparently they have been on the blog enough that, as Kelly mentioned, a reader recognized them at the race! Thanks to Katie for reading the Right Fits! I was SO excited to hear that real people read this blog! Yay!
Congrats to all the hard-core runners who completed this challenging race. I hope I get to participate next year!
Awesome job runner!
(Visited 675 time, 1 visit today)