By Cool J in Minneapolis
I loved the first Spirit of the Marathon documentary, and had really been looking forward to seeing the second one for months. The first one was based on several people doing the Chicago marathon in 2008. This installment focused on the Rome marathon in 2012.
There were two first time marathoners- one Italian and one American. There were two elite runners- male and female. There was the "Marathon Goddess" a 40+ woman who was running 52 marathons in 52 weeks, starting with the Rome marathon. There were my two favorites- two cousins in their 70s from Rome who had run the marathon every year since it started; they were so lovable and their passion for the marathon was contagious!
Personally, I really enjoyed the film. It re-inspired me for my next marathon. It was particularly motivational for what will be our first international marathon, or should I say, our first 42 kilometer race? (I'm going to have to get used to that!)
Even after crossing the marathon finish line fourteen times, I still get caught up in the emotion of it all. Every single marathon is a unique experience, and all the emotion- the struggle, the pride, even the disappointments- it's what keeps me coming back for more, time after time.
I think this documentary truly captured all of the different emotions. It portrayed each runner's decision to run Rome and the reasons behind it. It showed the training and then the nervousness the night before the race. It showed the excitement of marathon morning!
I loved how they started out the film on marathon morning, and then returned back to introduce each cast-member, sharing each person's individual marathon story.
Be prepared that there are subtitles for a lot of the movie. I really like subtitles (even in English speaking movies- I know, weird. I just feel like I catch everything better if I'm reading it). So, yes, I definitely like subtitled movies, but my fellow movie-goers said that they found it distracting and harder to let go and get caught up in the movie. But unless you know Italian (and Ukrainian), you will need the sub-titles.
I enjoyed almost all of the features….Even though the marathon goddess was running her 52 marathons for a good cause, she drove me a little crazy. Enthusiasm for running is great, but all the chants and cheering would be a little grating at mile 24 on a hot marathon day. I loved the little Italian man who told her, "Stop talking! No more talking!" Ha!
Marathon Goddess
You can actually check out her blog here:
http://marathongoddess.com
She has traveled quite a bit in her marathon journey and its definitely an accomplishment. I'll forgive her for the annoying cheering this time 🙂
The rest of the stories were all wonderful. If you want to get inspired to run a marathon, go see The Spirit of the Marathon II. If you want your friends and family to understand why you run marathons, tell them to go see The Spirit of the Marathon II.
Watch out Berlin, this grumpy faced girl is inspired and ready for redemption!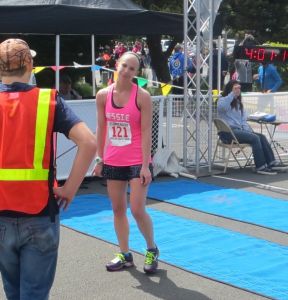 (Visited 98 time, 1 visit today)