By Cool J in Minneapolis

Last night, I tried out a new-to-me fitness studio in my neighborhood (I could definitely bike or run to this studio!) It's called The Fixx Workout Studio.
Website: http://thefixxworkoutstudio.com
The FIXX is a small, independently owned fitness studio that offers a variety of classes: bootcamp, cardio, yoga, hip hop cardio, pilates, kettlebells, and "contact boxing".
My friend Vicki and I decided to give their boot camp a go.
The bootcamp was an hour long class. There were only three of us there tonight, but I didn't mind the smaller size. The studio was small, so it didn't feel strange to have a small group. The instructor was a sweet (very thin) younger girl with a quiet voice, but she packed the punch with some challenging moves!
We started with an alternating v-sit core warmup. Then we moved onto one-legged dead lifts with a kettlebell, goblet squats with the bells, and then more one-legged dead lifts. There was a three-station drill set that included the weighted ball throws against the walls (great for the obliques!), one-legged dumbbell rows, and military dumbbell presses. She mixed in some cardio with skiers, jump squats, and burpees. There were plenty of planks, sideplanks, and planks on the BOSU. In fact, she had us do quite a bit of stability work on the BOSU ball, (I do love the BOSU ball!)
We did a little bit of this….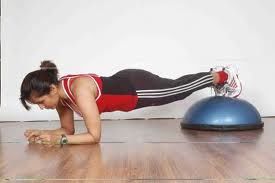 A little bit of that…
Overall, it was a nice change of pace, with several new moves that I hadn't tried before.
You can try your first class "on the house", which is obviously what Vicki and I did today. I am considering buying a 5-class package. The prices are a little high, but I'd like to come back. The location was great, and I like supporting a local fitness studio. The class was a solid workout too! They offer a variety of class times on the schedule. I still love the kettlebells class (that I wrote about
HERE
) at Balance, but it's only offered on Wednesday or Thursday at 6 pm, so this could be a good option for strength when I can't make it to kettlebells (like last week!)
The FIXX does offer a FREE community bootcamp on Tuesday nights at 7:30 pm! It's an hour and a half long, and they train outside, inside, anywhere! It sounds like a lot of fun, and I might have to give it a try some time. FREE is a price that definitely fits the bill!
I gave this class an 8/10. I think it was a good workout, and I like the new-to-me moves, and I felt that I got an all around good workout. However, the instructor didn't offer a ton of guidance, which may have been helpful for a less experienced person, but maybe I was doing the moves okay? Not sure. Also, the smaller studio and "quieter" format might not be for everyone, but overall I enjoyed it and hope to be back again this summer. Like any studio, each instructor is probably different, and each class is probably different, so I hope to try out more classes to get a better feel for the studio. I definitely would say that its a good studio to check out!
(Visited 272 time, 1 visit today)