By Cool J in Minneapolis

Happy Memorial day, friends! I hope you are enjoying your long weekend. The Calhoun Beach Running Club celebrated yesterday with the 4th Annual Memorial Day Pub Run!


This event is not a sanctioned run, nor is it open to the public (CBRC members only) but it does have a very sophisticated website: http://memorialdaypubrun.com. Basically, you run from bar to bar, having one beer at each bar. The entire course is just under four miles, ending with a BBQ at our coach's house. Coach Paul does an amazing job planning this event. Again in 2013, the race went very smoothly, and was a big success!
I give this race a 10/10 in the pub run category.
You can find lots of additional information on the website, so I'll do this recap primarily via pictures!
Course Map
Start Line: There were corrals for VIPS, elites, and "commoners"
Packet Pickup: Every runner received an official 2013 Pub Run Pint Glass!
Star-spangled banner to start the race.
Course Marshalls: Don't mess with these guys!
Course Details:
The first stop on this year's pub run was Stella's.
The second stop was Roat Osha:
The third stop along the course was the
CC Club
: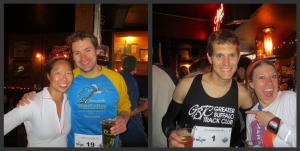 The fourth stop was the
VFW
:
It was quite a rowdy crowd by the end!
After Cafeteria, it was time to run back to the start line for a BBQ:
Lots of hungry pub runners ready for some grub!
Though the criteria for "winning" the pub run is a little unclear, Dustin was overwhelmed with pride at being named the male winner, while the talented trumpeter from earlier won the women's title.
A lot of planning went into this unique event. I had such a great time!
Drinking five beers while running four miles probably isn't the healthiest thing I could do one week before my marathon, but it was definitely a fun-filled celebration. Time to rest and enjoy the taper til next Saturday!
Race Details:
Cost: $30 for "commoners," extra for VIPs
SWAG: Pint glasses, awesome post-race food
Course: ~3.6 miles through Uptown
Support Stops: 5 stops
Crowd support: Very strong
Weather: Usually warm, but 2013 was chilly. Wear layers.
(Visited 160 time, 1 visit today)