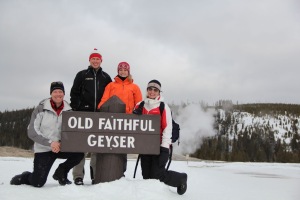 Hello readers, we're back! Laurie and I both returned to our respective cities today (Kansas City and Minneapolis) after a wonderful ski trip in Big Sky, Montana.
We had three days of skiing (snowboarding for Dusters and me, skiing for LL and her husband) on the mountain, split up by a day touring Yellowstone National Park via snowmobile.
Back to the snowmobile tour. In the winter, regular cars are not allowed into Yellowstone National Park. You can only tour the park by foot, cross-country ski, snowmobile, or one of these Snow-coaches.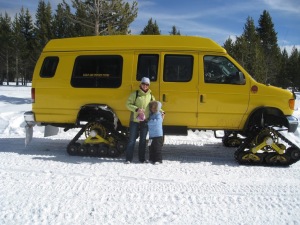 My sister and her daughter on the Snow Coach tour in 2010
I took the snow coach tour of Yellowstone 3 years ago with my sister and her daughter (who was 7 at the time). It was a nice way to see the park, but unfortunately, you were inside the bus for the majority of the tour.  This year, with both of the Right Fits' better halves also participating, we decided to do the snowmobile tour. On a snowmobile, we could be outside
in the fresh air! And then we could be right up close with the bison. Seriously.
So, the four of us signed up for a tour through
Rendezvous Snowmobile Rentals.
 Rather than spend the extra money for each of us to have our own machine, LL and I both rode on the back of our husbands' machines.
We had the option to rent clothing and equipment, but we all decided just to wear our ski/snowboarding clothes. We did, however, have to rent the snowmobile specific helmets.
Failed fit?
Snowmobiling in a national park, that doesn't sound very "green."
As my brother-in-law so kindly pointed out, snowmobiling through Yellowstone has been a "thorn in the side of conservationists for years," and I did feel a little guilty participating in this activity. Yet the number of machines allowed into the park each day is highly regulated, and only guided tours are allowed in the park, and these guided tours are only on the groomed trails. If you want to just drive your snowmobile "free-style" you can do so in the surrounding national forest, just not in the actual Yellowstone National Park. I was also very impressed by our tour guide. He was very knowledgeable about the wildlife, the history of the park, as well as very adamant about respecting nature and the park. Before we encountered the bison herds, we knew exactly how we were supposed to act, and everyone on the tour was respectful of the space between us and the wildlife.  In the summer, there are hundreds of thousands of cars in the park. In fact, our guide said the crowds at Old Faithful are 5 people deep, whereas when we were there, there were only a handful of tourists. I have to think that the emissions in the summer must be worse than the snowmobiles.
Approaching the bison with respect
The tour went from the west entrance to the park to Old Faithful and back. I have to admit, Old Faithful was actually a bit of a letdown. We waited 90 minutes for it to "go off", and due to the weather, it was just a big steam spray…I do find all the geothermal activity pretty fascinating, but I found some of the other sites within the park much more interesting. I guess the great thing about Old Faithful is that it goes off every 60-90 minutes (it's reliable..hence the name!), whereas most of the other geysers were more sporadic and unpredictable.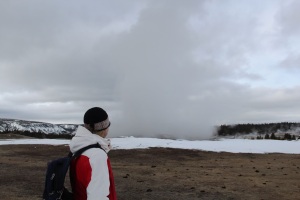 Old Faithful
I found the other geothermal sites to be much more fascinating.  The 
fountain paint pots
 were a highly acidic (basically, at the level of battery acid) pond that bubbled and burped. The picture doesn't do the pots justice, but our guide explained that a curious tourist hopped the fence and stuck his boot tip in the pots years ago, only to have to finish his snowmobile tour with no boot (it burned off). Read more about this area of Yellowstone
here
.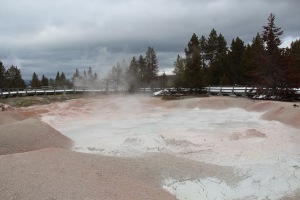 Silex Springs was a hot spring- measuring in around 202 degrees.
For a heart-breaking story, read about Ronald Ratliffe, who jumped into Celestine Pool at this same spot in Yellowstone to save his dog. They both died.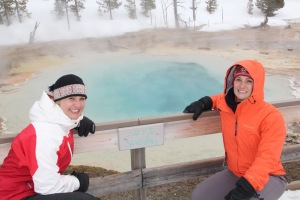 Silex Spring
Another geothermal feature in Yellowstone
So, this is supposed to be a fitness and fashion blog. Where is the fitness in a snowmobile tour? I wondered the same thing. Is snowmobiling exercise?
It definitely did not seem like exercise for LL and me, as we were merely riding on the back of the machines. However, we both had sore legs and backs from getting thrown around a lot throughout the six hour tour. But what about for the D-man and LL's husband?  As drivers, were they getting a workout?
They both claimed that even though it was fun to drive the machines, it was not a workout. Yet, as a Minnesotan, I have heard many others say that snowmobiling most definitely is a workout. I decided to do a bit of research, and found many sources that stated that snowmobiling is a workout. Really?
According to an article in "
Wellness for Life
",  snowmobiling can burn upwards of 300 calories an hour. I shared that statistic with Dusters, and he was very skeptical. Maybe the high calorie burn statistics are from when you're "free-riding", versus riding at 35/mph on groomed trails.
But still, he must have been burning some calories. According to the article, "even groomed trails are not straight and flat, so the driver has to maneuver the machine by leaning side-to-side around curves. And don't forget—there's no seat belt holding the driver or a rider in.  Both of these factors lend themselves to using a lot of abdominal and back muscles.  The arms and shoulders get a workout whether you're the driver or a passenger hanging on.  Legs—especially the inner thigh muscles or adductors—are used in addition to the hands to stay on the machine."
Whether a calorie burn or not, I was glad that we did the tour. I am unsure if I'll ever be in Yellowstone in the summer, so it was cool to see it in the winter. And it was a great way to give our legs a break from skiing/snowboarding the previous two days!
Thanks for stopping by readers
 from The Right Fits!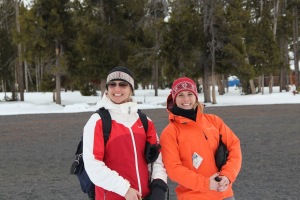 (Visited 300 time, 1 visit today)