By Cool J
Happy Good Friday! Do you have the day off of work today? Unfortunately, I do not, but lucky Dusters does (I'm hoping he does a little cleaning and laundry, if-ya-know-where-I'm-coming from…)
I went to

Balanced Barre

for the first time back in December when my sister Erin was visiting (read that review
HERE
).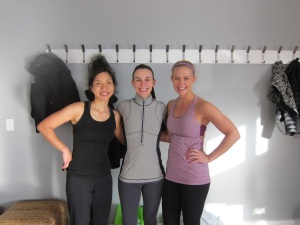 She and I both really enjoyed the class. At the time, she said that she loved how the class incorporated all the core and booty exercises that she was doing for her IT band injury at the time. Well, flash forward 4 months, and here I am struggling with IT band pain. Both Dr. Jenna Boren at

Uptown Natural Care Center

and my physical therapist, Toni Dauwalter at

Accelerated Sports

have told me that the primary cause for the pain is a weak core and butt (and the fact that my left leg is shorter than my right? Weird!)
Well, it seems to me that barre classes are the best way to strengthen those two areas! In fact, just like Erin's experience, a lot of the exercises that my PT has me doing are things that we do in barre (or yoga) class…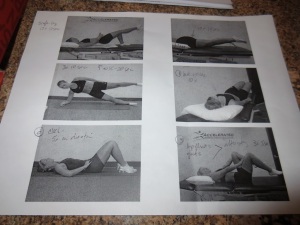 See? Side planks, planks, bridge…all yoga and barre moves!
Additionally, I was very consistent with barre classes during my training last summer, and didn't encounter any IT band issues. I think that's enough evidence for me to start incorporating this type of workout back into my regime.
Here's how my week has worked out (get it? Worked out?)
Monday- Morning run and evening barre at Balanced Barre
Tuesday- Hill workout/run
Wednesday- Hot yoga at Corepower
Friday- Morning barre class at Balanced Barre
Saturday- 17 mile long run on tap tomorrow! (hopefully not in the rain)
What I love about

Balanced Barre

is that you don't get crazy sweaty, but you definitely feel the burn. Don't get me wrong, I still love a sweaty hot yoga class; I love the sweat pouring from everywhere; I love the detoxification of it all; I love the feeling of being completely drained afterwards.. But I also like having a workout option where you can really focus on strengthening your bum and core for a solid hour, working those muscles until they are shaking like a Polaroid picture! But then afterwards, you can still go out in public without looking like a wet rat!
Balanced Barre
has locations in both Wayzata or St. Louis Park. The St. Louis Park studio is really convenient for me, and there's plenty of parking behind the building. So far, the classes have never been too crazy busy, and they are always a little different. I love the upbeat music and the tough moves. And it doesn't hurt that the instructors are all extremely toned- it's inspiring!
The one downside? The cost. I have been purchasing packages of 4 to 8 each time, and they're not cheap. Add this to my monthly YMCA membership, my Calhoun Beach Running Club membership, a package at a yoga studio or two, kettlebells, and it's a hefty sum that I am putting towards fitness.
Pricing:
1 Class $20
4 Classes $74
8 Classes $1
40
12 Classes $1
98
24 Classes $3
60
New Client Special 1-Month Unlimited $99
1-Month Unlimited $179
6-Month Unlimited $159 per month (contract required for 6 months)
Despite the cost though, I think barre is a good option for runners. It's low-impact, and it definitely helps strengthen the areas that can cause us issues when they are a bit weak. So I plan to budget accordingly, so I can keep up this recent obsession!
(Visited 237 time, 1 visit today)