By Cool J in Minneapolis


A few weeks ago, I was perusing my usual running/fitness related blogs, and I fell upon on a new post on "Dori's Shiny Blog." She was raving about PV Body, and I was intrigued…
PV Body is a monthly workout clothes program. You may be familiar with Trunk Club or Birchbox– it's a very similar idea. For those who aren't familiar,
Birchbox
is a program where you receive monthly deliveries of high-end beauty and lifestyle samples from top brands.
Trunk Club
is a fashion program for menswear where a stylist selects clothing they think the man will like, ship it to him, he tries it out…if the guy doesn't like it, he returns it.
There are plenty of other similar programs out there as well, but PV Body was attractive to me because it was fitness apparel.
It fits right in with fitness, fashion, and fitness fashion at the Right Fits!
So, I just had to try out this PV body..for the blog of course.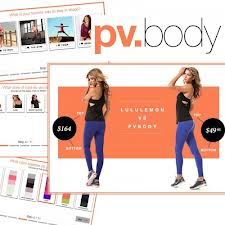 So how does PV Body work?
You pay a monthly fee, and you receive a full exercise outfit (top and bottom) every month. If you don't like it, or it doesn't fit, you return it or exchange it, and get a different one. The clothes are picked out for you based on your style preferences, and you can always retake the style survey if you think your style has changed, or if you're just in the mood for something different.
Why join?
As

Dori

points out, the monthly fee is less than what you'd pay for these items in a store, and you also get to learn about new brands with which you may not be familiar.

It's also a really nice option for people who do not live close to quality fitness apparel stores. Fortunately, in Minneapolis, we're a little spoiled in terms of fitness apparel. We have 3 Lululemons, 2 Athletas, a Title 9 store, a Prana store….the list goes on and on!

But I still was interested in PV Body, as I liked the idea of someone else selecting clothes that are "the latest" in fitness apparel- clothes that I may not have had the time to shop around for on my own, even if there are a lot of stores in my neighborhood.
So I decided to give it a shot and join PV Body. My first shipment of goods arrived on Christmas Eve, all shiny and pink.
And, oddly enough…my first month included the exact same goods that Dori received, albeit in slightly different colors. (Maybe PV Body has a certain schedule they follow for members???)
The top: Electric Yoga Bolt Tank in Teel, retail price $68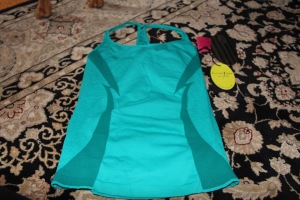 The bottoms: Performance Sportswear by American Apparel Fitness Pant in Alloy, retail price $48
Total value: $116. And I only paid $30 for my first month. Seems like a steal, right?
I loved both of the items that I received, so I will be keeping them this month. I'm curious to see what else will arrive. If I decide that it's not worth my money anymore, then I'll cancel my membership. It's just that easy.

More information on PV Body from their website:
Why should you pay $130 or more for yoga pants? That's just not right! We've embarked on a journey to bring you the best quality active wear that we can find at a fair price. We'll be curating brands large and small, new and old. So enjoy the selection, we're positive you'll love it!
We've built relationships with the manufacturers of the biggest names in the business – and great new ones you've probably never heard of – so we can bring you an amazing value. With new items arriving each month we make it easy for you to always get cute new gear.
Dori of Dori's Shiny Blog is actually a PV ambassador, and she has a link for 20% off your first month:
Interested in trying out pvBody yourself? Here's what to do:
•Get 20% off pvBody for doing this
•She gets $10 for you doing this
I'll be sure to share pictures of the goods that I receive next month, and I'll give honest feedback on this interesting program!
(Visited 118 time, 1 visit today)