Some rain and warmer temps kept us off the slopes today, so the Right Fits decided to spend the day in Bozeman, Montana, shopping along historic main street, and enjoying this unique retail locale.
Our first stop was the "Cosmica Boutique", where you can find "world finds, clothing, accessories, shoes, home decorations and kids clothing."
We both found several items that we would have enjoyed, as well as price tags that "fit the bill".
Cool J was the only one who ended up making a purchase.
She picked out this fun pink polka dot high-waisted skirt.
After Cosmica, we also checked out Sugar, which was a little more expensive, but still lots of cute items.
We had our husbands with us on this shopping excursion, so their "sweet tooth" led us to Chocolate Moose for some Big League Chew, Mike & Ike's, and Reese's Pieces.
There was an old-school soda fountain, and plenty of sweets to satisfy any candy craving.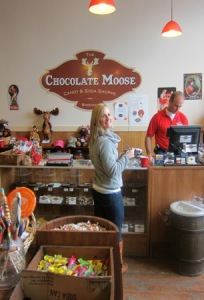 After stocking up on loads of candy for the rest of the trip, LL spent some time planning out new necklaces at the local bead store.
Sshh…LL is creating masterpieces!
The men's patience was wearing thin, so it was time for a late lunch
at the MacKenzie River Pizza Company.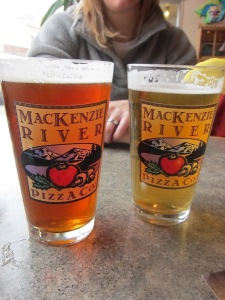 We had a great time exploring downtown Bozeman, but an even better time later in the afternoon at the Norris Hot Springs- stay tuned for a post on this fun adventure! We hope to be back on the slopes tomorrow- pray for more snow!
(Visited 263 time, 1 visit today)