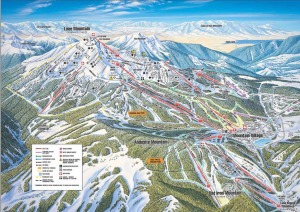 By: LL
Cool J, D-man, my husband, and I are making the pilgrammage to Big Sky, MT for an extended weekend of skiing/boarding. Since our wedding took up most of our time last year, my husband (a competitive alpine skier in college) and I are excited to be back on the ski trip circuit after a year away – and I am especially excited about all the fits – both in fashion and fitness – that I will get to share with my Northern counterpart!
In preparation for this trip, I have begun planning my looks for the trip. In this post, I am focusing on all the fitness fashion – what I will be wearing when hitting the slopes to get a little exercise during the days.
What's going in my suitcase:
1. Nike Dri-Fit Sports Bra
2. New Balance Performance Base Layer (long sleeve)
3. New Balance Performance Base Layer (pants)
4. Smart Wool Light Cushion Ski Socks
5. Sorel Cumberland Boots
6. Patagonia Re-Tool Snap-T
7. Turtle Fur Neck Gaiter
8. Smart Wool Powder Day Hat
9. Isis Annapurna Soft Shell (REI)
10. Columbia Moonlight Mover II Ski Pants
11. Gordini Challenge XI Gloves
12. Scott Heli Ski Goggles
All I need are the skis, which my husband and I both decided to rent this year. This will reduce the cost of over-sized checked luggage (which caused much distress on our ski trip to VT), and will allow us both to test out new equipment as we prepare to purchase new skis.
I cannot wait for some fun fitness out on the slopes – well, except for the soreness that first day out. But that is what a hot tub and a little wine is for, right?
(Visited 69 time, 1 visit today)