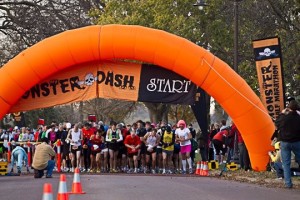 Next Saturday, one of LL and my sisters is coming up to my city for the Monster Dash 1/2 marathon. She has been training very hard post-baby, and this is her "comeback race". I'm looking forward to sharing this experience with her, and will be very proud when she crosses the finish line.
We discussed running together, but our paces are a little different, and she said she would prefer to run alone with her headphones, which I understand.
Last year, the 1/2 marathon got a lot of bad press because of the faulty shuttle buses from the finish line back to the start. To alleviate this issue, the race directors completely changed the course:
The 2011 Half Marathon and 10-Mile Monster Dash is in

St. Paul

this year! We are very excited to have the races on a course that is

fast, beautiful and entertaining

. Did we say fast?

You just might PR on this course

which is all downhill (400 vertical feet total from start to finish — to be exact)!
Combined with the beautiful fall foliage, the start of the race is spectacular! It begins at the picturesque Cathedral of St. Paul that overlooks the city. Participants will run the tree-lined course along historic Summit Avenue and finish in Downtown St. Paul at the Mighty Mississippi (See course info). The chip-timed race is USATF certified.
And if you can handle it– challenge yourself to run the distance in costume! You could win our costume contest! But make sure you run with it on first– we can guarantee fun but we cannot guarantee "no chafing".

Start time: 8:30 a.m.
Though I have not done the 1/2 marathon, Ms. Matilda (my vizsla) and I have run the 5k in the past:
Runners are encouraged to wear costumes, which was easy enough for a 5k, but for 13.1 miles, it might be a bit more difficult. We're going to try to find some "monster flair" but will probably run in our regular running clothes.
My sister is arriving on Friday, when we'll go to the expo, (and perhaps some shopping!) and then a friend of hers, who lives up here, is having us over for a pasta feast carb-load.
Team Ortho, the charity behind this race, has a reputation for great gear at their races. However, with great gear comes high prices. I believe I paid $80 for this 1/2, which I think is a little pricey. I will be sure to share all the pictures of the gear we get for that $80!


(Visited 204 time, 1 visit today)