By: Cool J
Yesterday, D-man, my sister E, and I all ran the Monster Dash 1/2 marathon. Neither the D-man nor I had a PR, but we felt good throughout the race, and had a positive experience. And I'm very proud of E, who did an AMAZING job running the farthest she has run since becoming a "mommy". Prior to having her first kid 3.5 years ago, she had run a marathon and several 1/2's, but this 1/2 was her official return to the running "circuit". She set a goal for herself to run the whole thing, and never walk, and she did that and more! Way to go E!
The expo was held at the Crown Plaza hotel in St. Paul, Minnesota. Now, as a resident of the other "Twin City", I can be a bit of an elitist regarding St. Paul, so I was a little annoyed when I heard we had to "cross the river" for packet pickup. But due to the changed course, it did make sense to host it there.
There were a handful of booths selling Team Ortho gear, as well as some other merchandise. I wasn't sure what kind of charity Team Ortho is, exactly, and I asked a volunteer, who also did not know…
My sister and I both purchased some sparkly orange headbands to wear for the race. They were not BIC brand, but similar style with velvet on the underneath. (This was E's first time wearing one, and she is a fan!)
The SWAG bags were pretty barren, but they did include a great zip-up jacket. They also offered participants the chance to exchange right away, if you had the wrong size, which worked out since E had pre-selected one a bit too small.
We waited in line at the expo to have our ID's checked ahead of time for the post-race beer. Unfortunately, this meant we had to wear the green bracelets throughout the day Friday and Friday night…not a GREAT FIT.
Post-expo, we did some carbo-loading at our favorite pizzeria, Punch Pizza. As mentioned
here
, we often enjoy this place pre-long run.
Now, onto RACE DAY!
We arrived in St. Paul around 7:30, and were able to park in one of the pay ramps between the start and the finish.
There was also a 10 mile option at this race, which I honestly think could be eliminated. I understand that the shorter option opens up the race to more participants, but I personally think they should just focus on promoting and organizing the 1/2 marathon, and eliminate the 10 mile.
The race started right on time at 8:30. There were pacers for the 1/2 marathon (no separate pacers for the 10 miler). I stuck with the 1:50 pace group (8:24 min/mile) for most of the race, and finished with them, feeling strong, and right on pace.
And the BEST part of this race? Definitely the costumes!
O Ren Ishii from Kill Bill:
Q-tips!
Man in portrait: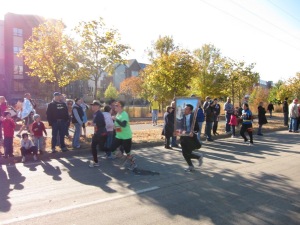 Angry Birds!
An eyeball and Hulk Hogan:
Gumby:
An Ipod shuffle:
*What do you think readers? Is this a failed fit?
After the race, we were chilly and decided to use our free beer coupon indoors at the Liffey, a local pub, instead of the official post-race party. Unfortunately, the Liffey would not serve us the post-race beer without our ID's, which we didn't bring since we had waited in line at the expo for the bracelets! That was a little frustrating- the green bracelets were a waste! We decided to skip the free beer altogether, and headed to the Bulldog NE for some lunch.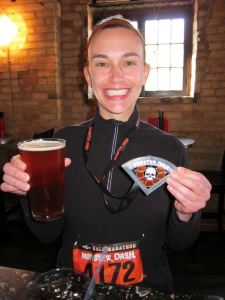 Overall, I was pleasantly surprised with this race, and I will definitely do it again next year. The water stops were manned with friendly volunteers, and were appropriately spaced. However, they used a type of plastic cup that you could not squeeze to drink from. D-man and I both complained that we had to actually walk through the stops in order to drink without spilling on ourselves.
The 10 mile finish seemed a little anticlimactic, and it was unfortunate to have to run PAST the finish line for the 1/2 marathon. As I mentioned, I think the 10 mile should just be eliminated, and the focus should be on the 1/2. The gear check pickup was also not secured or monitored. This worried me a little since we had put our iPhones in the gear bag.
The course was very pretty and showed off the fall foliage in St. Paul very well.
The medals were also quite nice: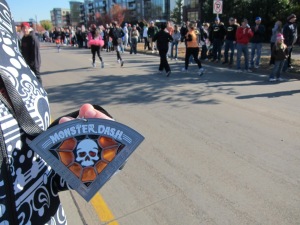 The finish line party was also well done, even though we didn't participate. Team Ortho posted a lot of pictures right away on Facebook, which was fun to review right away.
E also had a positive experience, and plans to come back next year! So, even though the price was high, I also plan to return next year for this event.
On a scale of 1-10, I give this race an overall rating of 8.
Happy Halloween everyone!
(Visited 517 time, 1 visit today)